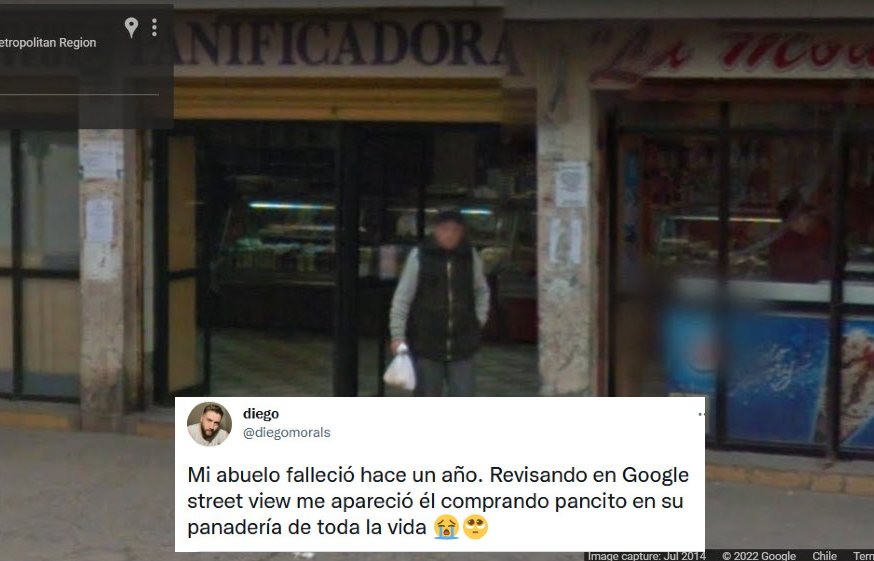 Other users took an interest in the content of the post and shared similar screenshots with deceased family members.
There are also photos of beloved pets that Google immortalized on Street View.
"My grandfather passed away a year ago. Seeing in Google Street View, he appeared to me buying bread in his lifelong bakery. The phrase belongs to Diego Morals, a Chilean Twitter user who published the text along with a screenshot of the image that the Alphabet application showed him.
With the idea of ​​calling for reflection, the user He took advantage of the viralization of the tweet to give some recommendations to those who have lost a loved one.
Using the photo as an "anchor" for his expressions, Morals told his followers and those who shared the tweet to "take advantage of your loved ones" and to "visit that uncle, cousin, friend, grandfather who is alone or the he's sick."
My grandfather passed away a year ago. Checking on Google street view, he appeared to me buying a cupcake in his lifelong bakery 😭🥺 pic.twitter.com/IeCC8RcI6l

— diego (@diegomorals) May 19, 2022
The content of the grandfather's tweet on Google Street View prompted other users to post similar situations.
In response to Morals' post, dozens of similar situations appeared, captured by users who found their deceased loved ones.
Between the tipsthe Chilean asks people to "solve your problems in life", to "make peace with those who have hurt you or to whom you have done something bad".
And ends: "Life is very fleeting, love is eternal."
The interactions were very extensive in Morals' post, with thousands of Likes and RTs. The experience crossed borders and reached Internet users from different Latin American countries who continued to share Google Street View screenshots with relatives who had already died in everyday circumstances.
"My grandmother, who died a few years ago, was also on Google Maps. She is seen going to and from the store next door, "said another netizen.
Another Twitter user told his story and made a request: "My beloved mommy (grandmother) is still sunbathing, she hasn't been with us for years. I hope they never update this image."
Some users also shared similar stories with pets that are no longer in this world.
Now read:
Google Street View, a threat to national security?
Google Street View now lets you 'hear' your images
They solve 'murder' captured by Google Street View cameras