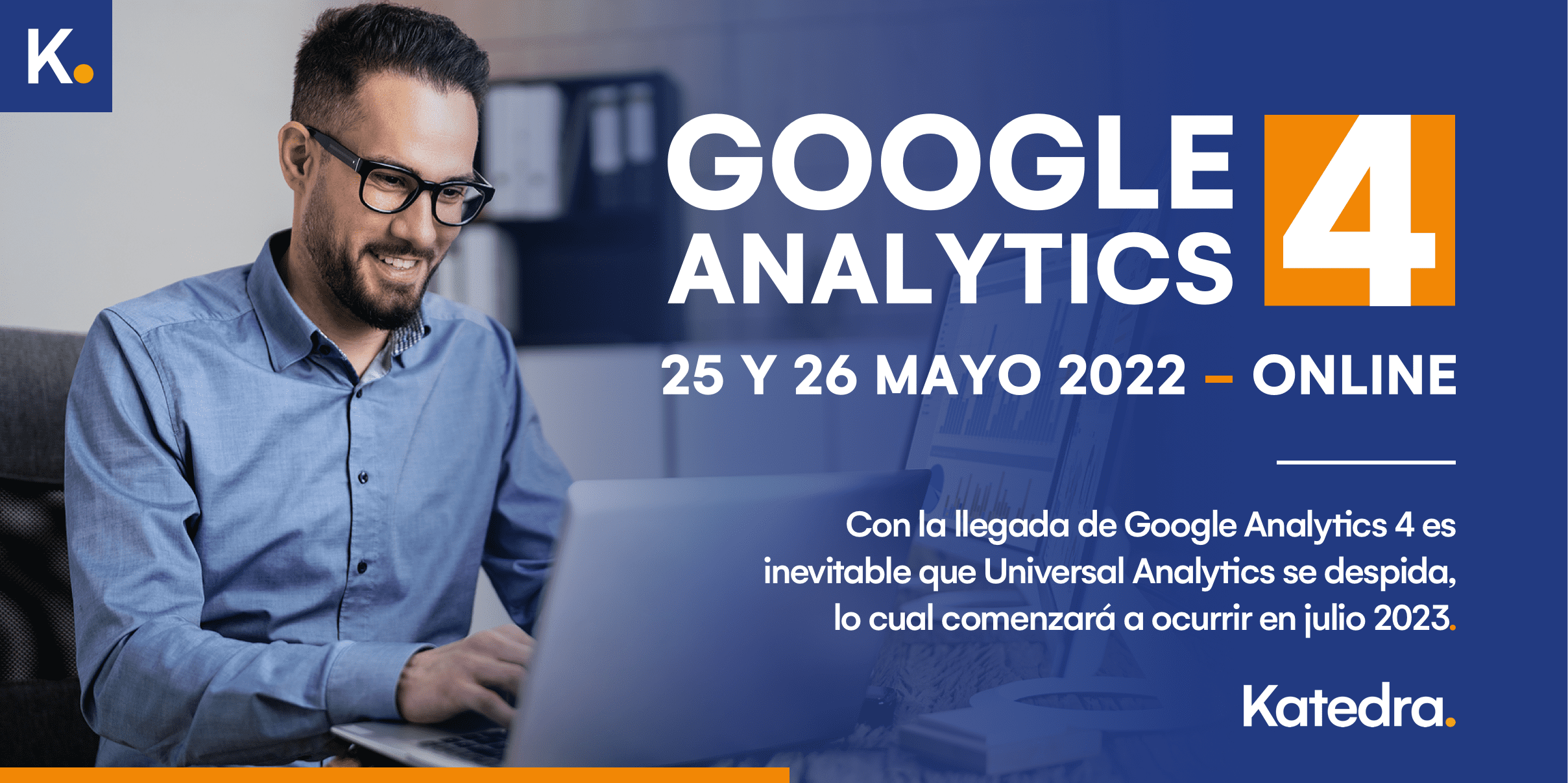 More than half of the world's population is browsing on digital platforms.

Develop efficient digital campaigns thanks to the understanding of web analytics.

10 digital marketing professionals will accompany you in an intensive course on Google Analytics 4.
It is essential that you move your web platforms to Google Analytics 4the next step in web analytics, head towards the future with this crash course from Katedra.
Taking into account that most of the planet is already present on the internet and digital platforms (according to Digital 2922 more than 62.5 percent of the world's population already surfs the web), it is of vital importance that brands, businesses, agencies and digital marketing professionals delve into data analysis in order to carry out strategies that achieve their pre-established objectives and reach their ideal prospects, improve the performance of their campaigns and the conversion rate.
There are different platforms from which we can support each other to carry out and achieve these objectives, where Universal Analytics is shown as a strong ally; however, this version has announced its closure of operations for 2023, so those who seek to continue using this space to determine their course towards the success of the digital path, must necessarily move to Google Analytics 4 as soon as possible and thus move your history to the new version. Given this, Kätedra has designed the course you need to bring it to reality.
Taking into account the inevitable arrival of Google Analytics 4, Katedra has chosen to design a brief and intensive program that will allow you to deepen your platforms in this new world so that you can learn and get to know the new features of the interface, such as its new reports, integration possibilities with other tools and the technical implementation process, among other possibilities.
Likewise, doubts such as where your users come from, which are the campaigns with the best behavior, the main sources that attract traffic to your web platforms and the statistics that will help improve your strategies, will be resolved throughout this google analytics crash course 4.
This program is aimed at all those who seek to train as digital analysts, those who work with Universal Analytics and seek to take the next step towards digital analytics, those who seek to offer their clients this professional service and those who need to implement a project, business or company on this platform.
This will be possible thanks to the fact that various digital marketing professionals will provide you with the information you need to insert your platforms into Google Analytics 4 without any problem, including:
Jonathan Martínez – Volaris Digital strategy / Analytics
Salvador Arias – Head of Ecommerce & Marketplace at Bodesa
Ximena Del Valle – Mexico Sales Director of NEO Consulting
Lizbeth G. Velasco – Design planner specialist at Walmart eCommerce Mexico
Sergio Aburto – SEO & digital business development at Fist by Mobile
Ulises García – Data scientist and big data engineer at Ben & Frank
These and more professionals that Kätedra has chosen to bring together for you, will be in charge of ensuring the knowledge you need to integrate your platforms towards the arrival of Google Analytics 4.There are only nine days left for this GA4 course to take place, so now you can buy your ticket online either learn more about the course clicking on these links.
Ensure the success of your campaigns using digital data analysis in your favor with this course where outstanding digital marketing professionals will provide you with the best knowledge directly at your fingertips.