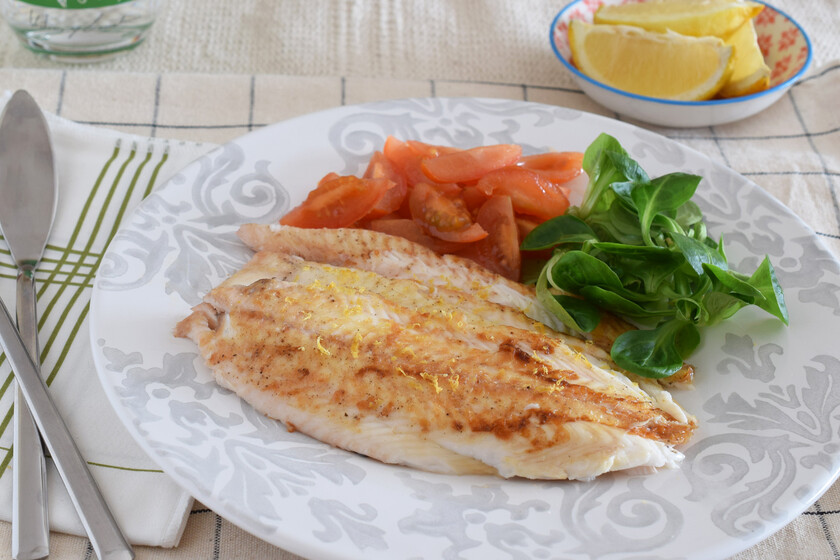 Grilled fish has a reputation for being boring, but it is an infallible cooking technique for preparing quality specimens that are tasty and fresh. It has the added benefit of being quick to prepare, so a recipe like this lemon sole It's perfect for a weeknight dinner. Healthy, light and rich in quality protein, ready in 20 minutes or less.
sole is a fish highly appreciated for its flavor, delicate and soft meat, easy to separate from the thorns and very well tolerated also by children. It is not the cheapest, but the portions are well priced to prepare them from time to time, and fix us a quick and healthy dinner.
Having good raw material is essential -it is convenient to have a reliable fishmonger-, and cook them very fresh. Also, we need a decent griddle, which can be a non-stick frying pan, and a good large spatula, if possible special for fish. If we have an old frying pan that is begging for retirement, it is a good time to invest in another one that can last us many years.
Order the clean soles at the fishmonger, without the head, with the corla trimmed and without the skin. Take the soles out of the fridge for a while before cooking so they are not so cold, and Dry with paper towels to remove as much moisture as possible.
Season the fish and season both sides with garlic and onion to taste. add too finely grated zest of half a lemon, without white part. Heat a nonstick griddle with a little olive oil over medium heat.
When the griddle is hot, without the oil smoking, cook the soles at medium power, pressing them at the beginning with the spatula so that they are well marked. Leave two or three minutes, depending on size; Optionally, add the white wine on top and let it evaporate.
Turn with the spatula, trying to scratch it well from the bottom of the pan in case it has caught a little. Add the juice of half a lemon and score on the other side until it's to the pointRemove to a bowl and serve or clean before serving.
Separate the fillets, which should come out easily following the center bone line. We will take out two pieces on each side; Remove the central bone by hand when we have removed the fillets from one side. Garnish with more lemon juice and/or zest, and more pepper or garlic if desired.
With what to accompany grilled sole
The grilled sole with lemon admits a multitude of garnishes, according to our needs or tastes. For dinner, following the light line, there is nothing more comfortable than improvise a salad with tomatoes or cherry tomatoes and some green leaves -cannon in our case-, but we can roast vegetables or steam them, take advantage of homemade ratatouille that we have in the fridge, or a vegetable cream. if we look for add hydrates, the cooked potato lightly seasoned with good oil and more lemon, or some brown rice or quinoa, goes very well. In a keto idea we could add mayonnaise to the dish.
In Vitónica | Rooster in light white wine sauce. Healthy recipe
In Vitónica | Cod with microwave steamed potatoes. Healthy recipe