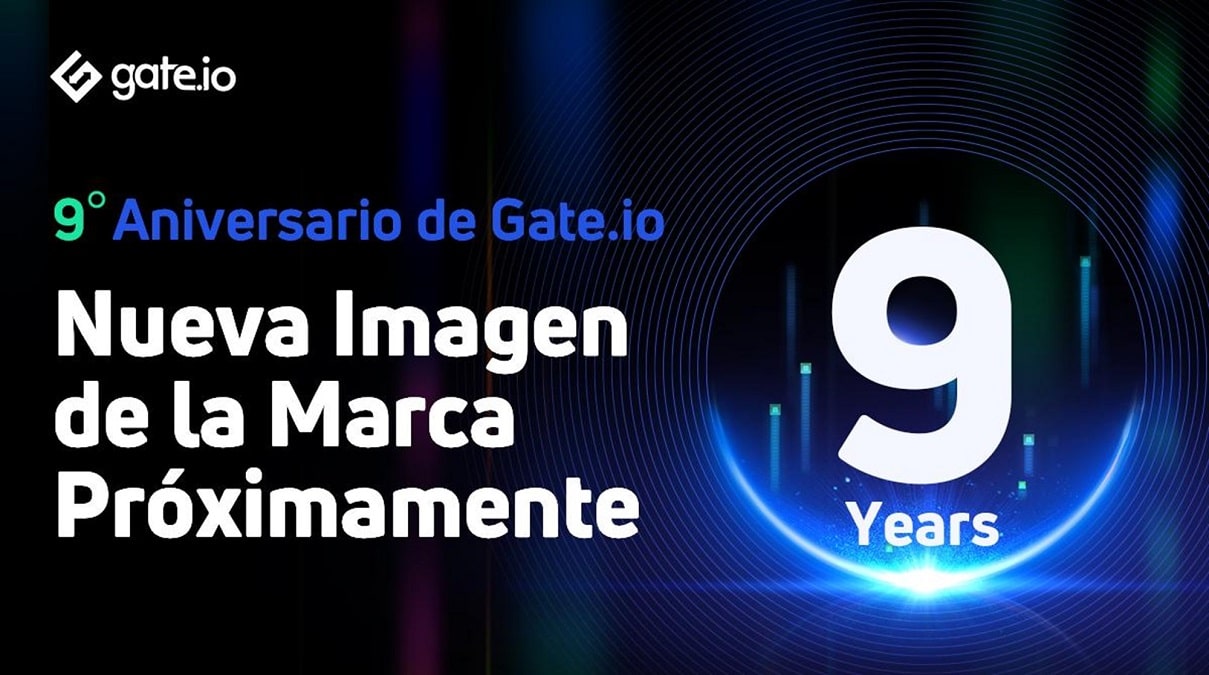 May 18, 2022Gate.io, one of the world's first cryptocurrency exchanges and a leader among digital asset platforms, today announced that the company will introduce a new brand identity, which will be reflected across all of its platforms during the upcoming 9th birthday celebrations. from Gate.io, starting on May 27, 2022.
Along with the complete overhaul of Gate.io's brand and logo design, the company will launch the Gate.io Lite app and mobile app widget. To celebrate its ninth birthday and rebranding, Gate.io will also be launching multiple contests for its users for $9,000,000 in prizes to be awarded.
"The rapid growth of cryptocurrencies has accelerated the development of the top crypto exchanges in terms of products, services, brand values, and more. With our brand DNA of innovation and advancement in mind, gate.io it needed an update and a stimulating change. We look forward to working with customers from all over the world and building a brilliant new brand identity. gate.io".

Dr. Han, CEO and founder of Gate.io
A new look for Gate.io
Gate.io will reveal a fresh brand identity for its logo, tagline, and color scheme. This reflects the culmination of nine years of digital asset innovation since the company was founded in 2013 and signals that Gate.io has matured to offer a more inclusive, integrated and unique experience with a wealth of digital asset services for its customers. more than 10 million users. The makeover also marks the beginning of a new chapter for Gate.io in the rapidly evolving and growing crypto economy, which frequently sees the platform achieve the second highest daily transaction volume in the world.
Easier than ever to trade on the Gate.io apps
Alongside its new brand identity, Gate.io will launch a notable update to its mobile app that will allow users to opt for a "Lite App" version within its flagship app. She offers streamlined and streamlined in-app transactions for crypto trading of +1400 coins, tokens and other digital assets. The cleaner and friendlier interface of the Lite app makes it even easier for new and existing users to invest and trade quickly and efficiently as they can access a set of features for different crypto assets on the go.
Celebrate with Gate.io
To kick off the festivities for the ninth birthday of gate.io, users can participate in a series of exciting contests and promotions, with a total of USD 9,000,000 in prizes to be awarded. To kick things off, the Gold Bar campaign on Twitter, which launches on May 18, offers participating Gate.io users the chance to win a $50,000 worth of token prize pool, with one lucky winner winning a bar. gold 999.9 of 999 grams. Gate.io will also host NFTs and trading contests for its users as part of the celebrations.
About Gate.io
Established in 2013, Gate.io is one of the world's first cryptocurrency exchanges and a leader among digital asset platforms. Gate.io offers services related to the trading of multiple leading digital assets and has grown to serve more than 10 million users worldwide. It has consistently ranked as one of the top 10 cryptocurrency exchanges based on liquidity and trading volume on CoinGecko, and has been verified by the Blockchain Transparency Institute (BTI).
Gate.io also received a 4.5 rating from Forbes Advisor, making it one of the best crypto exchanges for 2021. In addition to the main exchange, Gate.io also offers other services such as decentralized finance, research and analysis, venture capital investment, wallet services, labs and more.
Disclaimer:
Note that gate.io may not provide its full scale of services in certain markets and jurisdictions, and gate.io may restrict or prohibit the use of all or part of the Services from restricted locations. For details on restricted locations, please read the Terms of Service «Section II Eligibility«.
---
Disclaimer: The content and links provided in this article are for informational purposes only. CriptoNoticias does not offer legal, financial or investment recommendations or advice, nor does it replace the due diligence of each interested party. CriptoNoticias does not endorse any investment offer or the like promoted here. click here for more information.