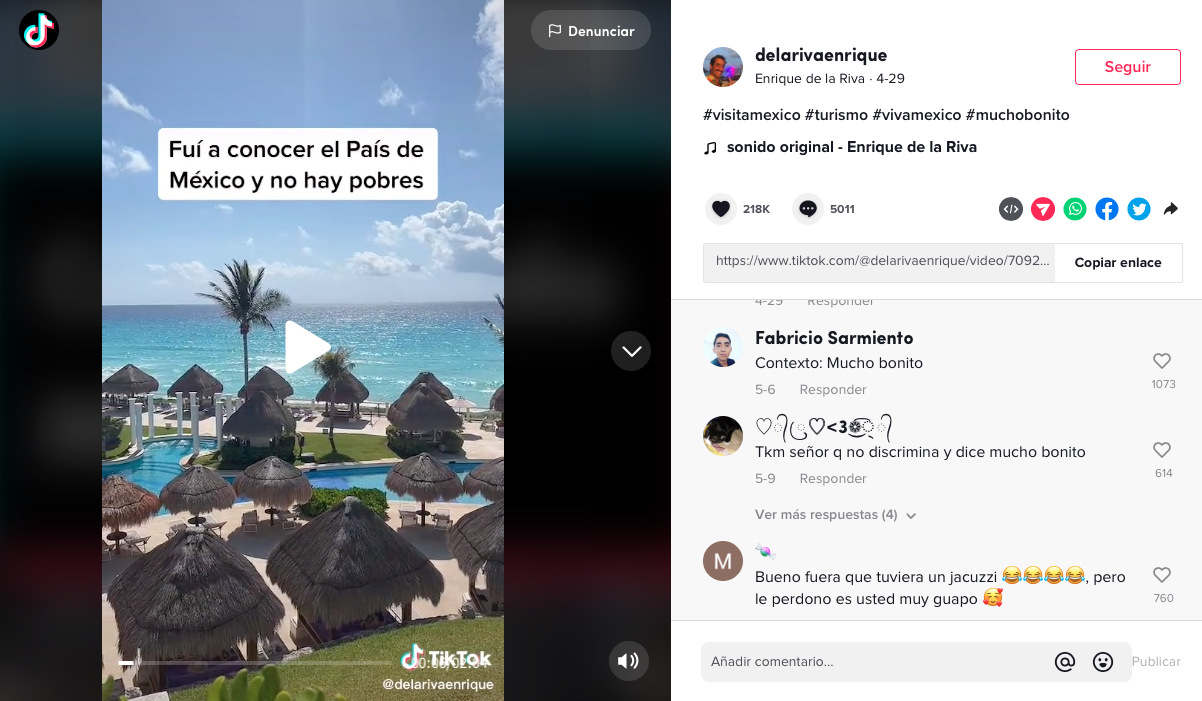 Many of the foreigners who visit Mexico have a different opinion of the country.

The foreign tiktoker gave his perception after what he saw in his hotel at his lodging in Cancun.

The recording recorded various comments from the digital pulse that made fun of the foreigner.
Social networks have become a communication window that reaches many people around the world. Among these platforms, Tik Tok is one of the preferred by most Internet users where videos have emerged daily that go viral for having peculiar content, as is the case with a foreign tiktoker who became a trend after sharing his trip to Mexico and ensuring that there is no "insecurity" or "poverty" in the country.
Without a doubt, currently Tik Tok has earned a very important place in all Internet users that according to data from the report by We Are Social and Hootsuite, reveals that there are currently 4,620 million network users worldwide, which represents a year-on-year growth of more than 10 percent.
That is why Tik Tok, according to the latest report, already exceeds one billion monthly active users, so the information and the content that is shared here is normal to go viral regardless of borders.
Meet Cancun and ensure that it is another Mexico without poverty
Mexico is one of the countries that receives a large number of daily tourists, and according to the Secretary of Tourism, Miguel Torruco, he recently assured that the World Tourism Organization (UNWTO) will soon announce that the country climbed to seventh place in foreign exchange earnings during 2021, adding 19,796 million dollars.
That is why many have a different opinion, as is the case of a foreign tourist who visited Cancun and shared his vision in a video of Tik Tok where he assured that there are no poor people in the country as they say in the news.
The user on the social network @DelaRivaEnrique showed in his video the view of his room in a hotel in the Mexican tourist state, but what surprises everyone is that he says in a Spanish language with an accent that seems Anglo-Saxon "I went to see the country of Mexico and it is not true that there are poor people."
"It's much more beautiful than I thought, adds the foreign tourist," he adds in part of the recording.
Likewise, the foreign Internet user explains that everyone in Mexico "has a jacuzzi outside their homes", while showing the one he has in his hotel room.
"Outside their houses they preserve the Mayan jungle, where they have ancient plants for medicine," De la Riva refers in part to his recording.
Then in another part of the video, the tiktoker shows more aspects of the hotel where he is located and mentions that Mexicans "they still live in pyramids, one on top of the other, as they have done for thousands of years".
Mexico is a country that registers a large number of poverty, where according to data from the National Council for the Evaluation of Social Development Policy (Coneval), poverty in Mexico grew two percentage points between 2018 and 2020 to 43.9 percent of the population. In this sense, Coneval said that the number of Mexicans living in poverty went from 51.9 million to 55.7 million.
In addition, the percentage of the population in extreme poverty also increased, going from 7 percent to 8.5 percent in the same period.
Reviewing these data, the recording caused various comments on the digital pulse that the mocking video was taken and sarcastically explained the shortcomings that some people in Mexico live.
"Me watching this video from the top of my pyramid in my jacuzzi drinking a medicinal herb tea straight from my jungle dancing with a hat," reads a comment.
But also the opinion of foreigners drew attention since Mexico registers a perception of insecurity that increased to 65.8 percent in the month of December, according to preliminary data from the federal government released in early January.
Now read:
Apple Music joins Waze and this is what it will offer users
They capture "Lomito" a consumer of Bimbo and this is how Internet users react
Nintendo launches new measure to curb cheating users