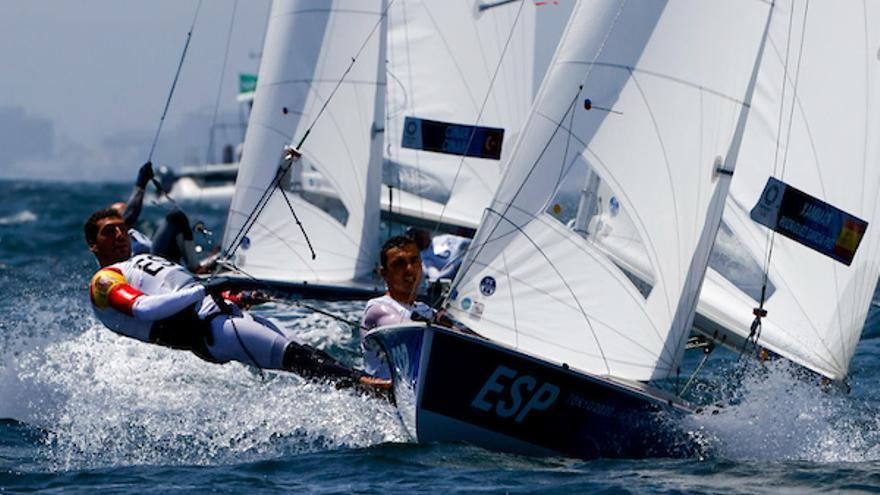 The Royal Spanish Sailing Federation has made public the Olympic regulations of the first cycle for the next Paris 2024 Games. In this regulation a preliminary Olympic team is established that will be defined in April after the celebration of the Princess Sofía Trophy of Palma de Mallorca.
FOUR OLYMPIC CYCLES
The RFEV calendar has been divided into four Olympic cycles, preceded by a transitional period that, from the close of the Tokyo Games, runs until the end of the Princess Sofía Trophy to be held from April 1 to 9.
This cycle will end with the World or European Championship of each class in 2022, the one that will later be placed on the calendar, starting the Second Cycle that will be developed with the same guidelines in 2023. That year the first Olympic places in country during the World Cup of Olympic classes in The Hague.
The third cycle will end with the last selection regatta to determine the crew that will represent Spain in Paris 2024 in each of the classes for which a place has been obtained, leading to the fourth cycle that will close with the Olympic Games.
⛵ The #Candle It is the Olympic discipline that has won the most medals for Spain

✨ 21 medals

🥇 13

🥈 5

🥉 3@oficial_rfev #HacemosEquipo pic.twitter.com/WDhfzM48AL

– CSD (@deportegob) January 8, 2022
With this approach, the crews have already started to work and the concentrations of these months will take place in Gran Canaria (ILCA 6), Lanzarote (49er, 49er FX, ILCA 7, iQFoil male and female and Nacra 17), Murcia Y Cadiz (Male and female Kite Formula), yet to specify a training place for the 470 who will remain on the peninsula.
Everything the team will finalize its preparation in Mallorca to participate in the Princesa Sofía Trophy, final referee for the configuration of the first Spanish Olympic sailing team for Paris 2024.
PRELIMINARY OLYMPIC TEAM PARIS 2024
NACRA17 class: Tara pacheco (Canary Islands) and Iago Lopez Marra (Galicia).
49er class: Diego Botin (Cantabria), Florian trittel (Catalonia), Andrés Barrio (Valencia) and Antonio Torrado (Valencia), Támara Echegoyen (Galicia), Paula Barcelo (Balearics), Patricia Suarez (Galicia) and Maria Cantero (Canary Islands).
Class 470 Mixed: Jordi Xammar (Catalonia), 1 Nora brugman (Catalonia), Silvia Mas (Catalonia) and Nicolas Rodriguez (Galicia).
Class ILCA7 (Standard Laser): Joel rodriguez (Canary Islands), Joan Cardona (Balearics), Joaquin Blanco (Canary Islands) and Leopoldo Barreto (Canary Islands).
Class ILCA6 (Standard Laser): Cristina Pujol (Catalonia).
Male IQFoil Class: Angel granda (Canary Islands), Jorge Aranzueque (Valencia), Fernando González de Lamadrid (Andalusia), Thomas Vieito (Galicia), Joan Carles Cardona (Balearic Islands) and Bernat Tomas (Balearic).
Female IQFoil Class: Blanca Manchón, Pilar González de Lamadrid (Andalusia) and Nicole van der velden (Cantabria).
Female Kite Class: Gisela Pulido (Valencia).
Male Kite Class: Alexander Climent (Valencia).