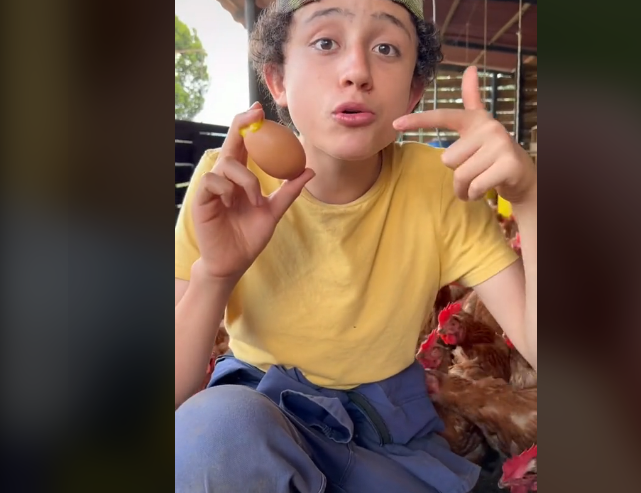 His videos have managed to reach 23 million views individually.
A tutorial on how to take care of your farm has managed to highlight the attitude of a child influencer who is the face of the TikTok profile.
This boy has gained a lot of acceptance in the social network and has managed to receive a lot of affection from his followers, because his work as a communicator has managed to attract attention.
The TikTok platform has been used by users to publicize their projects and their communication skills. This is largely due to the format under which it works, which allows you to share ideas in short videos.
This fact has led it to be one of the most important networks today. For example, the case of Mexico should be considered, since the portal Statistical points out that this is currently considered the second country in Latin America with the most internet users registered per day, with 96 million being online on a daily basis.
In short, it has been revealed that there are nearly five billion people connected to the Internet throughout the world and, of course, to social networks, of which it is Facebook continues to lead the market with just over three billion registered users so far.
Other platforms, such as YouTube, Instagram or TikTok have also reported significant growth, but it is the Chinese social network that has attracted the most attention during the last couple of years (2020 and 2021).
However, it was with the arrival of the pandemic that the name of TikTok began to appear in the main trends in several countries, to such an extent that, in 2021, the platform created by ByteDance has already exceeded one billion active users in just five years since its foundation.
This is largely due to the large number of moving videos that are presented on the platform every day. On this occasion, the algorithm highlights an enterprising and communicative child whose work focuses on presenting tips to take care of your farm and learn more about events and phenomena of nature.
Farm boy wins the love of users for a tutorial to take care of your farm
Recently the content of a farmer boy dedicated to sharing tips on how to take better care of your farm.
One of his best-known videos features a tutorial on how to prevent chickens on your farm from eating their own eggs.
In it, he shows an effective way to do it by emptying a shell from two holes through which the content comes out and then filling them with mustard, a flavor that chickens usually do not like.
In this way, according to what the child influencer comments, the chickens on your farm will avoid eating the eggs you are looking to collect.
The user has managed to win the love of his followers, since a large part of the comments have highlighted the communicative work and the child's development through the Chinese social network.
Most of the videos record more than 4 million views and a large number of likes, and even one of his videos where he shows what has to happen so that you can eat honey directly from the honeycomb has almost 23 million views.
These are some of the videos shared by the TikTok account:
Now read:
Young "whitexicans" create a tutorial to travel on the CDMX Metro
Doctor is "trained" with YouTube tutorial and patient catches her before her surgery
SAT: tutorial to get your Certificate of Tax Situation in 6 steps