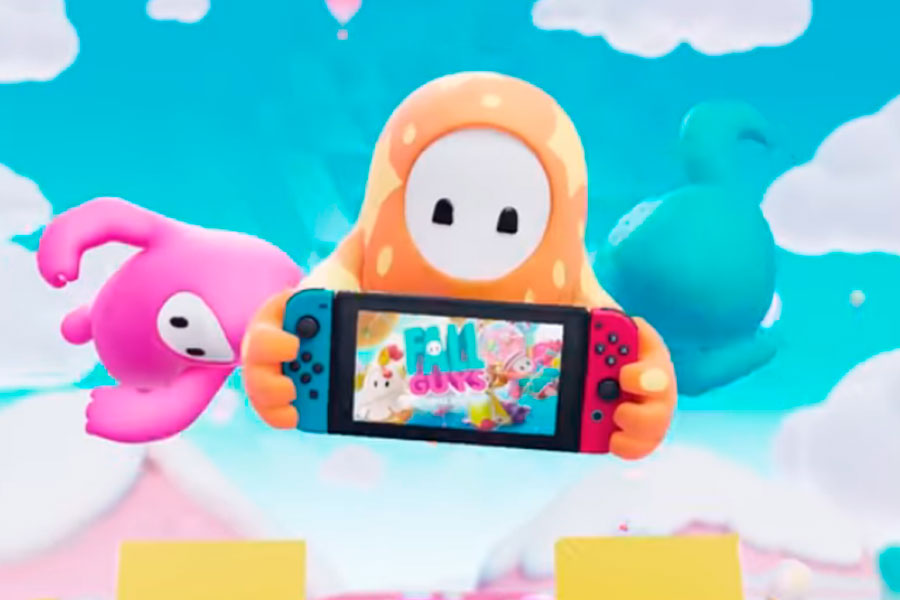 Fall Guys, the Twitch phenomenon game will come free for Nintendo Switch and Xbox Series X and S consoles.

The game has become one of the favorites of Twitch streamers and gamers, and it has finally announced its release date.

The release date of Fall Guys: Ultimate Knockout for these consoles has been made official after being delayed for just over a year.
The long-awaited announcement finally arrived, as it was confirmed that the video game Fall Guys: Ultimate Knockout will be free-to-play and cross-platform for both Nintendo Switch as for the most recent generation Xbox consoles.
This incorporation will seek to revive one of the most popular video games of recent years and will seek to include new updates with a payment format later.
Fall Guys will arrive for free on Nintendo and Xbox and this is how the news is received
Nintendo and Xbox have been the winners today after Mediatonic, the studio responsible for Fall Guys: Ultimate Knockoutannounced that the video game, after more than a year of delay, would finally enter plans to debut on both consoles.
The video published in February of last year indicated that the video game would arrive in the summer of 2021Nevertheless, this one was delayed to the point where many fans of the phenomenon believed that this would never happen.
Despite everything and against all odds, Epic Games, in an announcement that promised only collaboration with fortnite, confirmed that the game would no longer be paid and that it would reach both consoles for free. In addition, confirmed that the departure date will be June 21.
This announcement has managed to cause great acceptance among users of social networks, who have already made this announcement a worldwide trend.
The strategy used by the company Epic Games has been the same as that used by some popular video games such as Among Us, Pokemon Uniteor even Epic Games itself with Fornite.
This strategy consists of giving preference to free gameplay, prioritizing the sale of assets within the video game itself, with skins for example.
These were some of the reactions of users in social networks:
Me after seeing the ad for Fall Guys after buying the game about a month ago pic.twitter.com/zH9Ya4btQT

— Not c (@JSBMC4815) May 16, 2022
Fall guys for free I think it's great that way they get much more public a game that has been forgotten and that is very undervalued I hope they get more players they deserve it

– Crack 2 💙💙💙 🇺🇦 (@crack34285709) May 16, 2022
*mistakes make you stronger*

me after buying the fall guys for 20 euros https://t.co/rjqOjYrxQJ pic.twitter.com/Z2xs4EQIoZ

— rex (@carajaula1314) May 16, 2022
The crew coming back to play xbox together as soon as Fall Guys comes out: pic.twitter.com/Wz7I0Ontvc

— Antonio (@AntoniooE19_) May 9, 2022
Everything indicates which Fall Guys will be announced for Nintendo Switch next Monday.#NintendoSwitch #FallGuys #Switch pic.twitter.com/IdpshKPrhI

— Will there be a Nintendo Direct today? (@NDirectHoy) May 13, 2022
With this that fall guys is going to be free I'll be waiting for the tournaments they're going to do because of the popularity that jsjsjs will gain Any streamer that announces one with a prize of 10,000 dollars let me know, please

– fkcristina 🌸 (@Fkcristina_) May 16, 2022
It shows that they work with people with experience in Nintendo Switch… Fall Guys looks better than I expected 👍 https://t.co/kSeyEvyPXC

– Ares (@azur_ares) May 16, 2022
Although the vast majority of comments reflect a positive impact around this decision, some consider that the strategy of charging for games that will be free in the future is not respectful enough for loyal players.
The game has an estimated retail value of $20. The bet is that the fever for Fall Guys seeks to make players revisit their consoles and take the opportunity to enjoy this title that not many have had the opportunity to enjoy.
Now read:
Game Boy returns and Nintendo makes masterful nostalgia move
User showed how to turn your cell phone into a Nintendo Switch, but it was not what was expected
PlayStation, like Xbox, would test ads in video games; this we know
Microsoft will open the door to advertising in free Xbox games