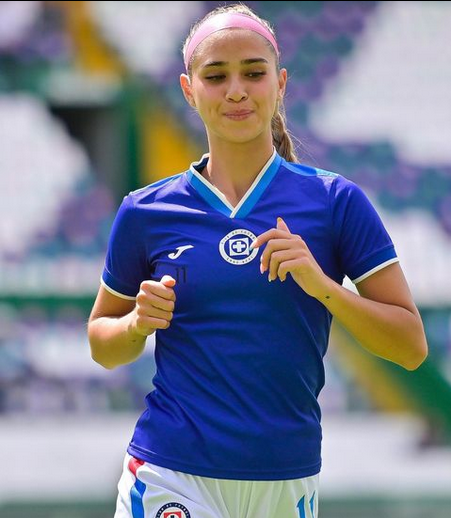 Nailea Vidrio represents the first generation of Mexican soccer players who have been trained within a local league.

The commitment of the television stations and the different entertainment channels with women's soccer has made more and more fans join this breaking of stigmas.
In an exclusive interview for Merca2.0, Nailea Vidrio commented all about her experience in social networks and as a professional soccer player. In addition, she advanced what the growth of the Women's MX League has been from her experience.
The footballer and also influencer has made a solid career in the midst of this first generation of female athletes who have managed to put an end to the stereotypes of a sport historically dominated by men, but which today is opening up to new possibilities.
Exclusive interview with Nailea Vidrio, from football to influencer marketing
For Nailea VidriOr, one of the most recognized soccer players in Mexico today, as has happened in other cases, her passion was the result of a fortuitous encounter, of a particularly unusual moment, it was not something she planned. Sometimes, the love for this sport is something that is not carried in the blood and it only takes a small impulse to detonate that love, that curious spark.
"My dream started around the age of 11. I didn't play any soccer, I didn't do any sports, but when we went to live in San Antonio, Texas, my dad opened a school there and, since it was summer, there were three months of total leisure. At that moment I said: what am I going to do for three months? I thought: well, I'll try, I'll go into his school to exercise. The truth is that I ended up loving it.

At the time, I didn't know what offside was. I didn't even know my dad's career, imagine!
However, recognition has a price and Nailea recognizes that one of the most complicated things is being away from her family, because since she was 13 years old she has had to fend for herself; After a young but brilliant career in Pachuca and León, the soccer player defends the colors of the 'Máquina'.
And it is that the Women's MX League, as opposed to the men's MX League, has been professional for a very short time, so the references are those who are currently. However, the dissemination strategy that has been used in recent years shows a clear positioning. the services of streaming such as ViX + and Amazon Prime Video have opted for the transmission of some of these meetings. On the other hand, more and more people go to the stadiums for the women's games, which previously found their capacity too limited.
But it is that without a doubt, for Nailea, the impulse of social networks is something that has helped her stand out, on and off the field, through what is known as influencer marketing.
"Networks have helped me a lot to make myself known. It is true that my race in Pachuca was a great pillar for me. The interesting thing is that thanks to the networks we can generate income apart from football".
The footballer and also influencer It has more than 240,000 followers on TikTok, one of those that have taken advantage of its momentum in recent years, being considered the fastest growing social network in history.
Regarding the economic section, Nailea acknowledges that there has been significant progress in the organization in many aspects, whether in infrastructure, in services and, above all, in the salary issue. Despite everything, he recognizes that the path is still quite uncertain and that there is much work to be done.
"Of course there has been a change in the salary issue, however, we still have a lot to improve. Obviously we, the first generation of female soccer players in Mexico, are working so that the following generations have everything that we want and, truly, we had the most complicated part. But nothing happens, that's what we're here for, and what a father that we're the first generation.

Of course it's complicated, it's hard work, the issue of salaries and all that, but yes, it is a reality that this is improving. This has little, and in the same way, little by little things are going to be given and this is going to grow.
In the same way, considering that the men's league has a large number of lower divisions, the sky-blue soccer player pointed out that, although that support does not yet exist specifically, it is clear that the future project is to look towards a formation of footballers who can start from basic forcesyes
"In León, for example, I was told that they didn't televise our games and I asked myself, 'Do you want this to grow, or not?' Obviously, the fact that advertising and television stations have opted for a new approach helps us to have more and more strength, however, we need them to believe more in this project. We're doing well, we're on a good path."
Finally, Nailea recognizes the great commitment that being part of a Mexican selection process has meant for her and how all the work that is currently being done is designed so that, in the future, there will be more and more soccer players who, like her , dreamed at some point of representing their country.
"Thinking about a memory I have as a child: I was with my family, I already liked soccer more and I saw many of them, so I would say to my mother, 'Imagine representing Mexico.' My process then was very fast. I arrived in Pachuca and after six months I played for the national team. It was a dream come true. I continued with the process until the sub 20 and although they have not called me now, I am convinced that we will return. The experience of playing against the United States and other countries is something I wouldn't trade for anything."
Now read:
Exclusive with Ola Guild Games: the acceptance of NFTs in Latin America
Exclusive with LiveRamp Mexico: alternatives for web advertising
Exclusive with Crehana: "the adoption of e-learning allows us to optimize functions"
Exclusive with Mercado Libre: this is how the growth of e-Commerce points out