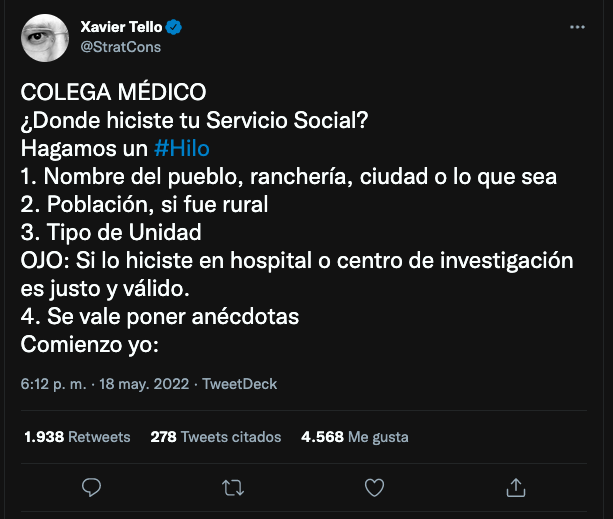 Since 1936, social service in Medicine has been mandatory in Mexico.
Unlike the other professions, here it lasts for one year.
A thread on Twitter went viral for showing the experiences hundreds of doctors faced when they were interns.
The path that all people who want to become health professionals must face is quite extensive and full of complications. The last step is to comply with the year of compulsory social service and that is where the best/worst stories of future doctors are generated. It is the litmus test that must be passed to show that you are prepared for this job.
At the end of 1935, in an atmosphere of voices calling for the closure of the National Autonomous University of Mexico (UNAM), the then director of its School of Medicine, Gustavo Baz Prada, made a proposal that would soon become law: the Social Service in Medicine.
What he sought was to consolidate the training of medical interns, test their abilities and establish a mechanism to give back to society what was invested in their education. By 1936, Social Service became mandatoryunder a collaboration agreement between UNAM and the then Department of Public Health, today the Ministry of Health (SSa).
What happens today?
In that sense, the performance that has been had during the university is essential to be able to choose the place where you want to meet this requirement. Those with the best average are always the first to choose.
Although it does not always happen, it is natural for doctors to select a hospital within their own city. They can also focus on the field of research, which is always complicated but does not require direct contact with patients on a daily basis.
Now, another option that is also available is do social service in rural areas. In this case, one of the aspects in favor is that it works to develop empathy and humane treatment. Both aspects are necessary because they allow for a better relationship with patients.
On the other hand, the "bad" thing about complying with this requirement in areas far from big cities is the insecurity and deficiencies that prevail. There are not a few cases of young people who have been attacked by the inhabitants of the places. While these clinics also stand out for their insufficient supplies.
In the midst of this environment, the doctor and analyst Xavier Tello had an initiative that has been well received. Through his Twitter account He summoned all the doctors to tell their best stories that they experienced during social service. The result became a huge Twitter thread that up to now has accumulated hundreds of comments.
MEDICAL FELLOW
Where did you do your Social Service?
Make a #Thread
1. Name of the town, ranchería, city or whatever
2. Population, if rural
3. Unit Type
NOTE: If you did it in a hospital or research center, it is fair and valid.
4. It is worth putting anecdotes
I start:

— Xavier Tello (@StratCons) May 18, 2022
When reviewing what was written by the doctors, you can find stories of all kinds. Some of them mention the satisfaction that it means to serve people from villages forgotten by the authorities. Although to do so many times the intern himself must buy the bandages and gauze because there are none in his work centers.
Similarly, others took advantage of the forum to point out that they were victims of attacks or witnessed kidnappings of colleagues. When it comes to rural areas, insecurity is experienced every day and the most affected are future doctors. There are no police or sufficient guarantees for their care.
In addition, there are testimonies from doctors who relate how complicated it was to travel to their place of work. Some had to walk for hours to get to the clinic. But although he was tired, the greatest satisfaction was seeing the faces of the patients they cared for. In the end it was an aspect with which they verified that they chose the right career.