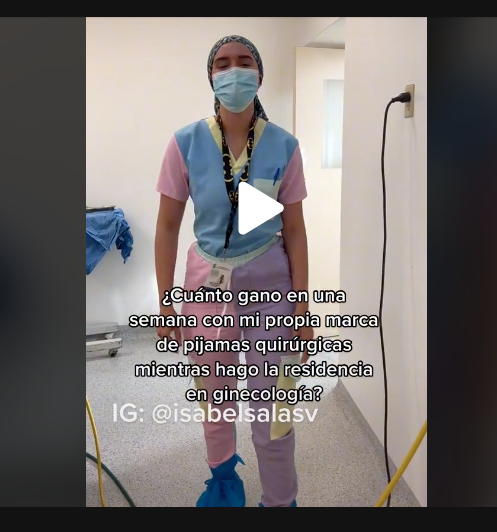 Based on a study by the Labor Observatory portal, a doctor receives a monthly payment of 17,366 pesos in our country.
A Gynecology resident opened her own online medical clothing business.
Through a video, he made known the profits he obtains with his company.
The possibilities of professional development within the field of health are too extensive. Sometimes it is thought that the only way is patient care, but this is not the case. There are also other aspects that can be explored and one that is not used very much is medical clothing. For this reason, a doctor decided to open her own business to earn additional income.
A lot of work and minimum payments
In that sense, it is a reality that the salaries of doctors in our country leave much to be desired. This is a situation that has persisted for decades and in recent years no great progress has been made.
In fact, currently Mexico is among the Latin American countries that offer the lowest payments to their doctors. It is only above Venezuela, Bolivia and Cuba, although in the end they all carry out the same activities regardless of the nation in which they are.
Now, a very important characteristic that should never be lacking in health professionals is entrepreneurship. The natural thing is to save enough to open a medical practice of your own. It is an alternative chosen by thousands to become independent and be able to carve out a path.
On this same basis, a doctor decided open his own business but in the field of medical clothing. This is Dr. Isabel Salas, who is R3 of Gynecology and currently lives in Jalisco.
An alternative way to earn additional income
Along with his work at the hospital, he founded his own company called Is A Scrub. Its mission is to provide a reliable surgical pajamas sales service based on efficiency and professionalism. To adapt to current times, it does not have a physical store but everything works through the internet.
Within its catalog, surgical pajamas for men and women of different colors stand out, as well as surgical caps. All payments are made online so you can receive packages from the comfort of your home.
Although it is a small business, it has shown considerable growth since its launch. To prove it, Dr. Salas published a video with screenshots to show the profits that she has obtained with this medical clothing business.
@isabelsalasv

How much do I earn from my business as a medical student?
The video includes screenshots of the transfers you received during June 2022 with this business. Adding all the quantities shown gives a final figure of 30 thousand 664 pesos.
The total corresponds to one month and represents almost double the average salary of a doctor in Mexico. Based on a portal study Labor Observatorya doctor receives a payment of 17 thousand 366 pesos.
Having said all of the above, this medical clothing business shows that it is quite profitable and it is an area in which other health professionals could venture.