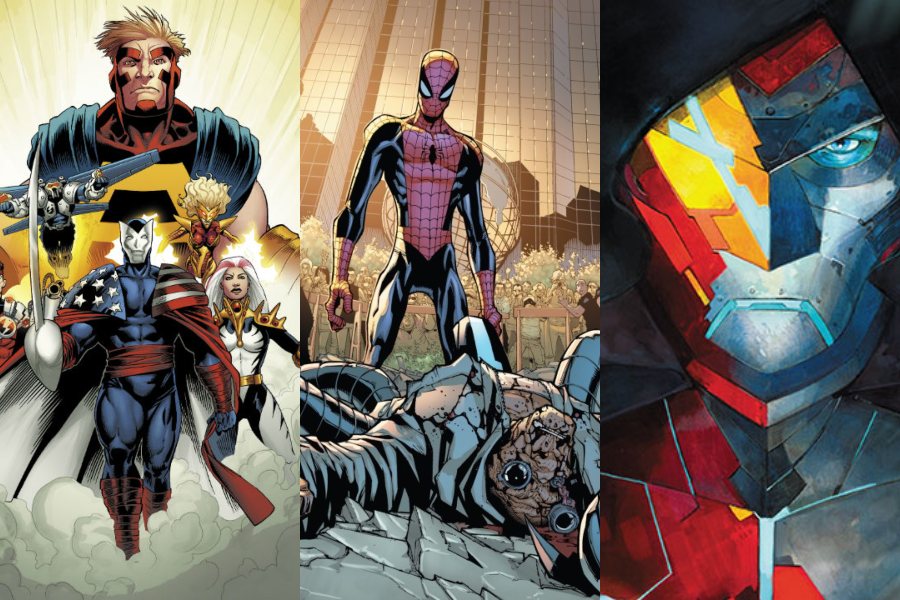 Here are several events that Marvel has held where we have seen several villains redeem themselves
In the world of heroes we have seen a large number of opponents parade who are dedicated to making evil and life impossible for the Marvel superheroes that we all know, who are better known as villains. These particular beings have a high level of evil and lust for power that causes them to commit evil deeds.
Do not miss: The stories of What If…? that came true in the Marvel Universe
But just as various superheroes have turned out to be traitors, there are villains who have redeemed themselves and put aside a life of evil to become the heroes and save the day.
Here are several events that Marvel has held where we have had the opportunity to see various villains redeem themselves and be the heroes even for one occasion.
Hellfire Club
Some of these cases we have seen very marked in various mutants, who have been involved in quite a few controversies regarding whether they are heroes or villains, which they classify depending on the acts they perform in their life, as is the case with Magneto, Wolverine, Emma Frost, and Mystique, to name a few.
Most of these have been considered as villains, since their powers have such power that they are classified as dangerous, many of these have also been involved in causes where they have to help the world or ally with someone else to do good, but Most of their actions are considered bad because they are almost always defending themselves or trying to survive but in their own way.
This does not absolve them of the bad things they have done, which in several have been more times than the good acts, but even so these mutants have also come to redeem themselves and do something good for humanity, although for some of them they do not deserve it. .
Thunderbolts
The Thundderbolts is a group of Marvel characters made up mainly of redeemed villains, who rectified their path and decided to follow the path of good.
This team arose thanks to the apparent death of the Fantastic Four, The Avengers and other superheroes, which was made up of the Masters of Evil (Baron Zemo, Moonstone, Goliath, Beetle, Howling Mimi and Fixer), who gave themselves to know as Citizen V, Meteorite, Atlas, Mach-1, Songbird, Techno and Jolt.
The real reason why the Thunderbolts were created is to be able to obtain the rights of a hero and to have access to the secrets of the defense and security of the government like SHIELD, but it did not count that the return of the heroes would ruin their plan.
Several of the "redeemed villains" who joined Baron Zemo in Thunderbolts went ahead with the plan to improve his life and gave themselves to the true heroes, but others chose to continue on the path of evil.
The Superior Spider-Man
In this story, the evil Doctor Octopus is the one who ends up becoming the good vibes of the story.
After the supposed death of Spider-Man, Otto Octavius ​​implants his mind in Peter Parker's body and Peter's in his body, this with the intention of taking over all of Peter's life and becoming the Spider-Man that the world needs, that is to say a true hero.
It usurps every detail of Peter's life, including his relationship with Mary Jane Watson, his relationship with various villains, and his academic future; All this he does thanks to Peter's consciousness that still exists within the body, who is determined to get his life back, but it seems practically impossible.
The same memories, trying to do things better and his obsession with having a new life are what end up destroying Doctor Octopus or better known as The Superior Spider-Man.
Infamous iron man
After the disappearance of the founder of Stark Industries, Tony Stark, after what happened in Civil War II, the villain Doctor Doom decides to continue the legacy that Iron Man left and makes his own armor and decides to undertake the journey as the hero of the story and not like the villain we are used to seeing.
Doctor Doom shows us various motivations for which he seeks to redeem himself, but it is not clear to us why he specifically chooses to be Iron Man, it seems a whim that he simply wanted to indulge in and when the opportunity presented itself he did not miss it.
The most curious thing about this case is that he will have to face villains from other realities that we are too surprised to see and more because it is too difficult to see Victor as the hero, but in the end he turns out to be and I think he got what he wanted, a great recognition for his act.
Dark avengers
It is the world's best-known redeemed team of supervillains. After Norman Osborn's heroic act by shooting the Skrull queen, which ended the war they faced for the secret invasion, he obtained the trust of the government and control of superhuman affairs.
Having so much power in his hands he decides to undo SHIELD and form his own organization called HAMMER, where he formed his own team of avengers where most of the members were former members of the Thunderbolts.
This Dark Aavengers team was a big mess, as former heroes who belonged to SHIELD, as well as villains allied to Osborn joined their team, but many heroes refused to be part of their team, such as Carol Danvers.
Obviously their ambitions were unmasking them. Norman Osborn's true intentions were undermining the Dark Avengers.
Don't Miss: Top 10: Marvel Villains Created by Jack Kirby
Source: Marvel
The Sinister Six threatens SMASH and Marvel Comics Mexico
While still in high school, the surprising Spider-Man faced one of his most chilling challenges when six of his most energetic nemesis formed a crime team – the Sinister Six!
Years later, Doctor Octopus reunites the members again to carry out his most remarkable plan to date. Time has made them more deadly than ever, even as they have made Spidey's life more complicated!
SMASH and Marvel Comics Mexico bring you Spider-Man: Sinister Six, a volume with stories from authors of the stature of Stan Lee and David Micheline, which you cannot miss in your collection.
It is also being read
Captain America's musical theater play was almost a reality!
Tony Dalton starts filming Hawkeye in the Marvel Universe
The lessons of the first Hawkeye trailer
How did Jeremy Renner get here?
Vincent D'Onofrio would return as Kingpin for Hawkeye