To date, the most important information on the new generation of consoles has been attended to. Its specifications have been attended to, its price has been attended to and all those new functions that justify the jump to the new Xbox consoles. But updating the product page in the Microsoft store has revealed new information. Discover the dimensions and weight of Xbox Series X and Series S on its official page.
Some may think that it is not important, but at this moment there is a debate open after seeing the various unboxings of each of them. There are discrepancies around whether or not the Xbox Series X is big, knowing that the Xbox Series S is a really small console. But how much? Now with this new information, we have access to the dimensions and weight of each of the consoles, as well as other technical elements such as the connections
Xbox Series official pages updated
Series X https://t.co/akKlhhHqPS
Series S https://t.co/6ioU84IDWF pic.twitter.com/ZBGgY2xnbj

— Wario64 (@Wario64) September 14, 2020
Insider Wario has been in charge of publicizing this update of the Xbox Series X and Series S product page. With this, all these details and information that had not been disclosed to date have been revealed. And they are not useless aspects, since they allow us to know precisely the volume of each one of them, their weight, and even the HDMi and USB connections they offer. In this way, the dimensions and weight of Xbox Series X and Series S are discovered on its official page.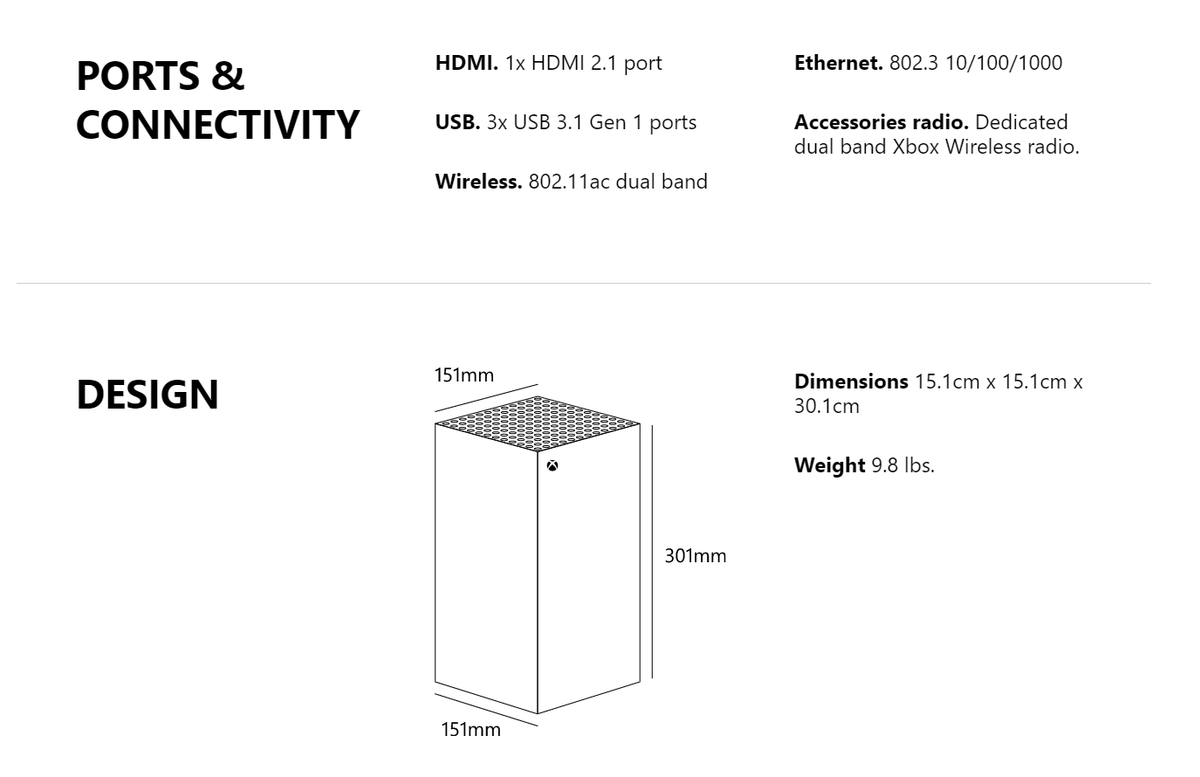 The Xbox Series X is the most powerful console to come in the next generation, and it will also be quite bulky. At 30.1cm high, 15.1cm wide and 15.1cm deep, it surprises above all with its design. Far from being a console that is raised to be lying down, which can also, its dimensions are quite generous. Its weight is 9.8 pounds, which is 4.44Kg. 
The Xbox Series X includes an HDMI 2.1 port, 3 USB 3.1 Gen1 ports, dedicated mobile radio connectivity, dual 802.11ac WIFI, and a 10/100/1000 RJ245 802.3 Ethernet connection. In principle, it also consists of the Bluetooth connection controls.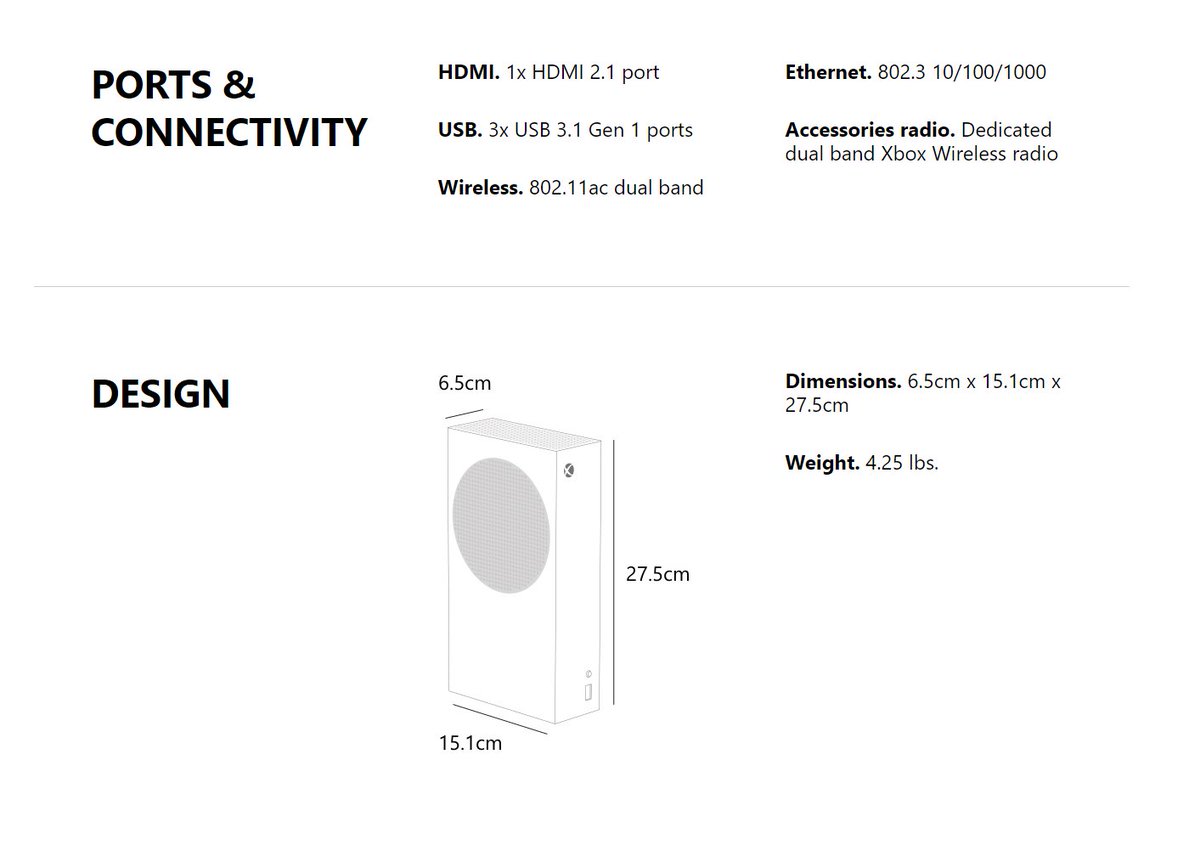 In the case of Xbox Series S, it surprised by its small size. It has been said that it is 60% smaller than its older sister, and therefore its dimensions arouse so much interest. Considering that this model can be put lying down, or is more designed for it, it is a hardware that occupies 27.5 cm wide. 6.5cm high and 15.1cm long. It is a very small console and it is also light, as it weighs less than 2Kg, more specifically, 1.92Kg. And as expected, it consists of the same ports and connectivity as Xbox Series X, without removing a USB.
And in this way we know the dimensions and weight of Xbox Series X and Series S on its official page, which will be of vital importance in a few days. Many are preparing for September 22, the day on which the reservations of both consoles will be enabled. With its launch set on November 10, depending on your need and preference, you can choose Xbox Series X for € 499 or Xbox Series S for € 299.