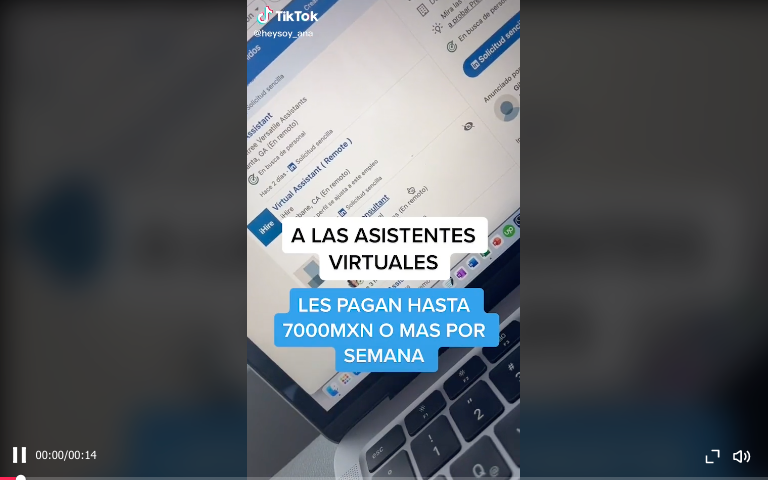 The functions of a virtual assistant are similar to those of an assistant or secretary, with the big difference that their work is completely via the internet.
Mandatory social distancing brought with it more than just the foundation of digital platforms and social networks, although these are the trend of the new normal, sectors such as technology or online commerce were widely favored, within this aspect the work environment was affected; however, it opened opportunities for a new lifestyle, which although it was not entirely new, if increase in its number of practitioners, that is why now a content creator tells what can be earned being a digital nomad and working as a virtual assistant.
What is a digital nomad?
The idea of ​​a digital nomad can be conceived as a person who carries out their work activity completely remotely, so they have the ease of working in different parts of the world., who generally do not have a fixed residence, these workers use the internet to carry out their work, as well as to sell their knowledge and offer their services, an action that allows them to lead a nomadic life, that is, to travel while they work.
According to data provided by Specialized media, There are at least three variants of this type of worker, which can be classified as: the freelancer, the entrepreneur and the one who works for someone else, so digital nomads should be considered as a lifestyle, more than as a form of work, since the people who choose to follow this rhythm of life, They not only face the changes that have taken place for a year at the work level, but they have also faced the decision to take control of their lives.
What is a virtual assistant?
You can understand a virtual assistant as a professional who works remotely in tasks of assistance, direction, correction, monitoring and follow-up on the employees of a company, which develops its work using the network, and various digital platforms, which allows it to carry out its work from anywhere in the world where it has internet access.
How much can you earn as a virtual assistant
It should be noted that being a digital nomad entails various circumstances; however, in modern digital life, it is possible to access multiple employment options remotely, so establishing a base unit floor can become complicated; However, the user @heysoy_ana points out that it is possible to earn an average of seven thousand pesos, weekly, working as a virtual assistant.
Although securing a base salary is sometimes complicated, in comments it has been pointed out that it is possible to find jobs as a virtual assistant, with salaries of just over 30 thousand pesos per month, and from 10 thousand pesos per monthso the community has shared within the digital conversation, some of the advantages of remote work, as well as promoting new job vacancies focused on the new digital normality.
Now read:
"If you come dirty, we bathe you"; car wash goes viral with creative advertising
New move by Tesla; opens universal superchargers in Spain
He goes to Bodega Aurrerá for some pants and discovers that "he was shopping at Gucci"
Ýoutuber bought $2.8 million worth of cryptocurrency now worth $0.00013