The development process of the new electric Porsche Macan continues. Porsche has decided that its long-awaited electric SUV will face the demanding Nürburgring track for the first time. The Stuttgart firm has put a fleet of Macan EV prototypes to the test.
Porsche continues to work at full capacity in the development process of its long-awaited 100% electric SUV. The time has come for the Porsche Macan to enter the dawning era of electric mobility. The new generation of the successful German SUV will bet without complexes on electrification at its highest level. The 100% electric Porsche Macan will be a reality.
In recent months, thanks to our spy photographers, we have closely followed the development process. A development that has been completing different stages. Now, the brand faces the demanding circuit tests. The Porsche Macan EV has carried out the first tests on the Nürburgring track. Some tests that have been carried out in broad daylight.
Spy photos of the new Porsche Macan EV

The truth is that the Stuttgart brand has delayed its passage through the Nürburgring for too long with the long-awaited electric Macan. Now, under the premise of making up for lost time, it has taken a fleet of four prototypes. A significant number of vehicles that will allow Porsche to carry out numerous tests in just a few days.
It is necessary for the Electric Macan to run on this track in order to successfully complete its development process. Circuit testing will allow Porsche to find the perfect set-up for the chassis and even lay the groundwork for a hypothetical challenge to set one of the fastest times at the Nürburgring.
Unfortunately, and as can be seen in the spy photos that accompany this article, the sighted prototypes maintain the characteristic Porsche camouflage. A camouflage that not only seeks to cover the final design, but also aims to mislead prying eyes.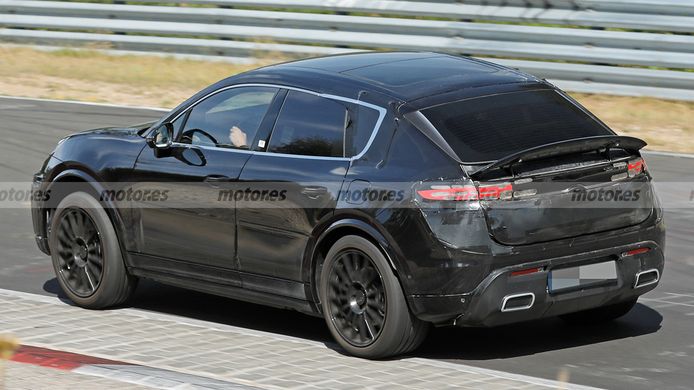 The range of the electric Porsche Macan

The new Macan EV is being developed on the PPE platform, an architecture intended exclusively for battery electric vehicles and which, in addition to Porsche, is also used by Audi. The range will be made up of different versions. In addition, it will be possible to choose between different batteries, being 83 kWh Y 100 kWh respectively. In the best case, the autonomy of the electric Macan will reach 700 kilometers.
As for its arrival on the market, the latest information points to a possible debut sometime in 2023. Now, we must not forget the first rumors that highlighted a presentation before the end of this year. In any case, the development continues to advance and soon we will be able to meet the first electric Macan in history.