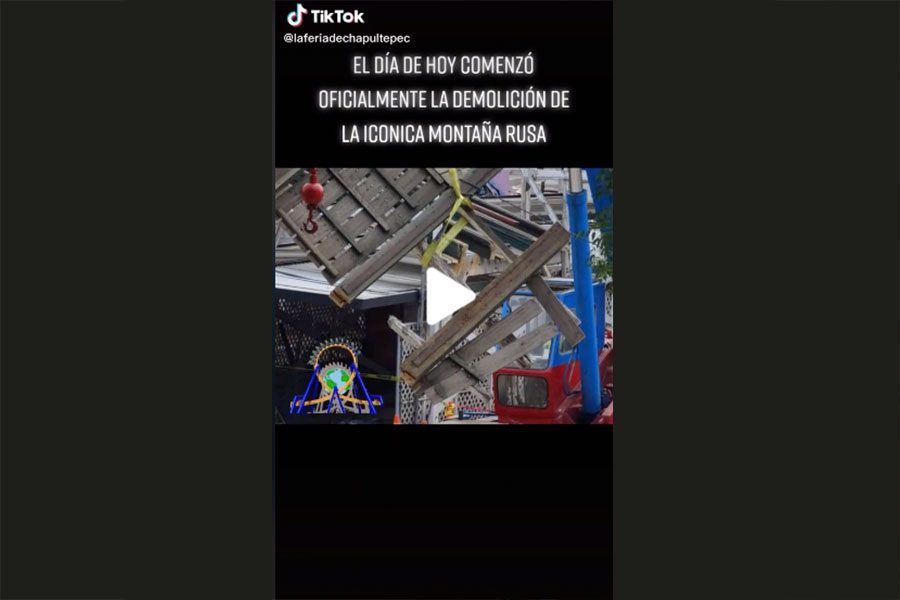 The Chapultepec fair opened its doors on October 24, 1964 under the mandate of then President Adolfo López Mateos.

The fair was inaugurated under the name of Chapultepec Mechanical Games, later called the Chapultepec Fair.

In September 2019, after a tragic accident, the doors of the fair were permanently closed, giving rise to its demolition today.
One of the iconic venues of the city was the Chapultepec Fair, a tourist emblem that was located within the second section of the Chapultepec forest, an enclosure that opened its doors on October 24, 1964, with the name of "Mechanical Games of Chapultepec " and under the mandate of President Adolfo López Mateos, this with the intention of beautifying that part of the Chapultepec Forest; however, yesterday demolition work began, ending a period of games and fun.
The iconic Chapultepec Fair closed its doors permanently in 2019, after a tragic accident occurred in which two people lost their lives due to a failure within a popular game called Chimera, after the incident it was discussed for months what happened, they decided to demolish the amusement park and seek to give opportunity to a new tourist attraction for the second section of the forest.
Demolition work begins at the Chapultepec fair
From the account within the TikTok social network, @laferiadechapultepecit has been pointed out that yesterday, the demolition work began on what was one of the emblematic amusement parks of the Mexicans, Within the video you can see how heavy machinery operators and workers began to dismantle what at the time was one of the biggest mechanical attractions in Mexico City.
TO Root of the video showing the dismantling of the roller coaster and some other games, a digital conversation has been generated in which the users of the social network point out the sadness and nostalgia that the images cause, since the fair remained open for various generations who enjoyed its attractions.
"Goodbye cowboy. 😢🥺 It seems unbelievable, but I think I speak for all the Mexicans who went and we feel that a part of our life is going away with the fair".
@User9879648852884

Goodbye, dear mountain! you gave me incredible moments 🥺🥺🥺🥺 we will miss you!!"
@elpapáJhon
Chapultepec's new attraction
The government of Mexico City stated during the last quarter of last year that the new project designed to replace the emblematic Chapultepec Fair will be Parque Aztlán, which has been anticipated to be free to enter and with popular prices, for the enjoyment of citizens and all visitors the second section of the Chapultepec forest, it was also announced that the park will begin activities in 2023 with an assumption of full operations in 2024.
"How sad 😪 how many memories, how many pleasant moments, part of my happiness is gone. 😪😪😪😪😪 Never a thousand new parks will imitate it😪"
@CaramelithoO
Now read:
WhatsApp will limit the forwarding of messages in groups with the new update
Televisa is confirmed as the main generator of audiovisual content in Spanish
Pre-order for Doctor Strange announced and consumers remember the collapse in sales of Spiderman
After 2 hours of training, a client manages to enter Sambuca Copilco and shows his experience