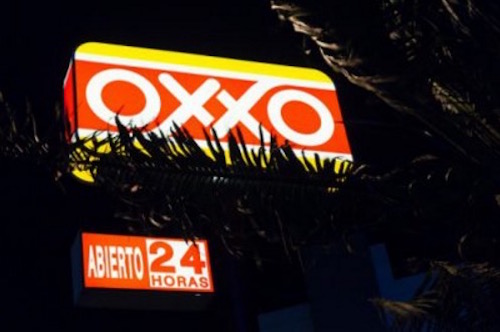 Oxxo has become a space where some users have shown their creativity with all kinds of initiatives.

Previously, users have shown their talent by creating poems or other ideas inspired by Oxxo.
Through Twitter, a couple of users shared their creative declarations of love in Oxxo, thereby surprising the brand.
Creativity, without a doubt, is part of the human being and in times when there are all kinds of technological tools, this becomes more evident, especially when there is a space to make it known.
In short, analogous times have been left behind and technology, today, is essential to carry out daily tasks, from school tasks to those that have to do with strictly work.
On the other hand, we are also talking about an era in which entertainment and leisure have also diversified, which, added to these technological tools or platforms, can give good results.
What's this all about? On Twitter, a couple of users gave some samples of their creativity and, through their respective accounts, they revealed the creative way in which they declared their love, with an Oxxo store in the background.
Oxxo is one of the most popular stores today. According to data from Statisticalpublished in February 2020, the convenience store chain was the company with the largest number of branches for the collection of remittances in Mexicowith a total of 19,146 establishments.
Tweeters declare themselves with an Oxxo in the background
In fact, Oxxo has also become a space in which some users have shown their creativity with all kinds of initiatives, such as the creation of poems dedicated to the brand, photographs of a much more aesthetic cut, among others that are adding day to day.
It is so that users @monsi_80 and @TheKyojuro shared a couple of videos stating that "Declaring yourself in Oxxo does work". That is to say, both tweeters carried out their respective and creative declaration of love with an Oxxo store in the background. The result is as follows:
as well as my compa @TheKyojuro I also applied it and they told me yes? declare yourself in an Oxxo if bandaa works.
Uncle @Tiendas_OXXO pass the promos for the minita pic.twitter.com/2BmbkohqoB

— Monsi80 (@monsi_80) March 29, 2022
Nothing better than declaring yourself in an oxxo yes or no @Tiendas_OXXO pic.twitter.com/QdKejIQdle

— The Kyojuro (@TheKyojuro) March 29, 2022
The contents created by the tweeters are part of the initiative #OXXOFanArt, through which the creative work of some Internet users is made knownwhich develop some concepts inspired by the brand.
Ideas like those of these tweeters are shared almost every day, all under the same hashtag and each showing part of the ingenuity of the users.
Previously, a user shared her experience with Oxxo through a poem; Another case to be highlighted is when Internet users take the branches of the store to the gamer universe, either in Grand Theft Auto or in Roblox, as happened a few days ago; The "Oxxo of the future" was also created, which had a positive response from several Internet users.
The Oxxo of the future?
.
.
.
.
.
.
.#edits #pinterest #picsart #tumblr #aesthetic #scenery #Photo #edit #freetoedit #oxxo #cyberpunk #neon #neonlights #future #oxxodelfuture pic.twitter.com/7gCfUS9l8l

— Luna_chan? (@LUNA_CHAN_YT123) March 15, 2022
What is clear is that nowadays, it is easier to be in contact with brands and/or companiesbeing social networks that link with which, even, a new way of communicating with each other has been created.
Hence, today, the relevance of Twitter, Facebook or any other platform is vital for brands to reach audiences through initiatives that allow the sharing of ideas between companies and consumers.
We live at a time when Internet users are looking for those brands that, in some way, are more involved with the consumer.