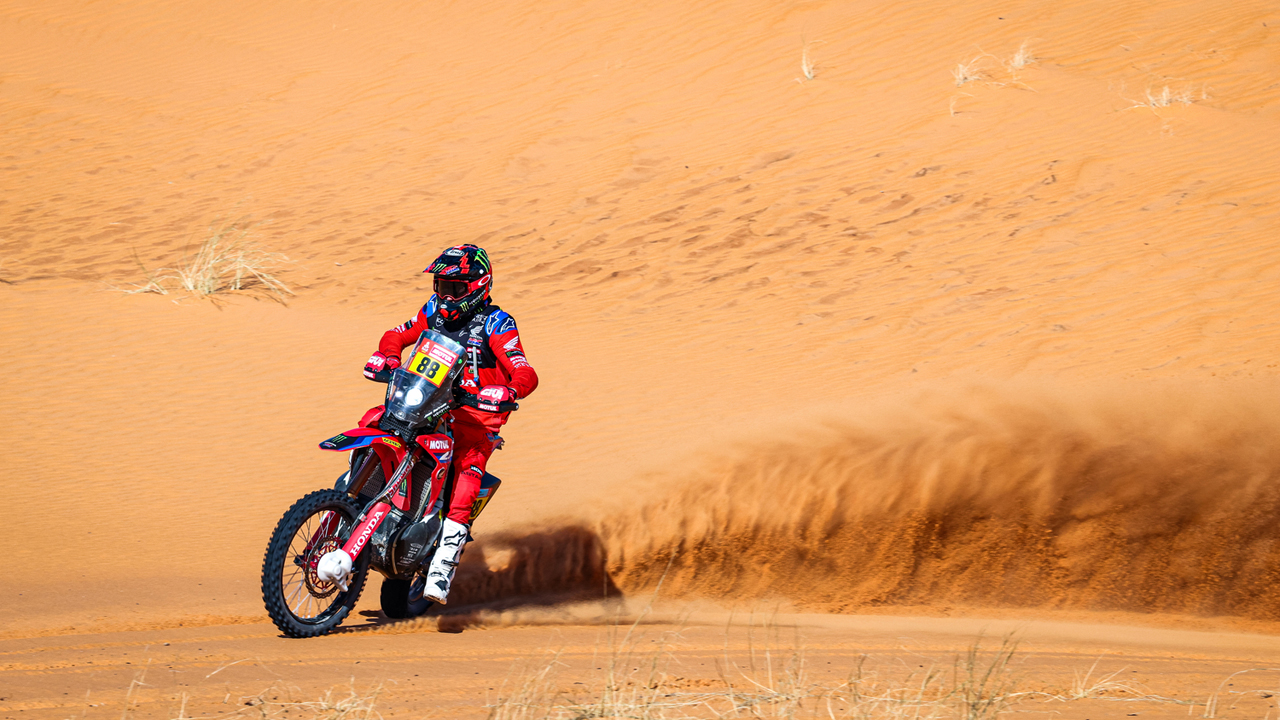 The Spanish riders continue fighting one more day with the aim of completing this Dakar giving the best of themselves. In that sense, Joan Barreda is giving a lesson in struggle and improvement in the last days. After his crash in stage 5, the Catalan had to compete by controlling the pain of the injury to his left clavicle, a task that was even tougher today. The 'motard' suffered a new fall when jumping a dune in today's stage, received the impact of his motorcycle and noticed how his clavicle came out again, which has caused him to have to drive with one hand for part of the route. In cars, Carlos Sainz finished the special in fourth place, contributing to a good day for Audi.
Joan Barreda he got a creditable fifth place today and is already in the 'top 5' of the category: "It was a difficult day for me, especially at the beginning of the time because I have the softest suspensions since the injury. I crashed and it was difficult to keep up at a good pace. All in all, it was a good day, even though I made a navigation error 50 kilometers before the finish line. It will have cost me 10 or 12 minutes. I'm happy, although it could have been better. Tomorrow will be another day and I will try to do better. The race is very close at the front, but the important thing is to keep up the pace and stay focused and strong. Physically, I felt better today, but I fell on the sand and it really bothered my shoulder for a few minutes. "
Lorenzo Santolino he has not had his best day on this Dakar. He had to settle for twentieth place in stage 8 and has lost two positions in the general classification, although he is still within the 'top 10' of the category. Now 21 minutes and 9 seconds separate him from his head: «It has been a day in which I have not had much fun. It has been a bit long with the dunes. I have felt good, but compared to the others the pace has been low. I tried to continue until the end, where I felt better because they were areas with a little more tracks, between valleys; I had a good time there. One more day with no drop or damage, so happy about it».
Sandra Gomez completes yet another stage despite falls and navigation problems: «SI got there pretty good, but there was a lot of dust and, wrapped in a cloud of dust from a pilot ahead of me, I fellbut I haven't done anything to myself. I was going very well, at a pace, in the dunes and on a short, I don't know if I fell and the airbag went off, or if it jumped and then I fell again. About kilometer 337, it indicated that I was skipping a 'waypoint'. I've gone back and it's been a bit of a chore. I do not even know how I failed, since I was always very aware of the 'roadbook'. That's where I've gotten involved, they've gotten ahead of me. It was the longest day and it had to be saved. I have not hurt myself and nothing has happened to the bike either ».
Carlos Sainz it was just seconds behind third place for the day, which would have given Audi a historic treble: «First of all, it was a very good day for Audi. First victory for Mattias and second place for Stéphane; about to triplet, but I was three seconds behind third place. I am very happy, because I've had two slow punctures and had to stop twice. Happy with the car, with the pace and with everything. Considering the problems, I think the speed has been good and I'm happy with this stage. This was an appropriate stage for the Dakar and it was very beautiful, I really enjoyed it. We have not had any problems with navigation, but those punctures have been a shame».
Laia sanz continues to grow in what is his first experience in the car category at the Dakar. Today he has obtained the twenty-ninth best time of the day and is already in 23rd place in the general classification for cars. The dunes have been the biggest challenge he has had to face on this day: «It has been positive, we have activated survival mode, but sometimes we have to do that in the Dakar. Happy with the jump we have made in the general classification. It has been a positive stage. Hard, the hardest on the Dakar due to the state of the sand, which was very soft. When we saw that there was a bit of trouble and it was difficult for us to get to the top of many dunes, we had to try several times in some and other times to skirt them because there was no way to climb».
Nani Rome he could only get 38th place on the special when he had problems with the suspension of his vehicle after a jump: «We waited at kilometer seven for Orlando, so when he passed we followed him to work as a team. After the dunes, we came to a very rocky area that had a lot of dust, so we had to be very careful. Then there were some bumpy parts and we took a jump, nothing difficult or out of the ordinary. We've done 100,000 stronger jumps, but maybe we just hit a rock so we had to repair the suspension quickly and then continue. The rest of the car continues to be perfect, so thank you all at BRX once again for your work.
Carlos ChecaAfter the problems of the first week that prevented him from even competing in any stage, he continues with the aim of learning and enjoying the Dakar experience. As he declared after reaching the finish line, today's stage has been good in these terms: «The stage has been very fun, I think the funniest. We have had a great time and everything has happened to us: we got stuck, we had to take out the shovel … There were fast tracks, a lot of dunes, we played a lot with the pressures and it was the stage where I learned the most.. At the level of navigation I think we have done quite well ».