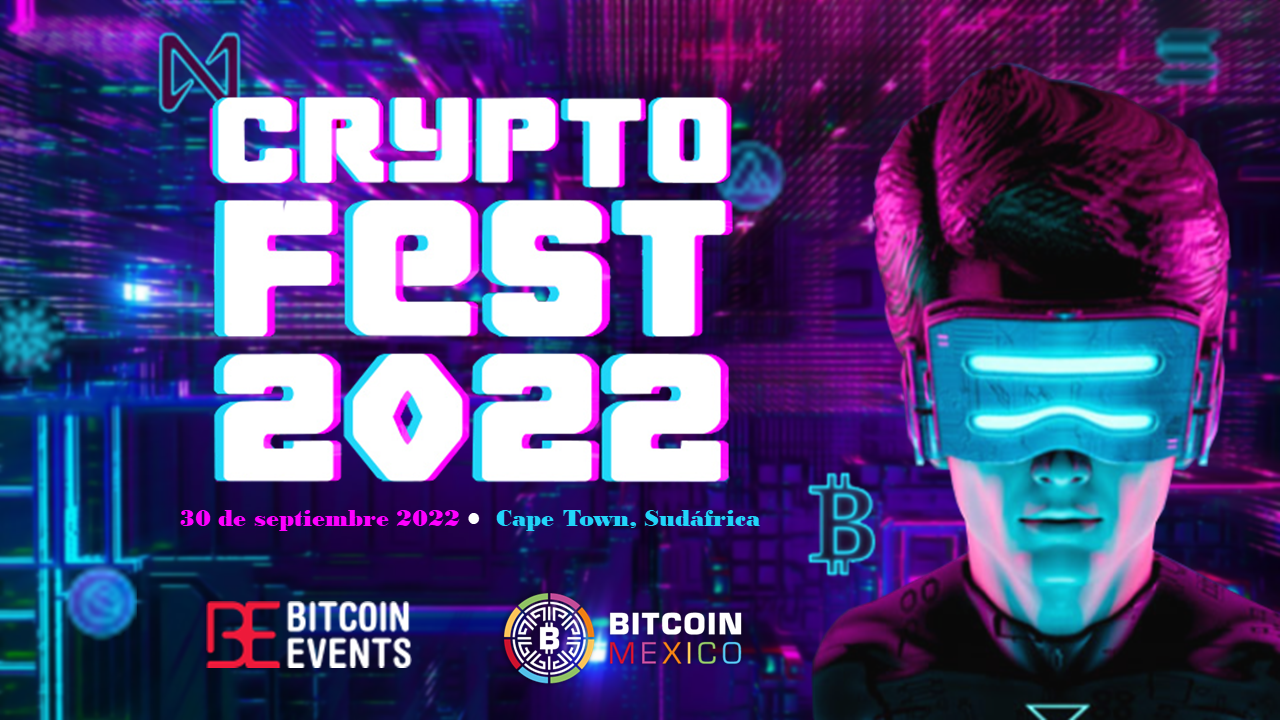 The fourth edition of the Crypto Fest will be held in a hybrid way on September 30.
Its face-to-face format will take place in Cape Town, South Africa, and will have live broadcasts for virtual attendees.
The African continent has already become a well-known destination for enthusiasts of the crypto ecosystem both for the development that is taking place in the region and for the events that it has hosted in recent years.
The crypto fest is one of these world-renowned events which will return for its fourth edition on September 30. This event will be held for the first time in a hybrid way. Its face-to-face format will take place in Cape Town, South Africa, and will have live broadcasts for virtual attendees.
This year the conference will be inspired by the satire and comedy film 'Don't Look Up' which describes people's inability to deal effectively with climate change and uses the metaphor of a threatening comet to destroy planet earth and instead of looking up and responding.
Change is also coming to the crypto-DeFi-NFT-Web3 space, and now is the time to 'look up' and see the changes, but also the opportunities.
Topics to be addressed
The Crypto Fest will analyze how new technologies, crypto and blockchain, are revolutionizing the world of finance, investment, art, music, sports, entertainment, marketing, governance and more.
Speakers such as Justin Sun, founder of Tron, Sandeep Nailwal, Co-founder and COO of Plygon, and María Paula Fernández, Founder and CEO of ETHBerlin, among others, will share their views on cryptocurrencies, non-fungible tokens (NFT), Metaverse, Web3 and decentralized finance (DeFi).
Activities
In addition to the conferences, the Crypto Fest will offer a Networkig space in which you will be able to make strategic associations with representatives of industries such as finance, insurance, commerce, mining, software infrastructure, auditing, investment, legal, regulation and more.
In addition, the event will also feature an NFT Gallery, which will present a variety of well-known local and international artists.
It will also have a Crypto Battle Arena in which panelists will debate and dispute about controversial issues.
tickets
Cape Town is ranked as one of the most beautiful cities in the world with magnificent beaches, two World Heritage Sites, extensive vineyards, nature reserves, botanical gardens, and a bustling waterfront, making Crypto Fest an attractive crypto event.
If you want to be part of this event, face-to-face tickets range from $18 dollars for the cheapest ticket, to $125 for VIP tickets. While the virtual ticket will cost $6 dollars.
Do not miss any conference and check our calendar of crypto and blockchain events: