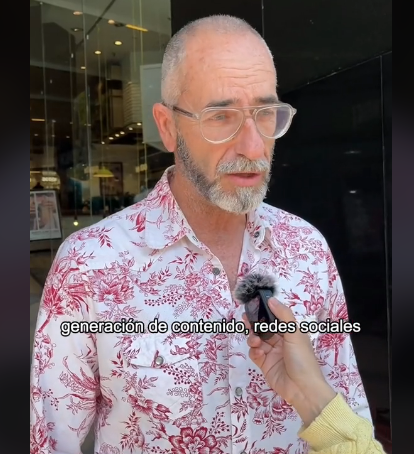 To be successful in advertising, cinema, or whatever you do, you must first privilege the value of life.

This initiative is dedicated to interviewing low-profile people with job success, with the aim of obtaining an education.

From a creative director of marketing to a delivery driver, everyone has an experience of improvement.
Succeed in our profession is something we all want, whether we are dedicated to initiative work informal or formal or that we dedicate ourselves to art or advertising.
However, success is not exactly the same as recognition or fame, from the perspective of this initiative, success is, a little financial peace of mind, but above all happiness, recognizing what your job brings to your life .
The exposure of this kind of stories with social networks causes many people to reach the desired inspiration to continue with a job, undertake, or on the contrary, leave the job they already have for their own happiness. According to Statistawith January 2022 dataa total of 165 million Brazilians use the Internet, being the country with the highest number of daily users. Mexico ranks second in the region, with 96 million online users.
This translates into a fairly wide exposure with the content found on social networks such as TikTok, even if the content in question is not from the same country. With this, it would be worth thinking that, although with its differences, the message of the videos is universal.
The initiative proposes interviews to different areas of work: from a filmmaker who talks to you about how being able to dedicate yourself to art, having that creative faculty, is a privilege that very few can enjoy; even a delivery driver who tells how complicated it is to arrive in a new country and have to find financial stability that, against all odds, he finds in this profession.
Among all the interviews, one made to an advertising creative director stands out, where he shares the secrets to be successful not only in that area, but in your work.
Creative director reveals his secret to succeed in the world of advertising
As all the interviews have mentionedAlthough they are not anonymous, they do fulfill their objective of covering a wide spectrum, which is why it makes no sense to interview media people. On the contrary, the approach is to interview an actor, yes, a filmmaker, a model if you will, but always thinking of humanizing these people, with the aim of showing that they are the same as us, that they are simply paths and different vocations and that they all have the same opportunity to shine.
In this case, interview a creative director where he is questioned from his experience as a worker, from what do you consider when reviewing a CVhis salary and whether he is happy doing his job for a company.
What surprises is the attitude and honesty with which it seems to respond to these questions, since its humanistic approach makes it not only not consider one hundred percent the experience of the workers, which is important; It makes him think of the human being he hires, to think that work is an aspect of life that should make him happy even though, as he himself shares, working drives him crazy from time to time on his visits to the supermarket.
Also, the creative director shares what for him are the secrets to be successful in advertising:
"Having a very transversal, very holistic vision, that is, a few years ago you could specialize in a sector, in advertisements, in digital, outdoors, today a campaign, Above all, the added value is transversality, that it can work in all areas and use all the tools equally. You must have a very complete training because nowadays campaigns are comprehensive and a good campaign must work well, both digitally and abroad. You have to have a global vision.".
This is the video where he shares the tips for success in advertising:
Now read:
Business launches hamburger "into space" and networks viralize advertising
Evidence to Sears in networks for promotion with false advertising
"If you come dirty, we bathe you"; car wash goes viral with creative advertising