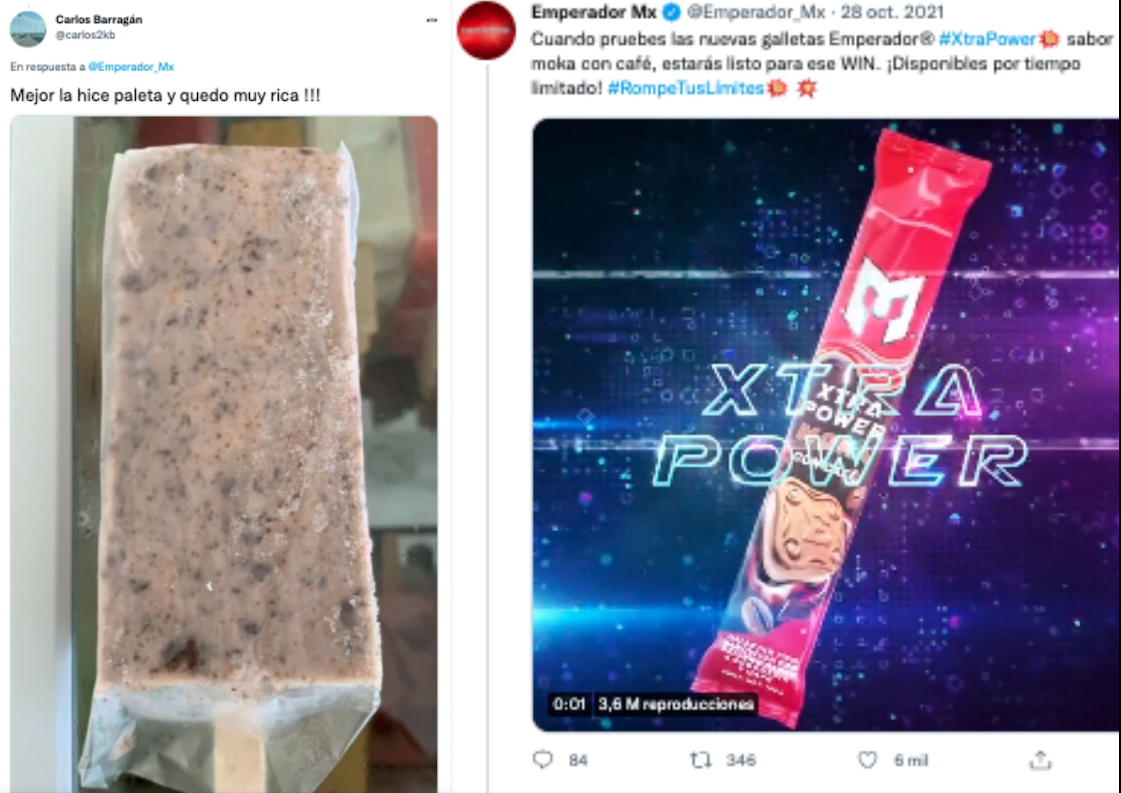 Emperor Cookies included in its strategy of marketing content about its new product, Xtra Power Biscuits mocha flavor with coffee. Responding to the launch, one of its consumers showed off an ice pop with the new product. In support of consumer creativity, one user told the brand not to steal his idea.
Advertising on social networks is essential when you want to reach a target specific. In Mexico, as in the rest of the world, social networks have proven to be a key tool for brands and the trend will continue.
According to data from Statista, throughout 2020, 80 million users on social networks in the country generated up to 15.4 billion interactions on Facebook, Twitter, Instagram and YouTube. Due to its intense use, the country is in second place for participation in social networks in Latin America, behind Brazil.
With this context, it is clear that advertising on social networks is one of the most powerful resources for companies, as they can reach potential customers and have greater visibility.
The benefits for brands of advertising on social networks, according to Endor Group, is that it increases visibility, enables the segmentation of a target audience, reaches a potential audience, allows budget control, allows variations and tests; and they offer detailed analytics with results that can show the success of the campaigns carried out.
When advertising on social networks, the brands establish campaign objectives, that is, if it is positioning, engagement, visits or reproductions.
According hootsuite, Campaigns run on Twitter serve three different business goals: maximize ad reach; if you want video views, app downloads, traffic Web, interaction or followers; if you want users to take action.
"When you try the new Emperor® cookies #XtraPower mocha flavor with coffee, you'll be ready for that WIN. Available for a limited time! #BreakYourLimits", says the advertisement of the brand that is accompanied by a video on Twitter.
In this regard, the consumer and Twitter user Carlos Barragán @Carlos2kb replied that he made a palette and it was very tasty.
Better I made it a palette and it was very rich !!! pic.twitter.com/bQRa1hEm49

– Carlos Barragán (@carlos2kb) October 31, 2021
In another tweet, the brand acknowledged the consumer idea:
"Your imagination has no limits, it sure was delicious," added Emperor.
It seemed like a story with a happy ending of loyalty, but a user in defense of consumer creativity responded to the brand that they were not going to steal the idea.
"Don't steal your idea, maracaglanes," reads the tweet from user @VeryCulturalBoy.
Emperor used a strategy to gain customer loyalty on the social network by recognizing their imagination to create a product with the new cookies they were positioning on Twitter.
With this, the brand demonstrated that it is not an automated robot on the networks, it endowed it with personality with the published content and with the language it used when communicating, it made people participate and did not think only of sales.
Regarding the idea theft comment, let's remember that Emperor already has his sandwich ice cream and it is the product that Nestlé invites you to pamper your palate.
See more: