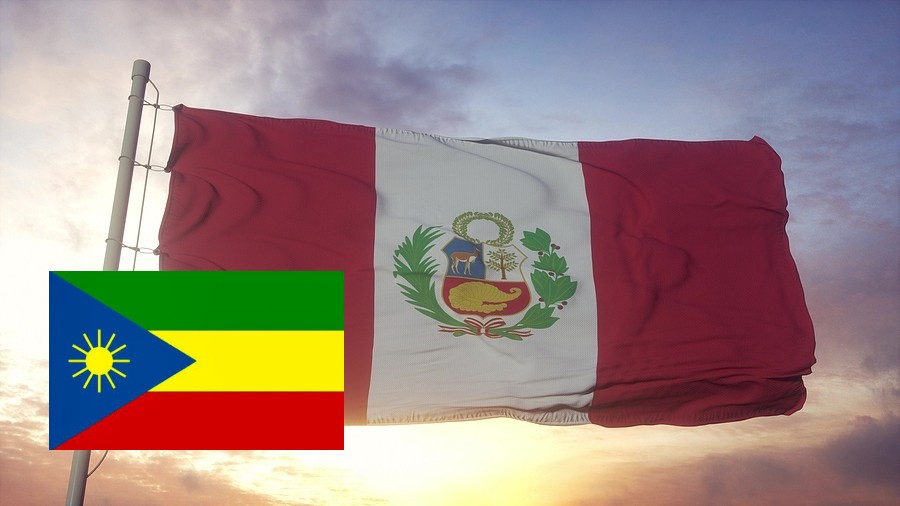 The flag of Peru is 200 years old.
A congressman transferred the proposal of a citizen of Tacna to the president of the Council of Ministers, who analyzes the request.
The residence has four colors and a sun.
Reactions of all kinds have generated in Peru the idea of ​​changing the design and colors of the flag.
The Peruvian national emblem is 200 years old and its colors are present in all symbols, from the shield to the cockade.
The design change project has been in the hands of the president of the Council of Ministers of Peru, Aníbal Torres since March 4, and was sent by a former member of Peru Libre and currently a member of the political bloc in the Cambio Democrático congress, Nieves Limachi.
The project promoted by the congressman was developed by Marcos Fortunato Mendoza Huamán, who asks "the change of design, shape and colors of the flag of Peru".
Mendoza Huamán had already sent the project to another congressman in the past, Raúl Máchaca, parliamentarian between 2020 and 2021 (for the Frepap bench), but his process did not advance.
Limachi now transferred the concern to the presidency of the Council of Ministers so that "be analyzed and valued".
They seek to change the design of the flag of Peru
The author of the proposal, who has also published a book called "Let's innovate and amend the color and design of our national flag", is a merchant from the city of Tacna and has been seeking for years what he considers a vindication of the colors of the flag of Peru.
For Mendoza, the colors of the Peruvian flag should not be two (white and red), but four.
The four colors of the exchange design are linked with the geography of the country.
The green color represents the jungle of eastern Peru, the yellow color the mountains, the red the coast and the blue the sea.
The first three colors appear as parallel horizontal lines in the design, and blue as a triangle.
Also, the designer says that a sun should be added as a "symbol of life" that represented "a god for the Incas."
In the Peruvian media, the change in the design of the flag is one of the most commented topics, just as it has generated controversy on social networks.
The majority is against the redesign of the national symbol.
Equally, the Executive is analyzing the proposal and has not made known its decision to continue or not with the idea.
Now read:
Design: a flag to represent the entire planet
Designer Shows What BonIce Would Look Like If It Was A Premium Brand
For this marketing reason, Carlos Muñoz explains why he no longer wears a jacket