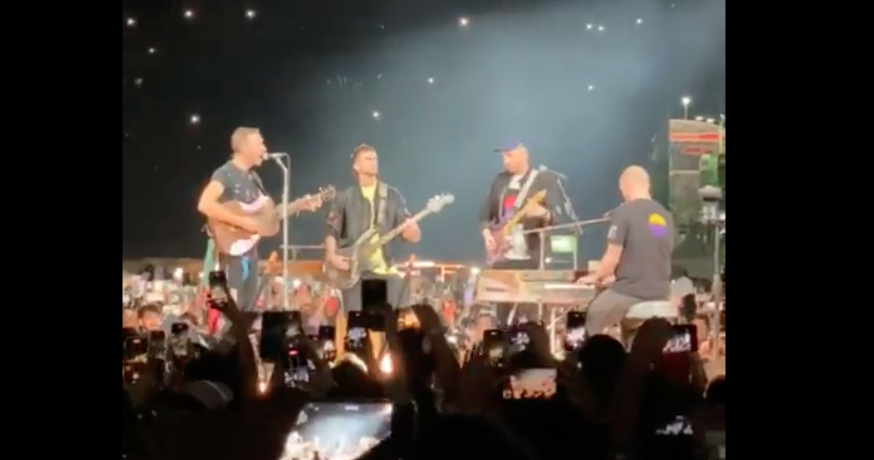 Finally, Coldplay arrived in Mexico City and did so with a packed Foro Sol.

There are still three more dates left for Chris Martin and company in the country's capital.
Coldplay came to CDMX to offer their first concert at the Foro Sol, where "Amor Eterno" was playedin tribute to the "Divo de Juárez", Juan Gabriel.
Not a long time ago, the band led by Chris Martin performed in Monterrey and Guadalajara with their Music of the Spheres Tourwhich has had truly viral moments and that, ultimately, have caused all kinds of comments on social networks.
Among the most commented is the version that the British group made of "Rayando el Sol" in the company of Fher Olvera, singer of Manáthis being one of the most iconic moments of this tour of Mexico.
Previously, in Monterrey, the London quartet did the same with the traditional "Corrido de Monterrey", and now it was their turn to arrive in Mexico City and, of course, continue with the same strategy.
This is how "Eternal Love" sounds, covered by Coldplay
A few days ago, a video was leaked on social networks in which Chris Martin, vocalist of the band, is seen talking to a fan at the airport about some songs that, in some way, are representative of Mexican culture.
On that occasion, the young man is seen to suggest singing "Cielito Lindo" and days later it was learned that Coldplay had been rehearsing some songs by "Divo de Juárez", Juan Gabriel, in order to surprise his Mexican fans.
Thus, yesterday and after several years, Chris Martin, Jon Buckland, Guy Berryman and Will Champion returned to Foro Sol for their first concert in the country's capital as part of the tour of their most recent album, Music of the Spheres.
Finally, After several days of waiting, Coldplay shared with their CDMX fans the version of "Eternal Love", original by Juan Gabrieland as expected, the moment went viral and caused all kinds of reactions on social networks.
Another video of Coldplay covering Amor Eterno by Juan Gabriel in #ColdplayMexicoCity #ColdplayCDMX – April 3 | via @sopitas pic.twitter.com/zGgJ7fjoim

— Coldplaying (@coldplaying) April 4, 2022
Eternal Love by Juan Gabriel Coldplay version https://t.co/ilWF6FKKgO

– MARYSOCO ROBLES (@marysocorobles) April 4, 2022
Coldplay playing eternal love with Chris talking beautifully about cdmx gave me a lot of tenderness?

— Andreita (@andrea___cd) April 4, 2022
Things that I will never get over…Coldplay playing eternal love ??? #ColdplayCDMX

— Jesus? (@jessiim7) April 4, 2022
Things that are not overcome and Coldplay singing Eternal Love pic.twitter.com/Z7MCTKdTp4

— ArmiMartinez (@armim98) April 4, 2022
And Coldplay continues to make Mexico fall in love! Chris Martin surprised everyone by singing "Amor Eterno" by Juan Gabriel on Sunday, April 3 at Foro Sol.

The lyrics of this song were inspired by the death of Divo de Juárez's mother in 1974. pic.twitter.com/WkMfU5y3lt

— Sébastien Mélières (@SbastienMlires1) April 4, 2022
Concerts in Mexico and their impact on networks
The conversation in the digital pulse has not stopped, mainly because lThe band dedicated themselves to making their own version of "Eternal Love" based on the one made by the so-called "Divo de Juárez".
On this occasion, what the British quartet did was a letter inspired by their visits to Mexico City and the country in general, which is why several Internet users applauded the initiative of Chris Martin and company in what was their first night of four in the Foro Sol.
After a considerable time without attending massive concerts due to the pandemic, fans are more than eager to see one of the best shows on the planet.
From this perspective, the revival of concerts in Mexico has started in good shape and this 2022 is a great panorama for the concert industry, which was, without a doubt, one of the ones that suffered the most from the effects of Covid-19.
In the absence of one more third of presentations in CDMX, Coldplay's concerts are, in short, one of the most anticipated by fans and one of the big bets in this period of reactivation. So far it is reported that tickets are already sold out for all dates at the Foro Sol. Today, Monday, the second night of Chris Martin and company will take place in the Mexican capital.
Now read: