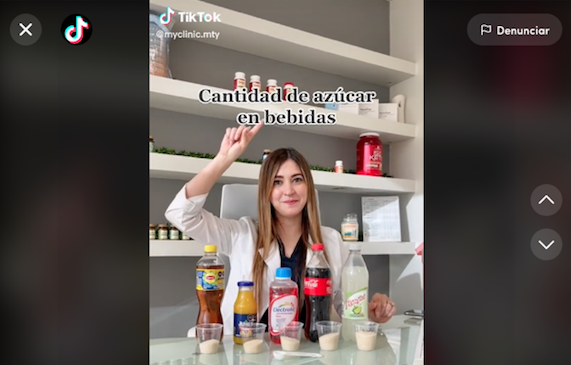 A nutritionist reveals which drink, among Coca-Cola, Jumex and others, has more sugar.

The video, so far, has more than three million views.

Over the years, this type of content has become more popular among Internet users.
Her name on TikTok is Cristina Nutriologist, who conducted an experiment pTo see how much sugar brands like Coca-Cola, Jumes or Electrolit have.
Among the wide range of content that we can find on social networks, some of the most popular are nutritional; namely, influencers, vloggers, tiktokers, instagramers, etc., who make content on this topic have a large audience.
This is the case of the nutritionist Cristina, who, as of today, already has just over 20,000 followers and an accumulated 02,000 likes among all her content, in addition to the fact that some of her videos have generated several positive comments.
Consumption of sugary drinks in Mexico
Let us remember that, at the beginning of the pandemic, poor eating habits were one of the main reasons why patients with Covid-19 were unable to survive, according to official information.
In this sense, and taking into account this context, a call was made to the population to lead a healthier life and consume healthy food, since, to mention an example, Mexico is one of the countries that consumes the most sugary drinks, a habit that causes around 24 thousand deaths a year.
And it is that per capita consumption of this type of beverage is 163 litersbeing the young people who suffer the most the consequences.
Given this, the Federal Consumer Protection Agency (PROFECO) has made some important decisions, such as replacing the labeling front known as Daily Food Guidelines (GDA)
Now, in this context, something that has attracted attention in recent years are those content creators who seek, in their own way, to alert consumers about the harm that the consumption of certain products can represent.
Nutritionist reveals which drink has more sugar, between Coca-Cola, Jumex, among others
This is the case of Nutriologist Cristina, as she calls herself on TikTokwhich shared a video in which it reveals which of the Coca-Cola, Jumex, Electrolit, Peñafiel and Lipton brands contains more tablespoons of sugar in their packaging.
According to what the nutritionist reveals, the 600 ml container of Coca-Cola contains the equivalent of nine tablespoons of sugar; Lipton tea in its 600 ml presentation contains six tablespoons of sugar.
For its part, a 250 ml container of Jumex also has six tablespoons of sugar, the same amount as a 625 ml Electrolit. Finally, a 600 ml container of Peñafiel has up to 12 tablespoons of sugar.
Once this information is disclosed, the nutritionist, almost at the end of her video, invites you to change the aforementioned products for natural jamaica water, natural or mineral lemonade, and cucumber water with lemon.
Until this day, the video has collected more than three million views and an interaction of more than two thousand comments and more than 90 thousand likes.
Internet users, for their part, have not stopped reacting and, in fact, have an interesting conversation between those who thank the nutritionist for creating such content and those who simply do not believe in her.
However, what is clear is that this type of content is becoming increasingly popular and, above all, is creeping into the preference of Internet users, who are looking for more advice to lead a healthy life.
Now read: