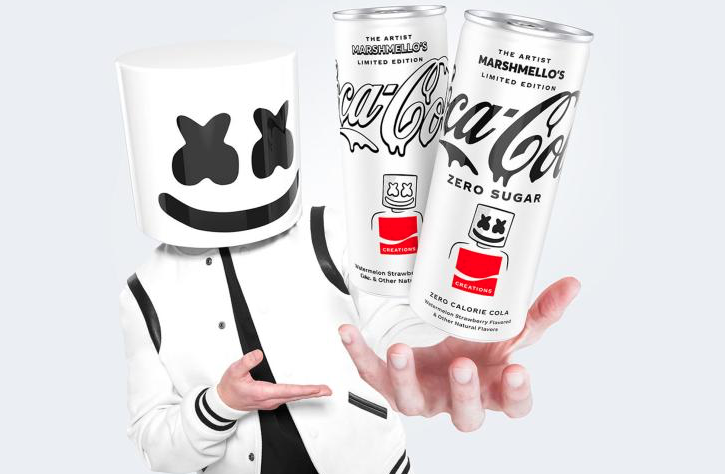 In 2021, Coca-Cola posted net revenue of approximately US$38.7 billion.

A Snapchat study detailed that Gen Z is leading a shift towards more immersive shopping experiences.

DJ Marshmello, has over 12 billion streams on Spotify.
The new generations have become the most important consumer for brands, especially for those that are already consolidated in the market and want to continue positioning their name, an example of this is Coca-Cola, the most global brand in the soft drink industry today, who announced it will launch a new flavor after partnering with Grammy-winning artist DJ Marshmello.
Beyond wanting brands that present products or services that are more sustainable, inclusive and with gender equality, young people under 25, who are the new consumers, they look for innovation and new experiences in what they buy. That is why brands, when communicating with generation Z, have to take into account five key aspects related to their way of consuming and how they value the shopping experience and the product itself.
Given these new trends, it is important to highlight that, according to the Pew Research Center, this group of people corresponds to those who were born between 1997 and 2012 and represent a third of the world's population, making them the largest demographic group. In Mexico, data from the National Institute of Statistics and Geography (INEGI) reveal that more than 9 million centennials in Mexico they are working in the formal sector, out of a total population of 33 million people.
Currently, brands are no strangers to this information, so it is normal to see that leading companies are creating trivial content focused on the product, using strategies and even alliances that they did not make in the past, since they have understood that "being the first in real trends can help you win over Gen Z", according to data from theConnecting with Gen Z'.
Coca-Cola and DJ Marshmello
This week the American soft drink brand Coca-Cola announced that it will launch a strawberry and watermelon-infused soft drink after partnering with the artist from mashups
The brand explained that this product will be a limited edition soft drink and will hit stores on July 12. The firm explained that this release is its new marketing trick in an attempt to attract fans of the popular musician, especially younger generations. centennials Y millennials.
This soft drink is inspired by the figure of Marshmello who is always presented with his characteristic white helmet with which he covers his face. The drink will come in a slim, white, 12-ounce can and will likely become a collector's item for Coca-Cola lovers.
"We created a vibrant mix of my favorite flavors in this new mix," said DJ Marshmello, in a statement.
Marshmello is a very notorious figure in the world of music streaming and social media, where he currently has over 12 billion streams on Spotify and is the third most subscribed artist on YouTube.
It is not the first time that the brand has created new flavors and unorthodox concepts with the aim of attracting different consumers, let us remember that in February, the soft drink giant launched Coca-Cola Starlight, "inspired by outer space", and in April launched Zero Sugar Byte, which supposedly represents the "flavor of the pixels".
Just as Coca-Cola is launching new products to reach this audience, brands like Vans have linked up with their Pride-themed products to add to the inclusion that these new consumers demand. Another key example, especially in the food industry, is Oreo's collaboration with singer Lady Gaga by creating a cookie inspired by her.
In conclusion, this way of doing brand marketing will continue to grow over time thanks to the new X-ray of today's consumers, where experiences are a factor that define their preference for a brand. A Kantar report indicates that "71 percent of consumers centennials they look for new experiences and prioritize this aspect".
Likewise, data from the consulting firm Euromonitor states that centennials they have the fastest growing revenue on record and it is estimated that it will quadruple in the next decade. While Bank of America details that In 2030, this generation will dominate the global economy, relegating the millennials and transforming many guidelines and consumption habits.
Now read:
Coca-Cola FEMSA signs inclusion program; Danone makes diversity visible in families
Coca-Cola and Jack Daniel's launch Jack & Coke: the new drink debuts in Mexico
Reveal how many drinks Coca-Cola sells worldwide