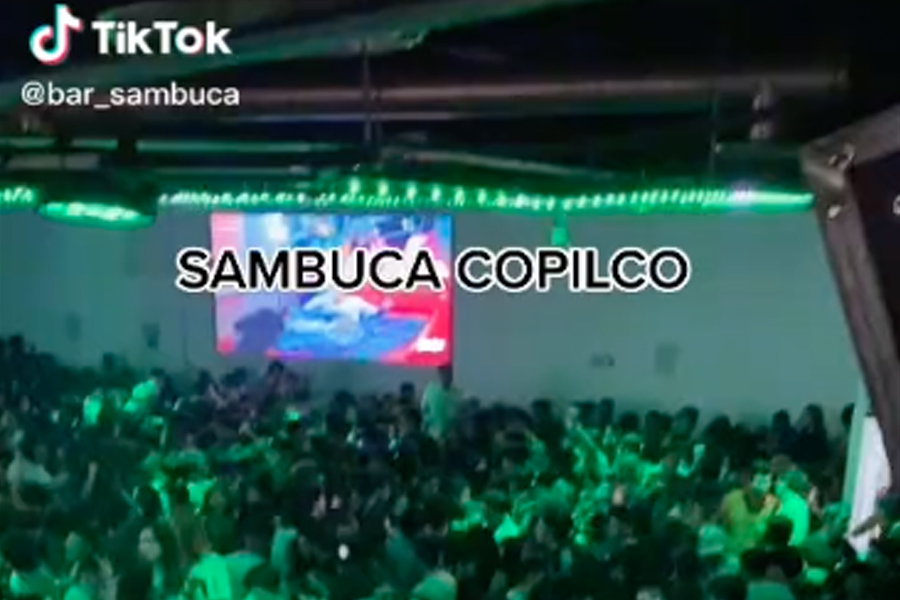 With a two-hour queue, the Sambuca Copilco club has had a successful opening, which has not been to everyone's liking.

More and more industries are returning to their pre-pandemic normality.

Massive events are being of considerable importance for economic growth in Mexico.
A few days ago the club Sambuca Copilco opened its doors, giving hundreds of young people their first experience with the franchise, who narrated and showed their experience on social networks, facing criticism from Internet users.
The alcohol consumption It has become part of the daily life of millions of Mexicans, who bet on drinking different types of beverages, whether they buy them in retail stores, restaurants, bars or even nightclubs, where prices vary considerably. According to the Statista graph where it shows the value of sales of alcoholic beverages produced in Mexico During 2020 by type of beverage, beers were the favorites of Mexicans, since they represented 185,375.9 million pesos, tequila in second with sales of 44,637.12 million pesos and other distilled beverages from agave 5,093.21 million pesos. pesos.
Of these products in particular, there are some establishments that manage to support themselves financially (as well as their respective employees) by offering their spaces and alcoholic beverage mixes to hundreds of people, as is the case with certain bars, clubs, and others.
According to the Inegi, during 2019 there were in registered in the country more than 31 thousand 161 bars, canteens and businesses related to the business, where some brands have managed to take their name to an effective positioning in the national and even international consumer. (as is the case of La Santa, Janis Palmas, Rivoli, Sens, among others); however, there is a new branch of a club that is causing a furor a few days after opening, sambuca Copilco.
Sambuca is a chain of clubs that has opened a new branch in Copilco (CDMX)an establishment that opened on April 1 and whose images managed to go viral on social networks, mainly due to the large crowds of customers that managed to register a few hours after opening.
The video shown above is a small part of endless fragments that we can find on different social networks; however, a user has chosen to show a little more about his experience visiting the Sambuca Copilco nightclub, where he mentions that he had to wait 2 hours to get in (through two different lines); Once inside, he mentions that there was no room for "not a single soul" and after a short time he decided to leave.
Likewise, another content creator mentioned why the club has managed to attract the attention of hundreds of Mexicans, where the price is its main value offer (from his experience), while he does not recommend going to it either.
Even so, in the video we can see that this place is to the liking of hundreds of people, who are not afraid to enter its spaces despite the existence of the pandemic, being one more of the places that are benefited after the arrival of the traffic light green.
The effective vaccination process and the decline in Covid-19 cases have caused different establishments and industries to gradually return to their pre-pandemic normality, which directly feeds the national GDP and the income of millions of families, especially in terms of to the entertainment industry.
We find an example of this with the tour that various artists are doing throughout Mexico, as was well demonstrated by the arrival of Bad Bunny (causing a virtual queue of more than 300 thousand people to buy their tickets), and the most recent tour of Coldplay (who have even received their own stuffed animal from Dr. Simi), whose events require a great team to set up stages, food vendors, merchandising items, audio engineers, producers, among countless more professionals to contemplate, who return to their economic daily life.
Now read:
'Supernatural' waitress skills go viral and show why train staff
Zara sells "garlic earrings" and shows the importance of product design
"He didn't come either"; Vicente Fernández is awarded a Grammy and his death is forgotten