Since the Formula 1 season began, there has been talk of porposing, that curse that single-seaters suffer and that is screwing up the bodies of their most illustrious employees. But it is not what is sending more F1 personnel to the hospital. The other world takes care of that.
Few people know it, but there is another championship within the world championship that you already know. In this other calendar there are no carbon fibers. No wind tunnels. There are no pitstops against the clock, no strategies. There are no hymns, flags, or high-ranking leaders in the presidential grandstand, in the style of the races of ancient Rome. There are other things. There are heartbreaks, contractures, sprains, muscle injuries, and even visits to the dentist to replace lost pieces… And it is that within F1 the only World Cup between Formula 1 Teams is held which is celebrated throughout the universe.
There is a thoughtful study that indicates that in the England of His Majesty Charles III, 70% of the people who watch football watch Formula 1 races. What that study does not say is how many of those who practice Formula 1 —a sport that those who are not pilots also practice – they do the same with the noble sport of football, but we can still make an approximate calculation. We are talking about a figure that is close to a hundred 'federated'. At least those are the ones that participate every year and since 2011 in the self-styled Pirelli Cup, without the tire manufacturer having anything to do with it. The tire company does not sponsor, nor does it put its logos, nor does it make any contribution; You may even be unaware of the existence of this sporting event. In the mouth of some of its participants, mostly engineers, «It is a kind of tribute to the supplier who makes us spend such bad afternoons, (laughs)».
In the great event this year, held on Saturday September 17, they have been lucky because the number of participants has been an even number. Having eight candidates for the title has facilitated its draw and the different combinations, which have their difficulty. This season there have been eight competing teams representing six British F1 formations plus the team made up of Honda/Red Bull Powertrains employees, and the Mercedes engine team. For your part the Aston Martin team has not signed upFerrari does not send its people from Maranello, nor does the people of Sauber, who catches them out of hand in Switzerland.
Believe it or not, all the teams take it very seriously, and the competitiveness index pushes the players a bit to the limit. This year has not been bad at the regulatory level, but in other editions some meetings have had to stop. The mere insults and words were left behind so that the shoving, grabbing of shirts, improper charges, goals scored with the hands, elbows and kicks of a higher order took over the field of play. Last year to a Renault engineer slipped an elbow into the mouth of a Williams guyand he ended up at the dentist with the missing half tooth in his hand.
That was just one of the consequences of the set; the aggressor suffered a spectacular cut from which abundant blood flowed. Apparently what was left of the attacked tooth tore his skin and from there, several stitches. Miraculously, the one with the tooth found half of his lost incisor lying on the ground, he threw it into a bottle of Gatorade, and the next day he went to the stomatologist to return it to its original position. "And what was he going to do? We were tied and this had to be overcome », affirms defiantly the owner of the half pineapple. Until 2021, the member of a third formation was in charge of putting order as a referee, but in reality, he was not a referee, nor did he have experience. Due to their lack of practice and the competitiveness of the fury with which they perform, everything turned into excesses on the pitch.
«Football is no longer played, and less against those»
Seeing that the gentlemen's agreement was blown up, they made a decision: put more experienced referees. In this way this year they have used hired judges – and they are not cheap – to the British soccer federation, and with this the issue seems more controlled. According to the participants, "in Formula 1 you think you are already in the elite of the elite, but you are always surprised to know that there is a step further. Years ago the senior engineers and even some pilots attended. Nevertheless For some time now, pilots have been prohibited from doing almost everything.and they no longer come to these things».
The brokers have in their contracts strong restrictions when carrying out activities that could affect, by accident, their physical integrity. The panoply of outlawed entertainment is diverse, but essentially nothing about motorcycles, extreme sports, mountain climbing, skydiving, uncontrolled trips and the like. Nobody wants what happened to Fernando Alonso to happen weeks before the 2021 season started. Little or no grace was in that bicycle accident that cost him almost a month in dry dock. Bicycle yes, but nothing on the road; walk or mountain and with great care, it seems to be a fairly widespread order.
Even more so when in the human resources department they found out that in a meeting not long ago a leg ended up in a plaster cast. «Football is no longer played, and less against those». 'Those' are Williams, and it seems that the rivalry between Renault and Williams, Williams and Renault, goes a little beyond reason. On some occasion a game has had to be stopped due to excesses, which were already ending in serious injuries and subsequent visits to the hospital. On account of this, the organization strives to ensure that this pairing does not occur, just in case. In fact, both formations avoid friendly matches prior to the final phase of this championship.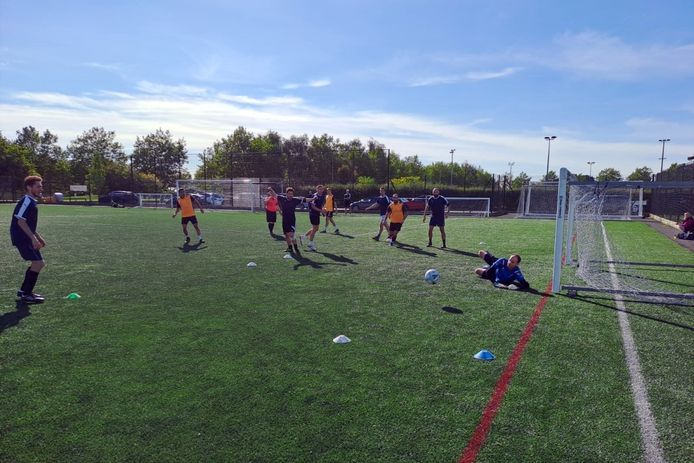 This year it has been organized by Mercedes, and although each edition usually looks for a different venue, the final phase has been held in Northampton, in the Moulton College facilities. It's not Wembley Stadium, but it works for them. Those who have it the worst are those of McLaren, champions in 2019. For them, and based far to the south, it catches them further than the rest and they go reluctantly, but everything is to defend the honor of their formation and revalidate that title. It is one of the most serious, most compact teams. They have been playing together for many years and it shows, they understand each other very well. The same thing happens to them as to the companies they work for; continuity suits them. In others this ends up being a problem.
Williams, for example, features a team with recent signings. There are many newly minted fellows who at some point will end up leaving the training, which means that they will not participate in this event next year. Before the final, the British section of AlphaTauri, that part of the Italian team that is based in Bicester, was feared. Apparently he has some striker who is said to be like Max Verstappen on the Monza straight and there is no one to chase him with the ball at his feet… the Ronaldo of engineers.
There is always a member who acts as a trainer, and another as a masseur, but without massages. His role is to take charge of the medicine cabinet, which is usually stocked with medical paraphernalia, gels, electrolytes, glucose, energy tablets, and some highly energetic fruit. They are engineers, what did you expect? That they did not have everything planned or what? Uniformity usually refers to the colors of their teams, but not always. Sometimes they wear the official clothes like the ones you can see on the slopes, with all their sponsors; or sometimes they are shirts provided by their technical clothing suppliers, however there is always some link, either chromatic or in the form of a logo, to the teams to which they belong.
The expenses are shared by everyone, and twenty-minute matches are played in a group format. There is an initial phase, a semifinal, a final, and a match between the semifinalists to determine who takes the bronze medal and the chocolate. medals? No, there is notbut if there is a small tire-shaped trophy that they call 'the Pirelli trophy' by tradition, although the Italian brand has nothing to do with it.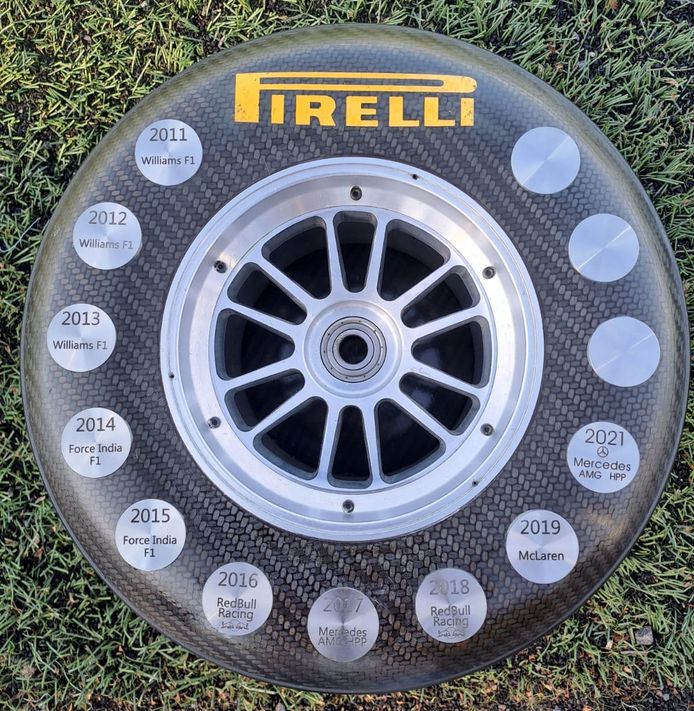 Once the games are over, the atmosphere is exceptional. Many have been teammates on other teams, greet each other, share some confidence, ask about the family and forget the kicks (as a general rule, those who give them before those who receive them). The teams do not pay much attention to this despite being a horny that would bring them revenue in their communication. The suspicion is that none wants to play down what happens strictly on the asphalt. The televisions have not yet found out, but do not have the slightest doubt that, one day, they will bid for their rights. By the way, this year has been warm McLaren, who in a disputed final against Alpine. Williams would have hung the bronze medal, although there was not.
They have already said that in 2023 they prepare, that just as their car improves, they are going to go further, but they are going to need some powerful signing, they say they have free seats for the coming season. When everyone says goodbye, a member of the winning team already in his car greets a former teammate from another team with a comb. In return he receives a shout with a «yes, now, you will see how we are going to leave you in Singapore». Immediately the one with the comb loses his smile for an instant and slowly retracts his gesture, knowing what awaits him in the next race. But he doesn't let go of the trophy. He lowers his head, looks at him and the smile returns. Winning doesn't make anyone bitter; lose if in whatever, and more to these.