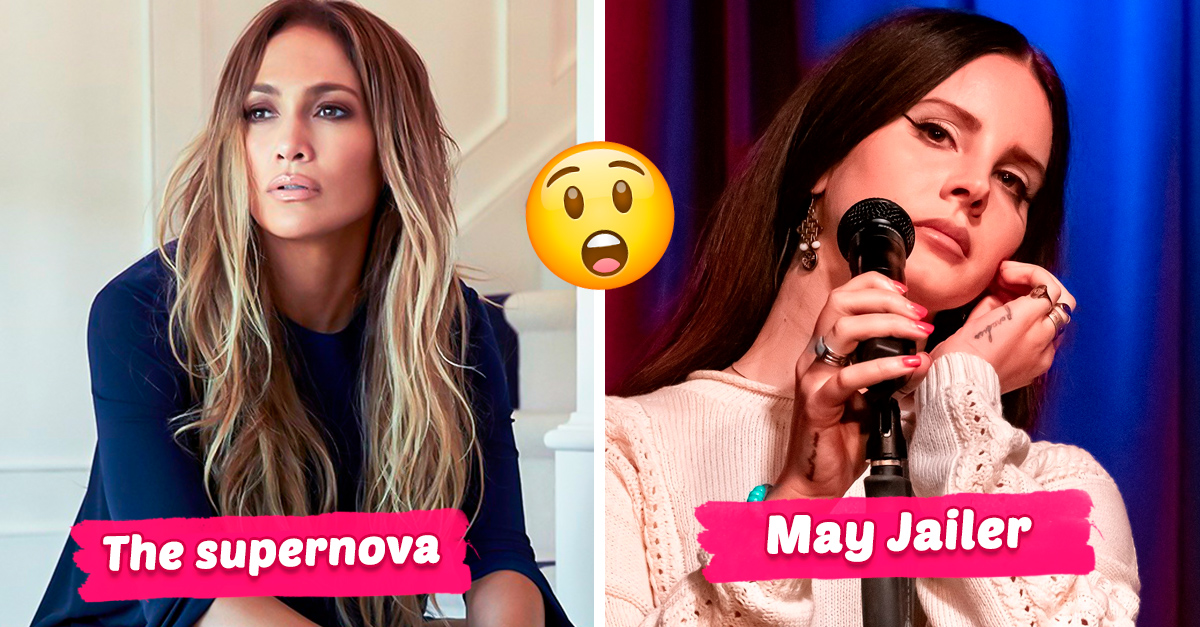 In the artistic world, celebrities come to have an evolution in their career, which implies certain transformations in the image, the style and, of course, the name, either because it does not have enough hook or because perhaps it is part of a temporary project.
You don't have to be a celebrity to understand why they're changing their names. Surely it has happened to you that you don't like your first name or you simply want to play with characters that you create yourself to symbolically enter a new phase of your life. This is what happened to the following 10 celebrities who started their careers with a name, but changed it by experimenting with nicknames and even adopting a alter ego to find the ideal name and stand out.
1.Christina Aguilera
The music industry changed Christina Aguilera. For the release of her second album, StrippedIn 2002, the singer chose to manage her image a little more and began to be called "Xtina". The name had an impact as well as the songs that came off the album. In addition, the singer tattooed her alter ego on the nape
2. J.Lo
Since she began her singing career, Jennifer Lopez has been known as J. Lo. However, going back to her origins in the Bronx, it became known that she was also known for "The Supernova" and "The Guitar"..
3. Lana del Rey
First, Elizabeth Woolridge Grant tried out under the pseudonym "May Jailer" to record a demo. She later found in the name of Lana del Rey what she needed to succeed. The funny thing is that it was a creation made by herself, inspired by the names of her actress (Lana Turner) and her favorite car brand (Ford Del Rey).
4. Kanye West
The rapper made a legal change to get a new stage name. Kanye West had used his name to make himself known and act. However, the legal procedure he went through was to be able to use the name "Ye". Although the change is now official, don't you think it will be hard for us to get used to naming it that way?
5. Prince
Prince's career is not only known for his talent and his songs, but also because in 1992 his famous and powerful name was changed to an unpronounceable symbol as a result of a problem with his label over issues related to music ownership. Some fans They started writing it this way: OR (+>. This was only for one season, as in 2000 she returned to using the stage name "Prince".
6.Emma Stone
Emma Stone's real name is Emily, but when she was invited to participate in the series Malcolm in the middle to do a few chapters, she simply had no choice and began to be called "Riley". But the actress did not feel that this name really fit her, so she replaced it with "Emma". This stage name of hers has accompanied her to film important movies like la la land and recently the Disney version cruel.
7.David Bowie
The great David Bowie made memorable performances by performing for a year with his alter ego Ziggy Stardust. This character was iconic and powerful in the seventies because of that creative, extravagant and, above all, risky style that characterized the British singer. David Bowie created the alien rockstar to accompany the fifth release The Rise and Fall of Ziggy Stardust and the Spiders from Mars.
8. Vin Diesel
The star's real name Fast and furious It's Mark Sinclair. But upon entering the entertainment industry, he decided to create his stage name, considering two important aspects of his life. The first, the name "Vin", which corresponds to the shortened version of his stepfather's surname Vincent, who was a key person in his career. On the other hand, "Diesel" was his nickname when he worked in a nightclub.
9. Jay-Z
The famous artist of hip hopBillionaire rapper and husband of singer Beyoncé, Shawn Corey Carter, has made a minor adjustment to his stage name "Jay-Z." It was tried to put a hyphen and lowercase letters to the name that makes it known throughout the world.
10. Bob Dylan
The rock legend began his career under the name "Robert Allyn", much like his real name Robert Allen Zimmerman. But when reading the poems of the author Dylan Thomas, a stroke of inspiration came to him and he decided to transform his name, that is, to turn "Robert" into "Bob" and replace "Allyn" with "Dylan". One of the artistic names that are very difficult to forget.