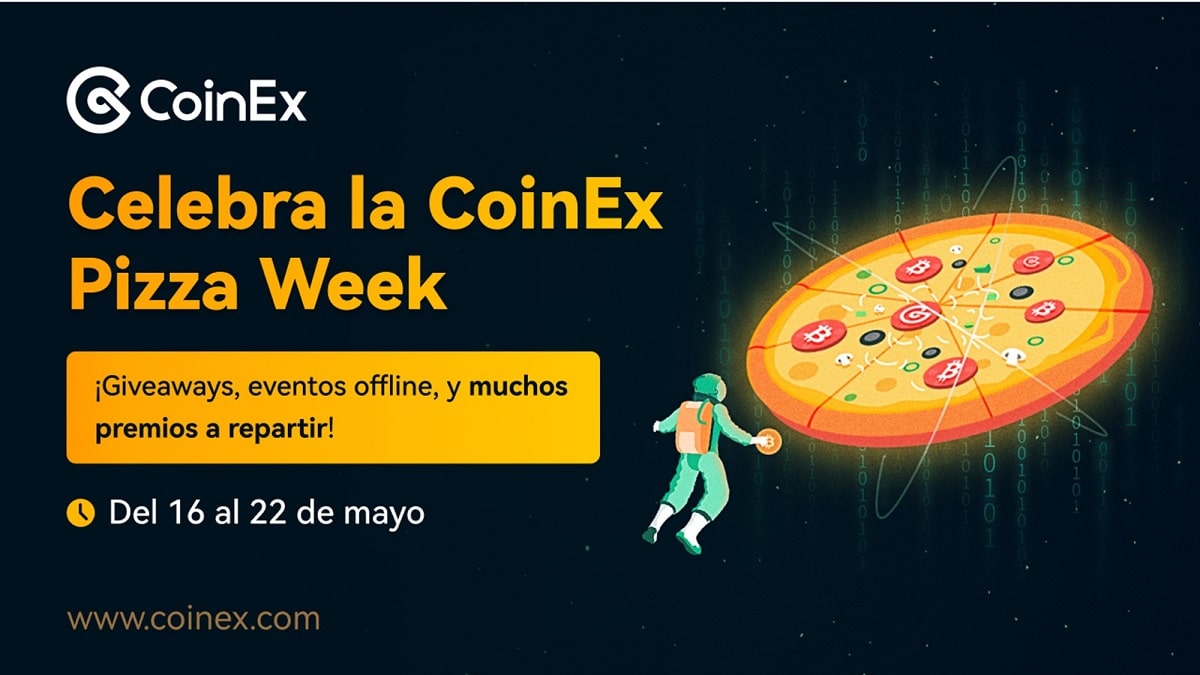 Key facts:
CoinEx celebrates Bitcoin Pizza Day for a whole week, from May 16 to 22.

The exchange will hold events and hand out CET, its native token, as prizes to its users.
How crazy would it be for you if you were told today that someone paid 10,000 bitcoins for a couple of pizzas? Yes, this happened on May 22, 2010, when Laszlo Hanyecz paid this amount of bitcoins for two pizzas at Papa John's. This started what is now known as Bitcoin Pizza Day, one of the most important dates for the cryptocurrency industry.
Laszlo is known for being in the early stages of bitcoin. This man was one of the first who believed in cryptocurrency and throughout its ecosystem, which was proposed by the still unknown Satoshi Nakamoto. In fact, he was also one of the first to mine Bitcoin from his personal computer, when the block creation process required far fewer resources.
Buying pizza with bitcoin was what shaped the way we make payments today. That is why this day is so special for all those bitcoin lovers, it was one of the moments that started everything.
CoinEx is preparing to celebrate such an important moment in the industry. The CoinEx Pizza Week It will be a week full of parties and great events to participate and have fun with CoinEx and pizza. For this week, great events will be held in all its social networks and communities. There will be delicious prizes and CET for everyone!
Bitcoin Pizza Day, the beginning of a digital age
This historic day symbolizes many things for bitcoiners. From a beginning, a meme or a day where everyone can share ideas and analysis in common. This date brings together something that many people love: pizza and bitcoin. Bitcoin led to the birth of various tools and platforms to make use of cryptocurrency easily and quickly.
This is the case of CoinExa cryptocurrency trading platform that was born as one of the products of the ViaBTC group. CoinEx was founded on December 24, 2017. With almost 5 years of experience, it followed the motto "Where innovative digital assets meet". Its main objective was to bring the most innovative and highest quality projects to its users and thus help them to know what the latest trends were and to take advantage of new opportunities.
With that slogan in mind, the exchange was in charge of listing the most innovative and best quality cryptocurrencies. But the industry is constantly advancing and evolving, and CoinEx follow currents and trends. To that end, it recently changed its tagline to "Making Cryptocurrency Trading Easier." The platform will function as the gateway to the world of cryptocurrencies and help more users to complete each crypto transaction with ease.
CoinEx continues its global expansion, focusing its sights on the Latin American market
Thanks to its constant global expansion, CoinEx has continued to grow. There have been multiple events where the exchange has participated. In addition, he has collaborated with projects related to Bitcoin technology. Latin America is the place with the highest adoption and volume of transactions in cryptocurrencies, so CoinEx explores the best way to offer satisfying tools and products for all your Spanish-speaking users.
In its search not only for innovation but also for the ease of use of its products, CoinEx wants to be the gateway of cryptocurrencies for all users around the world. With the organization of events and activities, it seeks to be closer to its clients every day to facilitate the trading of bitcoin and tokens.
Learn more about CoinEx in the following media:
Website | Registry | Discord | Facebook | Instagram | odyssey | Publish0x | Telegram | Telegram News | Twitter |TikTok | Youtube | api | Download the APP
---
Disclaimer: The content and links provided in this article are for informational purposes only. CriptoNoticias does not offer legal, financial or investment recommendations or advice, nor does it replace the due diligence of each interested party. CriptoNoticias does not endorse any investment offer or the like promoted here. click here for more information.