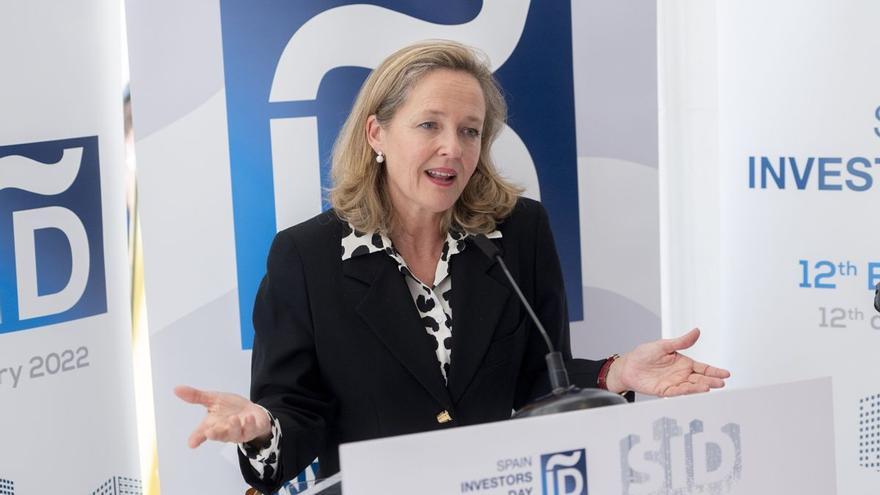 The economic vice president, Nadia Calviño, defended this Thursday the maintenance of the anti-takeover bid law that the Government adopted in March 2020 to protect Spanish companies from strategic sectors against certain purchase offers from foreign investors.
The Government decided in November to extend until December 31, 2022 the prior authorization of foreign investments in strategic Spanish companies, but the president of the CNMV, Rodrigo Buenaventura, advocated this Wednesday for a "normalization" of the control regime of these operations. During his speech at the economic forum 'Spain Investors Day', Buenaventura defended that foreign capital will be "essential" in the period facing the Spanish capital market and that the corporate control market "deserves to be preserved" from an investment point of view.
This same forum, however, was used this Thursday by Vice President Calviño to argue, before national and international investors, that the antiopas law constitutes a "clear" and "transparent" framework, similar to the one adopted during the pandemic in the rest of the European partners, which does not generate "any uncertainty" or "legal doubt" and which, therefore, does not hinder "in absolute" foreign investment. "On the contrary -added Calviño-, I think that the companies that have faced the process should appreciate that there is a very clear process that has been carried out quickly and a very transparent and fair approach on the part of the Government", he remarked.
According to Spanish regulations, the Executive must authorize foreign investments in strategic listed companies in which it is intended to exceed the 10% of the capital, as well as in those not listed in which the investment exceeds the 500 million of euros.
In this same business forum, the President of the Government, Pedro Sánchez, invited foreign investors to participate in the modernization effort designed in Spain based on the European funds Next Generation EU. Sánchez announced that throughout the first half of the year the Executive will launch a total of 150 calls of aid and investments charged to these funds for an amount of 17,000 million euros.
The president referred to the process of recovery of the Spanish economy and stated that, according to the quarterly data provided by the fiscal authority AIREF, the growth of the Gross Domestic Product (GDP) of Spain in 2021 stands at rates "greater than 5%".