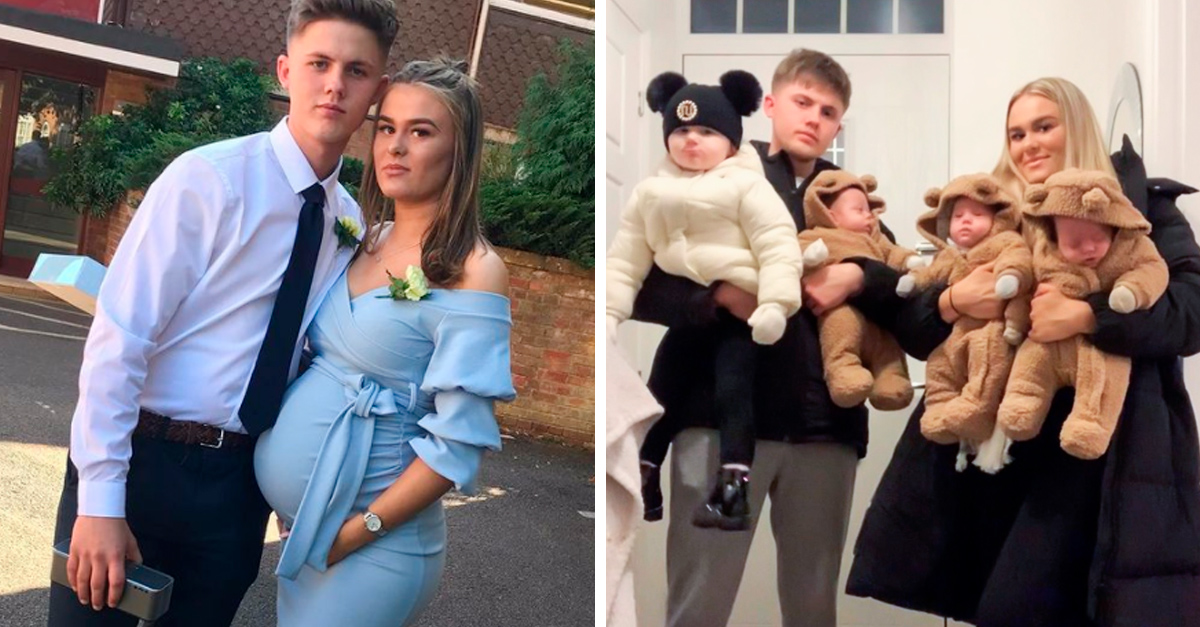 Having a family is the dream of many people. However, few feel ready, both financially and mentally, before a certain age. At 20, almost no one is thinking about starting a family, much less a large one. Even people who dream of having a house full of children plan for the arrival of babies, trying to find the right moments.
However, this was not the case for Ellie and Billie Dudfield, a UK couple who became the parents of four! babies at 21 and 20 years, respectively.
Defying the odds
The young couple already had a two-year-old baby when Ellie became pregnant again. Neither of them could have imagined that neither one nor two babies would be born, but that they would have identical triplets! Despite being informed that it was a very risky pregnancy, they decided to move on.
Her three babies, Arthur, Archie and Albie, were born premature at the end of June this year, with 12 weeks to complete gestation, with a 40 percent chance of survival. Each of the babies weighed less than 1 kg and had many health problems at birth, including sepsis, jaundice, and brain hemorrhages. Ellie referred to the babies' first weeks of life as "an emotional roller coaster" as their health status was not stable at all.
A big family!
The chances of conceiving identical triplets are 1 in 200 million. Not content to defy these odds, one of the babies was born in the amniotic sac, which occurs less than once every 80,000 births.
Fortunately, the triplets made it through and after three months in intensive care, they were discharged from the hospital in September and went home. Today, the three of them live with their parents and their two-year-old older sister, Lola.
Ellie and Billie are very happy to have a great family and although they admit that it is not an easy task and their life has completely changed, they would not change anything about it.
Obviously we don't have the typical life of people our age. It's tough, but we've always been very family-oriented people, so we made it work. The nurses were impressed with our maturity when we were in the neonatal intensive care unit.