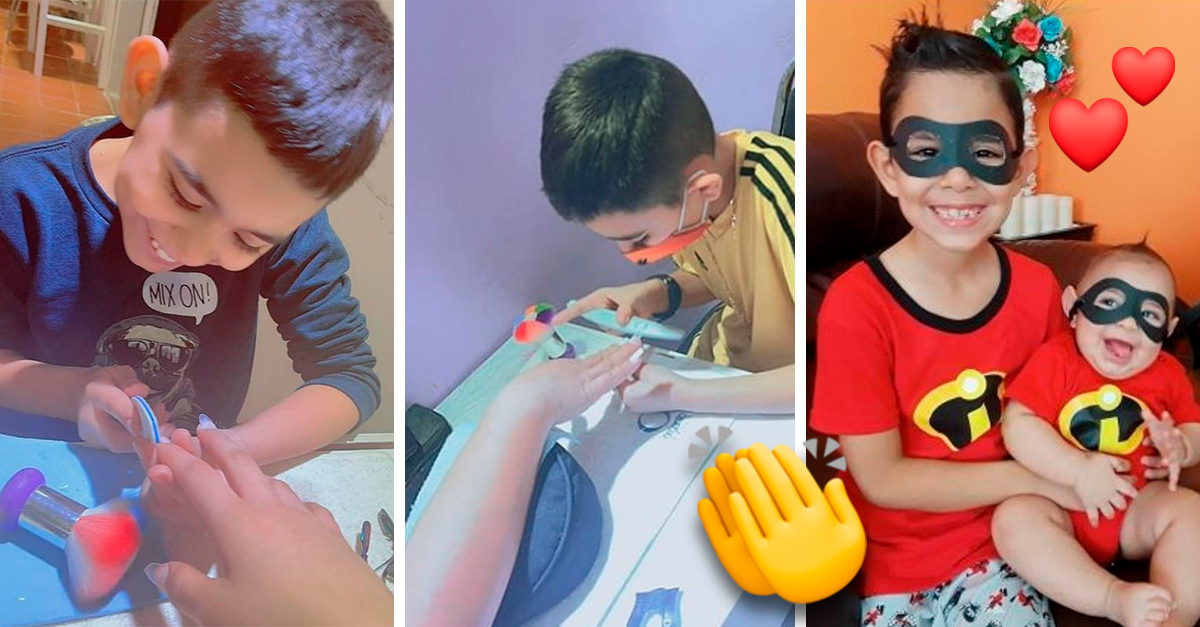 The love of brothers is infinite and unstoppable. Proof of this is Gabriel Aarón, eight years old, who has given himself the task of applying acrylic nails with the intention of raising enough funds to pay for his younger brother's medical operation.
His work has gone viral on social networks, because it is so incredible that at his young age he could well be considered a professional in the field.
This story originates from Tamaulipas, Mexico, where little Gabriel used social networks to offer his services by applying acrylic nails at a low cost and regardless of the time or day, because he wants to raise money to support his parents with the payment of the operations of his little brother.
Hello, I will be applying nails all the time even if it is night because I want to help my brother in his operations. I don't have money, but I want to support mom… I put designs that I can make, I still have a long way to go, but I'll make them as beautiful as I can. $150 for any application Thank you!
His story immediately went viral and in a matter of hours, his agenda was filled, as more than one person joined his good cause. What they did not expect is that the result would be so beautiful that they would become frequent clients of little Gabriel, who apparently has a natural gift for applying nails.
Since before you were born, I already loved you and I was the only one who wanted a boy and you were born a boy and that is why I love you more and more and I am going to protect you with mom and dad.
His story has divided comments, but most conclude that the little boy is good at what he does. In addition, they congratulate him for being an exemplary older brother, since despite his young age, he is giving everything of himself to take care of his little brother.
So far it is not clear what Gabriel's little brother is sick of, but everyone sends their best wishes for his speedy recovery. It is also not known who taught the little one to put acrylic nails, but, according to Internet users, everything indicates that it was his own mother. Whether he is or not, he has a beautiful talent and has given the internet a great lesson in brotherhood that it will never forget.