The premarket on Wall Street shows that Boeing shares fall precipitously after knowing some details of the plane crash of an aircraft operated by China Eastern Airlines with 132 passengers.
As new reports come in about the outcome of the tragedy in China, the fall in the stock market of Boeing shares increases.
From China, different images of photos and videos arrive in which you can see a bamboo forest on fire, the place where the 737-800 of the American company would have fallen.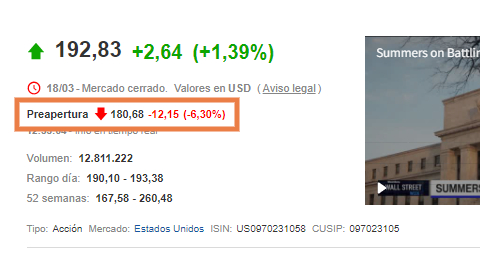 One of the videos shows that the plane would have fallen from 30 thousand feet in no more than two minutes, which set off all the alarms about a fatal outcome for passengers and crew.
According to Chinese state TV, CCTV, and the Guangxi Emergency Management Department, a Boeing 737-800 carrying 132 people from China Eastern Airlines had an accident in Wuzhou, Guangxi, causing a fire in the mountains. The number of victims is not yet known.
The Aviation Safety Network also shared a video purportedly showing the wreckage of the Boeing plane.
We are following multiple unconfirmed reports about a possible accident involving China Eastern Airlines flight #MU5735 a Boeing 737-89P (B-1791) en route from Kunming to Guanghzou, China. pic.twitter.com/d8MhU7mZPv

—Aviation Safety Network (ASN) (@AviationSafety) March 21, 2022
The actions are also rushing because the Chinese airline involved has said it will stop all 737-800 flights immediately.
The Boeing brand has been in trouble since the 737-MAX crashes in 2018 and 2019.
Since then, he has not been able to fully recover.
To make matters worse, the pandemic and the closure of tourism and international travel arrived.
The number of orders for Airbus and Boeing aircraft between 2006 and 2020 shows how Boeing's situation began to seriously complicate in 2019, after the accidents.
That year, the Seattle-based company received just 243 orders, compared to more than 1,100 for rival Airbus.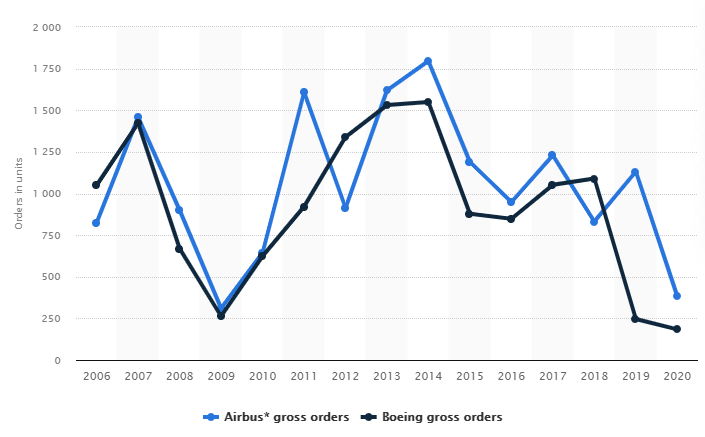 Read more:
China Eastern Airlines Boeing with 132 passengers on board crashes: what we know
An example for the rest of the industry? Boeing fires 65 for hateful behavior
There is a big winner in the Boeing 737 crisis: Airbus
China bans 737s from flying and Boeing shares plummet