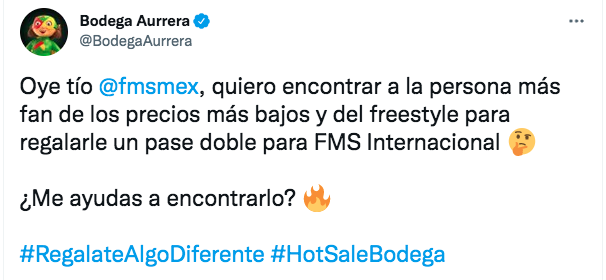 It is estimated that at least 62 percent of the world's population currently has constant access to the Internet.

Within the digital conversation, brands and consumers find the sale to publicize all kinds of experiences seeking a position within the community.
Social networks have become the center of conversation for thousands of Internet users, thanks to the virality and scope that can be generated, such is the case of the recent proposal of Bodega Aurrerá, where they seek to give away a double pass to the International FMS to whoever is the biggest fan of rhymes and low prices; However, the theme, although apparently simple, has scheduled various comic moments in comments, since the community has not missed the opportunity to take advantage of the digital conversation.
Dynamics in networks
Derived from the current health crisis, social networks and digital platforms have positioned themselves as the great communication trend of the new normality, data provided by We Are Social and Hootsuitewithin its Digital 2022 report, in which it is estimated that The number of Internet users rose by at least four percent worldwide, which means that there is currently a base of Internet users of more than 4.95 billion. a figure that represents 62.5 percent of the world population, which is why they have become a great window of expression for consumers and the opportunity to generate various advertising strategies, which can become viral in a short time.
The growing number of daily active Internet users, makes the digital conversation a fundamental part of the promotion of marketing and advertising strategies, For this reason, it is common for brands or content creators to generate all kinds of dynamics, designed to achieve a better positioning within the users' preference.
Hey dude @fmsmexI want to find the person who is the biggest fan of the lowest prices and freestyle to give him a double pass for FMS International 🤔

Can you help me find it? 🔥#GiveSomethingDifferent #HotSaleBodega

– Bodega Aurrera (@BodegaAurrera) May 26, 2022
Bodega Aurrerá gives away tickets for the International FMS and users get their best rhymes
The FMS International Mexico 2022will be the second round of what was disputed in the city of Valencia, which is now will take place at the Pepsi Center WTC is the venue will begin to teach rhymes at 00:00 (Spanish time), That is why Bodega Aurrerá has sought to be part of the event, looking for a lucky person who can attend the event with a double pass, so the community has brought out its best skills and the book of rhymes, to be part of one of the events that more strength has taken in recent years.
I really want to go to the international
It's close to my house and that's great
And sometimes I feel bad and I have ups and downs
But not this time because I will go with the champion of low prices @BodegaAurrera

– OXCAROX (@Oscar01196259) May 27, 2022
in the warehouse
I always stock my pantry
I even take the shampoo to use it on my head
And for the kitchen I take a little Cornstarch
With the music in the super I break this bit
And I take the opportunity to recharge my bait
While the cashier tells me: Thanks for your visit, bye bye!

— Hector Skazito (@Skazito69) May 27, 2022
I bought my fridge in Bodega Aurrera
For my food to be able to refrigerate
Mama fight has quality product
While those from Wallmart can peel it off 🤟😈
Pure punctured mom fights alv. (The fridge thing is real)

— Daniel (@DanielHdz52) May 26, 2022
now read
This is what the house of a person with depression looks like; impact support campaign
Internet users defend Walmart and Oxxo after consumer criticism for not delivering bags
Taqueria in South Korea takes advantage of the language barrier to insult (and charm) diners
Isla CDMX and Sabritas delight with a musical starring sandwiches