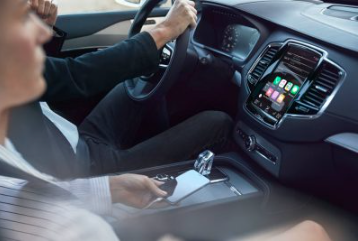 As of March 2023, the new BMW models will have a new alternative on their operating systems.

Ford and Hyundai are brands that intend to integrate Android Automotive as their operating system.

Until recently, the BMW operating system only allowed a connection with Apple CarPlay.
Within an increasingly digital reality, it is necessary to integrate systems that allow the autonomy of various actions or tasks, an example of this is the growing popularity of voice assistants, since it is estimated that there are currently just over 50 millions of users who use this type of system, a figure that reflects the importance of autonomy in everyday life; thus, the automotive sector has sought to integrate these operating systems (OS), such is the case of Tesla or more recently from BMW, which has indicated that it will integrate AndroidAutomotive within their new models.
It is worth mentioning that an operating system for automobiles is an embedded system that it is designed to perform one or a few dedicated functions, so in cars these OS have specific automation functions of tasks, mainly within the control of car levels and passenger comfort.
Under this initiative, the German firm seeks to increase its business, since at least within the national territory and in accordance with what is indicated by BMW Group Mexicolittle more than 2,895 units were sold, while firms such as Audi Withdrew sales of just over one million 14 thousand 680 units, or Tesla which recorded sales for just over 300 thousand cars sold during 2022.
BMW chooses to use Android Automotive under these conditions
The decision to integrate Android Automotive was unveiled after the senior vice president of technical development and connected enterprise operations at BMW, Stephan Durch, announced such a move during the celebration of the Automobil-Elektronik Kongress, in Louisburg; however, although no further details were given, it is intended that Android Automotive will be introduced from next year as an alternative to BMW's own operating systemwithout neglecting the signature OS, since it will remain the main system.
the german firm BMW has pointed out that it has an operating system with very logical and intuitive use, which he announced in the BMW iX, your new update, which will be named, BMW OS 8, which they assure will have new customization criteria, in addition to having a larger screen and redesigned graphics; however, despite having its own system, the firm announced that starting next year it will adopt, in parallel, the operating system Android Automotive for some of their models.
BMW As of 2023, it will offer an alternative to its supreme operations, as will firms such as Tesla, which makes use of various open source programs, from the operating system that your cars use, based on the Linux kerneleven other tools like BuildrootLikewise, firms such as Polestar have already adopted Android Automotive like your operating system.
The measure taken by BMW to integrate Android Automotive into its new models is extremely beneficial for the little more than 5,190 million Android device users in the world, compared to just over 3,800 million iOS device users.
The BMW initiative demonstrates the importance that digital assistants and operating systems have in everyday life, demonstrating the need for the market to open options for its base to use them, since within the current market, there are various options for digital consumption, such as Android, iOS or Linux among others.
Now read:
Joe Biden sought help from Tesla for electric car policy
Elon Musk says he has a "bad feeling" and will fire 10% of Tesla employees
Tesla removed from an environmental index and Musk unleashes his fury on Twitter
Millennials transfer their taste for platforms and rent cars instead of buying them