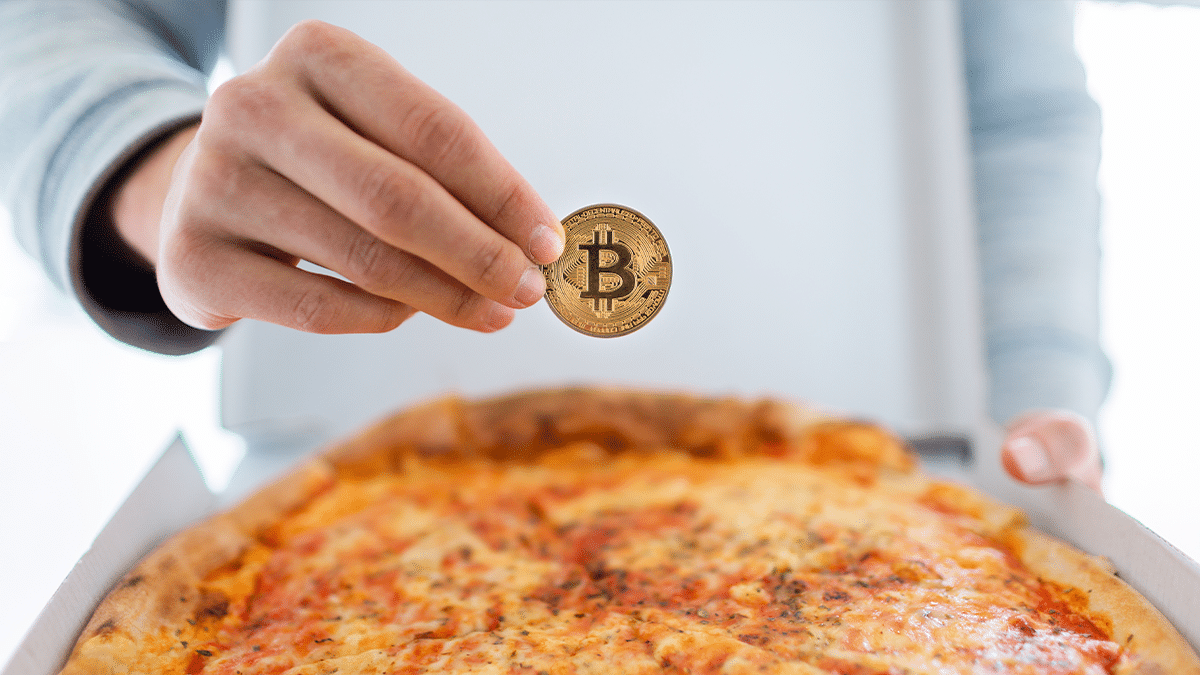 Key facts:
Bitcoiners eat pizza this weekend in Venezuela, Colombia, Argentina and El Salvador.

The tradition of paying for a pizza with Bitcoin has spread throughout the world.
Today marks the day of pizza paid with bitcoin or Bitcoin Pizza Day, in English, a celebration that brings together bitcoiners from around the world to remember the first commercial transaction made with Bitcoin.
What started with a forum post offering 10,000 BTC for 2 pizzas, now it gathers thousands of people in all parts of the worldwho share their favorite pizza using this cryptocurrency.
In some countries, Bitcoin Pizza Day has been celebrated before the date due to logistical issues. For example, in Venezuela, yesterday, Saturday, May 21, the CoinEx exchange brought its community together at the Bitcoin Café in Caracas to share and celebrate this day.
In Colombia, the decentralized finance platform Tropykus also celebrated Bitcoin Pizza Day yesterday, Saturday, in the city of Bogotá, bringing together dozens of enthusiasts.
For its part, in El Salvador, an event was held at La Casa del Bitcoin of the Paxful exchange, in San Salvador. Yesterday, Saturday, the local community shared and talked about this day, also bringing together dozens of people. All proceeds from pizza and beer sales were donated to the Mi Primer Bitcoin foundation, which runs Bitcoin education programs throughout El Salvador.
What Bitcoin Pizza Day events will take place today?
Today May 22The Satoshi community in Venezuela will have events in three cities of the country. In Caracas, at the Nonna Bella restaurant in the Chacaito Shopping Center; in Valencia, at Pizzas Dopodomani, in Wynwood Park, Naguanagua, and in Barquisimeto, at Piccola Trattoria.
In Chile, in the city of Santiago, the NGO Bitcoin Chile organizes its Bitcoin Pizza Day event at the Palacio Al KSSR restaurant, giving attendees the possibility of paying with bitcoin (BTC)
In Argentina, the Bitcoin Night organization will have its bitcoiner pizza night at the Punta Moreno restaurant. As an important detail, attendance is confirmed by prior reservation.
Also in that country, the NGO Bitcoin Argentina is carrying out throughout the day today a charity day to donate funds to charitywe reported in CriptoNoticias.
Similarly, in other parts of the world, such as Australia, Thailand and France, Bitcoin Pizza Day is already being celebrated.
What is the historical value of Bitcoin Pizza Day?
The historical value of Bitcoin Pizza Day lies in being the day the first commercial transaction with bitcoin was made. With the purchase of a pizza for 10,000 BTC on May 22, 2010, a precedent was set for giving utility and monetary value to BTC.
At the time, Bitcoin did not have a set price among the community, although an exchange called BitcoinMarket.com previously existed.
The rate or price at which the pizzas were bought with bitcoin seems to have been arbitrary, but now those 10,000 BTC They are valued at around $300 million..
In fact, the purchase of the pizzas seems to have boosted the price of BTC back then, as it shot up from $0.008 cents to $0.08 cents by July 2010, a 1000% rise, based on your price history.
The restaurant where the pizzas were purchased was one of the Papa Johns chain, located in Jacksonville, Florida, USA, and Laszlo Hanyecz, its buyer, commented that he did not like extravagant ingredients when ordering his pizza.
This was confirmed by Latin bitcoiners in an interview with CriptoNoticias, who highlighted that the value of Bitcoin is in their community, in addition to considering Bitcoin Pizza Day as one of the most ingenious marketing strategies in history.