Key facts:
The minimum profit reported a rebound of 20%, for USD 21.5 million on average.

Transaction fees rose to 0.21 BTC.
The daily earnings of Bitcoin miners are feeling the impact of the price drop recorded in recent days, which has dragged down the cryptocurrency ecosystem and everything inherent in it.
According to graphics displayed by bitcoin (BTC) mining analytics firm Braiins, the daily reward for mining expressed in US dollars (for ease of understanding), closed the day on June 13, 2022 at USD 17.7 million, an amount not seen for almost 1 year.
This responds to the positive correlation between daily earnings and the price of the cryptocurrency, although the rewards are actually received in bitcoins. Hence, operators sell their holdings to pay for operating expensesthough generally the hodler sentiment prevails.
At the end of June last year, when the activity was feeling the full impact of the ban in China, the reward fell to a low of $13.4 million. It was an episode of crisis that was overcome in a few weeks.
As of press time, the daily mining reward has made a tepid recovery. If the following graph is appreciated below, after reaching a floor above USD 17.5 million, the indicator began to rise until reaching averages of USD 21.5 million.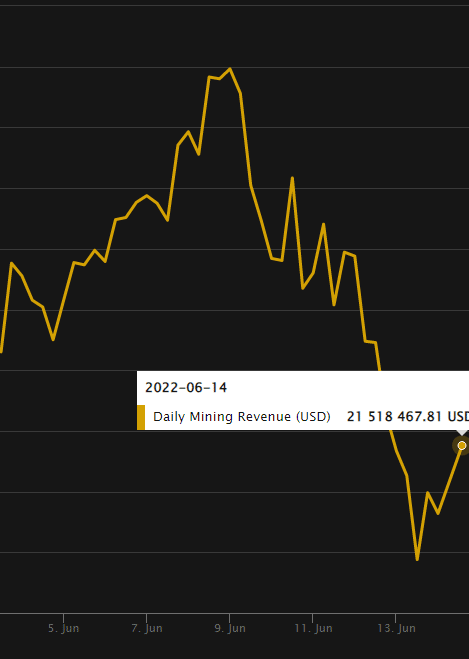 That is, in just 12 hours, the total profit of Bitcoin miners grew by 21%, or the equivalent of just over $2 millionwhich are still insufficient to reach the averages of USD 30 million that were reported last week.
Upward transaction fees
The 20% increase in daily rewards for miners could respond to the rise in transaction fees. These are part of the final prize that is awarded to the miner who has solved the block with transactions and added it to the ledger or "blockchain".
According to Braiins own data, fees now accounted for 3.4% of block rewards at close of June 13, which was equivalent to 0.21 BTC. At the close of this article, a small decrease is reported, which leaves the commissions at an average of 0.19 BTC.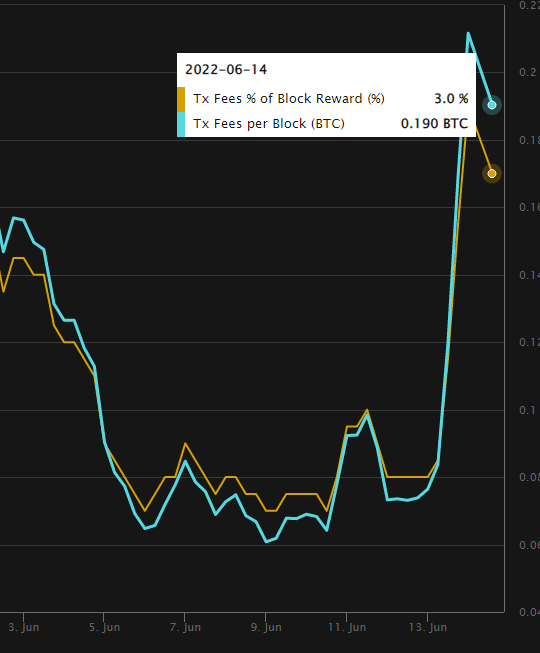 Although there is a higher commission, there are fewer miners participating, or at least that is what the hashrate or the sum of the processing power of the Bitcoin network reveals. Braiins graphs report drops in this indicator to 214 EH/s on average and at the end of this note, a 10% drop from its last all-time high.
The drop in prices, which responds to the bear market widespread that we live in the middle of 2022, has generated a real earthquake in the finances of the minerswho could take advantage of this situation, as long as they continue to prioritize –and hodle– their bitcoins.