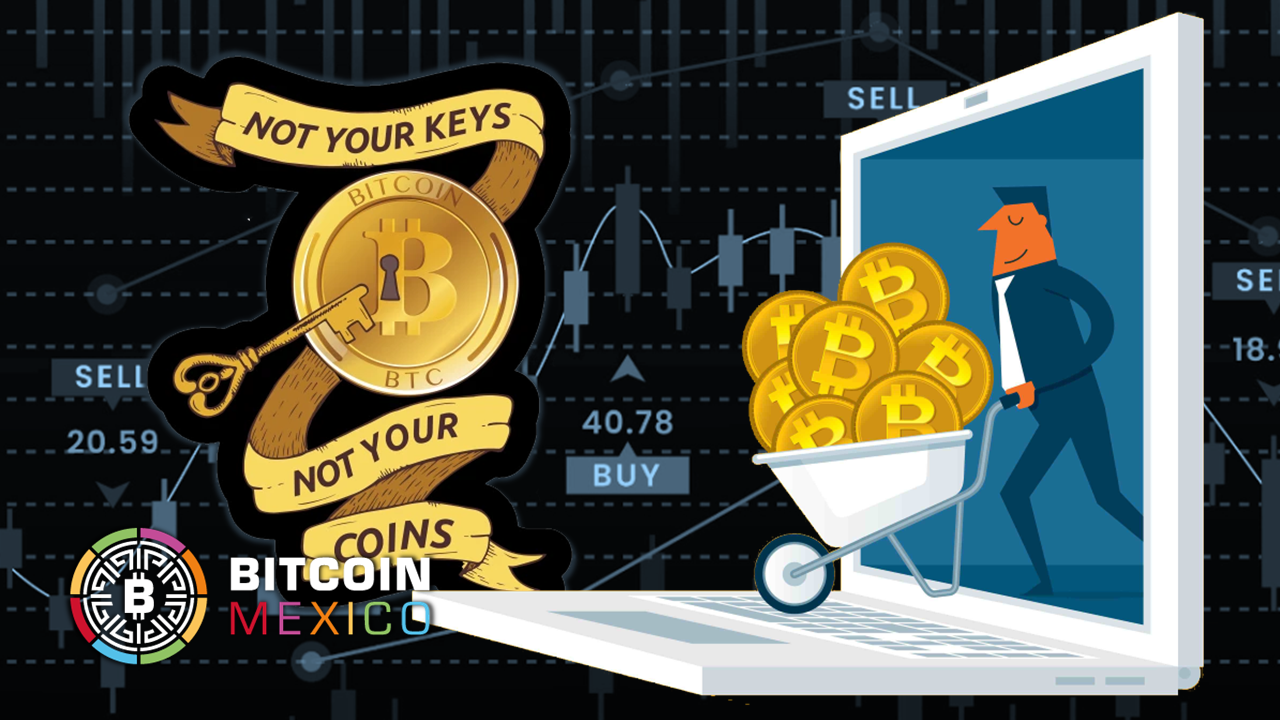 Although centralized platforms and wallets provide us with some security thanks to their custody system, the recent crisis in the ecosystem has shown us the disadvantages that they can represent for users.
The blocking of users of decentralized exchanges has raised alerts about the possibility of losing their digital assets if the platforms run out of liquidity.
In this crisis, decentralized wallets and platforms have been presented as the best alternatives to interact in the crypto ecosystem.
It's been almost two months since the crypto market suffered its hardest blow in recent years. It is no secret to anyone that the collapse of TerraUSD and LUNA caused a chain effect throughout the market leading to leading assets such as Bitcoin and Ethereum losing more than 50% of their valuer in a few weeks.
Another serious consequence of this fall and the apparent entrance of the crypto winter, has been the lack of liquidity to which various exchanges have been exposed which, in the best of cases, has only led them to dismiss part of their staff, but in more extreme cases they are considering filing for bankruptcy, as is the case with Celsius.
The closure and suspension of operations of some exchanges raises the question: what will happen to the digital assets of their users who have lost all access to them?
Exchanges hold user assets
Perhaps the first exchange that turned on the alerts about the sovereignty of the digital assets of its users was coinbase when in May, when the crypto market crash started and its shares fell almost a quarter of its value, Its CEO, Brian Armstrong, declared that in the event that the company declared bankruptcy, the funds of its users would become part of the company so that it could fulfill its obligations. That is, users would lose all access to their funds.
Although a few days later Armstrong reported via Twitter that the funds of the users were protected and the funds of the exchange and of the users were separated, the doubt had already been sown and the famous motto of the crypto community came out again.
"If they are not your keys, they are not your cryptocurrencies"…
At the moment Coinbase has not suspended its users' access to their cryptocurrencies, however this is not the case with exchanges Celsius, CoinFLEX, Finblox, Voyager and most recently Vaudl, who have paused withdrawals from their platform.
Another that could be added is Finblox, which although it only limited the amount that its users could withdraw, the same had happened with Voyager, who finally, on July 1, announced that they will completely suspend withdrawals of digital assets.
It is difficult to know what other firms could join, since some could be rescued as is the case of BlockFi which will be acquired by the FTX exchange, but this will not be the case for all of them, so You have to keep in mind that the next exchange may be the one where you have your digital assets.
Not your keys, not your crypto
As we mentioned before, there is a saying that is commonly professed in the crypto ecosystem in which it is referred to that if you do not manage your access codes to your wallet, the digital assets that are there are not yours, and this has been made very clear in the recent crypto crash, as exchanges, by pausing their clients' access to their digital assets, have shown that Those who really have control of the assets are the institutions, not the users.
Although centralized platforms have been a great tool for inexperienced users, the ideal is for users to have their digital assets on decentralized platforms or devices.
Of course, this implies a great responsibility of the users, since they are the only ones who will be able to manage access to their digital assets and in case of losing their access codes, they will lose everything, but the advantage is that your cryptos will always be your cryptos. .
Here are some decentralized options to keep your cryptocurrencies safe.
Decentralized platforms or DEX
Decentralized Finance or DeFi was the boom topic of 2021 in the crypto ecosystem. DeFi had a great growth during the pandemic and the growth of digital assets, from this great growth decentralized exchange platforms or DEX emerged, which are platforms that allow trading directly between users without the need for intermediaries.
Curve
Curve is today the leading DEX platform on the market. This platform allows interaction with 10 blockchains, and of course, with their tokens, which are: Ethereum, Polygon, Fantom, Avalanche, Arbitrum, Gnosis, Optimism, Moonbeam, Harmony and Aurora.
This platform is focused on stablecoin trading, however Despite being focused on this type of cryptocurrency, it also allows the exchange of other tokens such as BTC and its ERC-20 forms, as well as other relevant tokens within the ERC-20 Ethereum ecosystem.
Curve manages to offer a lower price slippage, that is, the difference in price between the purchase price in order and the actual purchase price of a token, thanks to its own invariant that allows its users to obtain greater profits.
Curve is very friendly to users who just need to connect their wallet to the platform.
uniswap
One of these platforms is uniswap an Ethereum-based DEX that allows users to trade ERC-20 tokens which has become one of the leading platforms in the industry. This project was born with the aim of offering two solutions, firstly a DEX within the Ethereum ecosystem, and secondly, to serve as an Automated Liquidity Protocol (AMM).
Currently the platform allows to trade more than 5000 digital assets and interact in four blockchains: Ethereum, Polygon, Optimism and Arbitrum. Uniswap's Total Value Locked is $5.03 billion and it has a trading capitalization of $2.33 billion.
This platform is very user friendly and requires you to only connect your wallet with the platform.
PankakeSwap
Lto DEX PancakeSwap was founded in 2020 on the blockchain of the largest centralized crypto exchange in the world, Binance SmartChain (BSC), with BEP-20 technology.
This DEX also uses the AMM Funds Pool to carry out the Cryptocurrency Swap and also allows Farming, Stacking, Liquidity Pools, even lotteries and NFT purchases.
The platform allows easy access to users by connecting their Metamask wallets, TrustWallet, MathWallet, Binance Chain Wallet, among others.
An advantage offered by this platform is that, since it is not based on Ethereum, it handles really low fees that vary from $0.04 to $0.20 dollars and its operations are usually quite fast and effective.
decentralized wallets
Decentralized platforms are a great tool for those who want to stay active in crypto trading but there is something that is necessary to interact with them, a wallet.
In Bitcoin Mexico we have made several guides on what crypto wallets are that can be very useful for you to store your digital assets, but here we will give you another review of the best options, which can help you interact with DeFI platforms as well how to keep your assets off-platform for long-term HODL.
MetaMask
MetaMask It is one of the preferred wallets to interact with DEX platforms since it supports interaction with different blockchains, which allows it to integrate perfectly with most DeFi applications and protocols.which makes it the most used wallet in DeFi today.
Thanks to its versatility and popularity, many protocols recommend it and even have tutorials on how to connect it to their platforms as well as being suitable for the needs of both beginners and veterans.
Another advantage is that MetaMask already allows, in certain regions, the buying and selling of digital assets from its platform.
Blockchain.com
blockchain. com offers two types of wallets, one centralized and one decentralized, both in the same application. This wallet accepts up to 22 digital assets, among which BTC, ETH, DOT, USDT and BCH.
Its decentralized wallet offers an encryption service which allows only the user to have access to the stored cryptocurrencies. The platform declares that they do not store your Bitcoins, they only provide the necessary software so that you can store them yourself.
Its main features are that of having an integrated "Security Center" with which one can see the step by step to secure the account, back up the funds and prevent unauthorized access, and has the flexibility to adjust the commissions per transaction according to the priority.
In turn, this wallet has partnerships with exchanges, which makes it easy to buy and sell cryptocurrencies directly from the blockchain wallet without having to remove them from there.
Ledger Nano S
So far we have talked about DeFi wallets and Hot Wallets, that is wallets that are kept online, but now we will provide an option that keeps your assets offline until you decide to connect your devices, an option that is ideal for those who want to do long-term investment.
Our recommendation is Ledger Nano S it is a hardware wallet which is the size of a small flash drive. Ledger is a compact smart card-based USB device that must be connected to a computer via a USB cable to activate.
Ledger Nano S supports more than 1,000 digital currencies such as Bitcoin, Ethereum, Dogecoin, Monero or Litecoin.
Ledger also offers its users an option Ledger offers its users a software which is available for both computers and mobile devices which works as an online wallet and transactions can be made quickly and easily.
Conclusions
The crypto ecosystem offers us great financial advantages, but being a relatively new ecosystem, it is also necessary that we take our precautions when moving within it.
Although centralized platforms and wallets provide us with some security thanks to their custody system, the recent crisis in the ecosystem has shown us the disadvantages that they can represent for users, such as losing their digital assets if the platforms run out of money. liquidity.
You might be interested in: