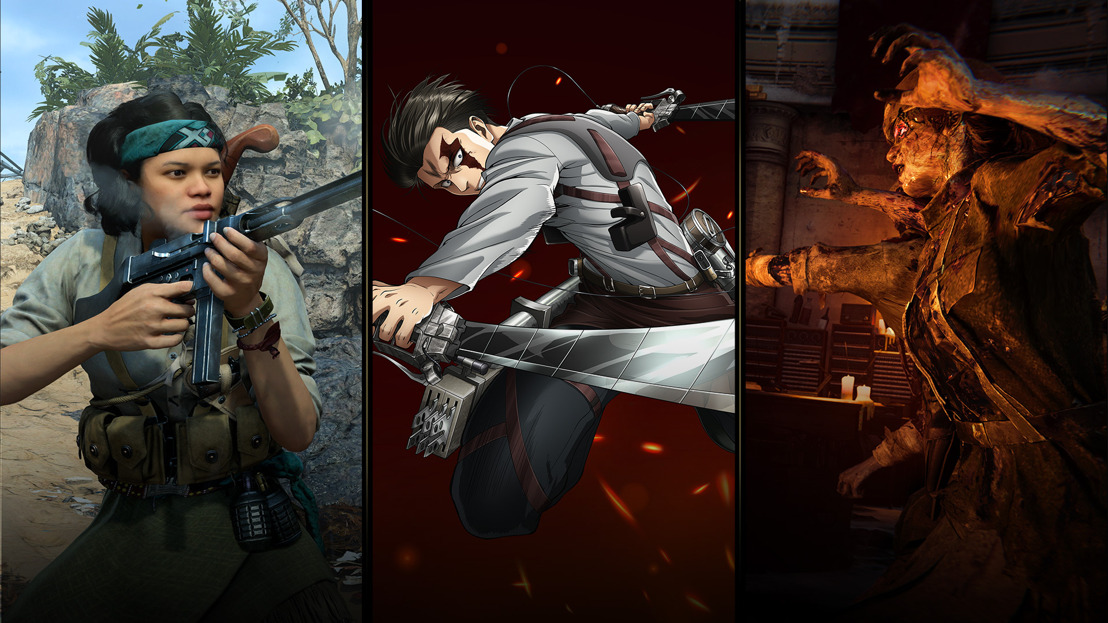 To celebrate its final season, Attack on Titan is collaborating with Call of Duty. This update is inspired by Captain Levi Ackerman, as well as others that will arrive during Season One.
The iconic best-selling manga series Attack on Titan, whose award-winning anime adaptation has just entered the second half of its final season, will hit Call of Duty: Vanguard Y Warzone pacific as part of the first major update of the 2022 games.
In this LOT to be released as part of the mid-season update, Daniel Yatsu will don the legendary Survey Corps gear.
This epic collaboration will be officially available on January 20, about a week after a mid-season update for Vanguard Y Warzone pacific which will include a new operator, a new weapon, additional content for Zombies, various bug fixes and more.
Updating Vanguard will be available for download on January 11 at 9pm PT, while the update of Warzone pacific It will be available for download beginning January 12 at 9 pm PT.
These will prepare both games for the first full day of the Season One Mid-Season Update on January 13 at 9 AM PT.
Tracer Pack: Attack on Titan – Levi Edition Bundle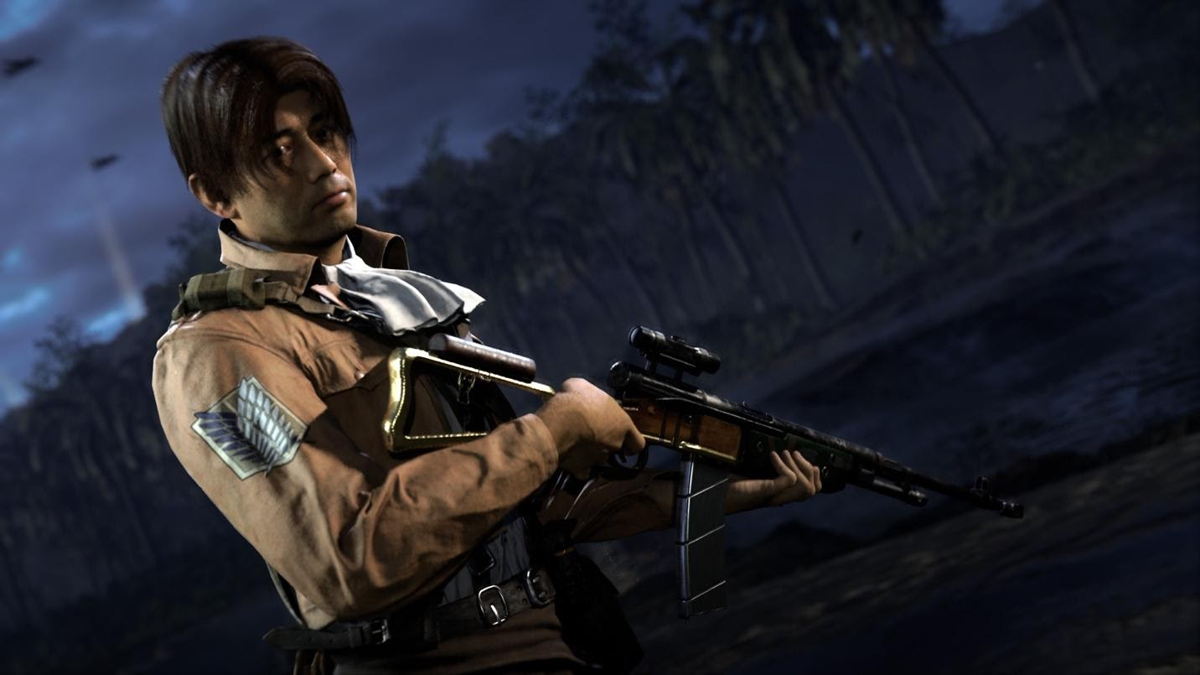 To celebrate the last season of Attack on Titan, the players of Vanguard Y Warzone pacific can become members of Survey Corps through the Tracer Pack: Attack on Titan – Levi Edition Bundle
This 10-item store bundle isn't just for super fans of the franchise; He has the style and firepower to become a leader among soldiers, just like Levi Ackerman.
One of the most notable additions to this lot is the 'Titan Piercer', a blade-modeling weapon project that can kill Titans. Made from ultra-tough steel, the only material that can cut through a Titan's flesh, this single-edged blade is more than capable of slicing through squads with ease.
Also available in the package is the legendary 'Steel Cut' finisher as well as the exclusive 'Vertical Maneuver' Highlight Intro. Vanguard and the MVP Highlight "Ultrahard Steel".
The other two weapons in this pack are the Legendary Assault Rifle Weapon Projects "Historia" SMG and "Ymir Curse", two firearms that are excellent additions to your weaponry. Warzone pacific, the multiplayer of Vanguard and Zombies.
"Ymir Curse" is designed for operators who pride themselves on their accurate downward shots. With a nine-attachment configuration, near-zero horizontal recoil, and near-maximum effective range and bullet velocity, this Legendary weapon model is phenomenal at range, especially when mounted by an operator.
As for "Story", it is suited to the run-and-shoot operator who wants to take accurate shots from the hip while running. The included smaller caliber magazines offer better speed and rate of fire, perfect for Gung-Ho strategies in multiplayer or Warzone Pacific.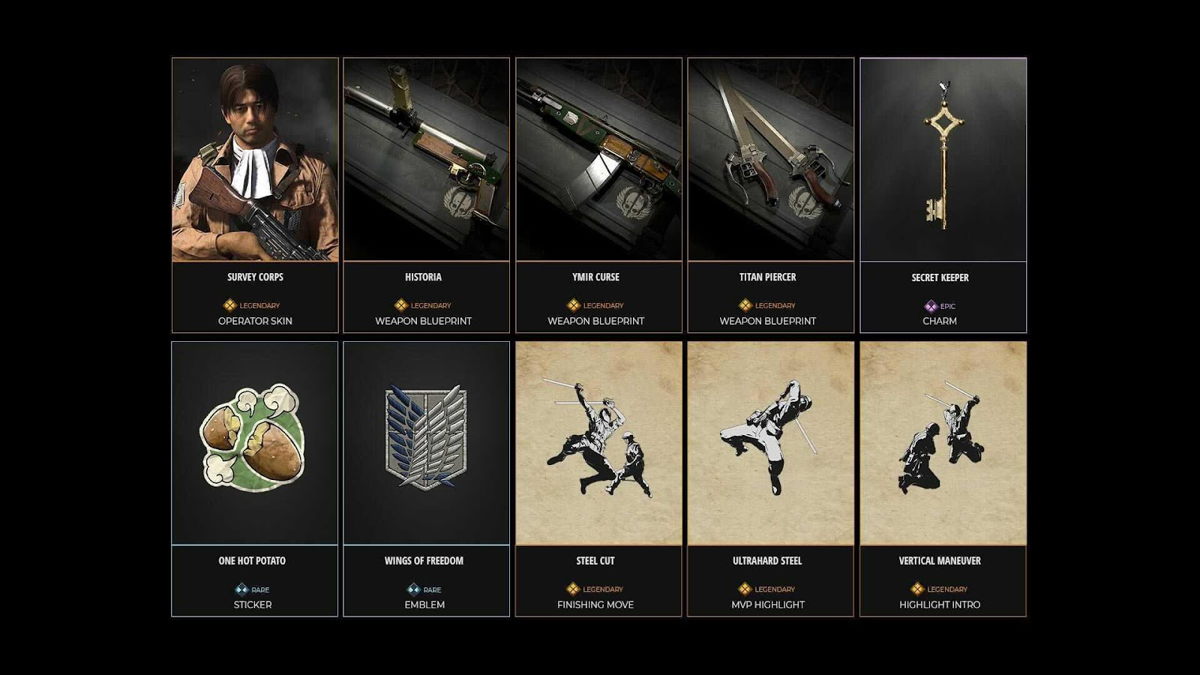 While these weapons can be used by any Operator, Sergeant Daniel of the Hellhounds will be fully equipped for battle with the "Survey Corps" Operator Skin included in this pack. Designed in the style of the Survey Corps gear worn by Captain Levi Ackerman, this new outfit is perfect for leading your squad to victory in Caldera or elsewhere, just like the incredibly skilled (but humble) Levi is.
Superfans will also recognize the other items in this pack and what they refer to: a "Secret Keeper" key weapon charm to unlock the mysteries of the world, the "Wings of Freedom" emblem worn with pride by members of the Survey Corps, and for of course, a sticker «One Hot Potato», in memory of a special person whom we all have in our hearts …
New operator: Isabella Rosario Dulnuan Reyes completes Task Force 006 Trident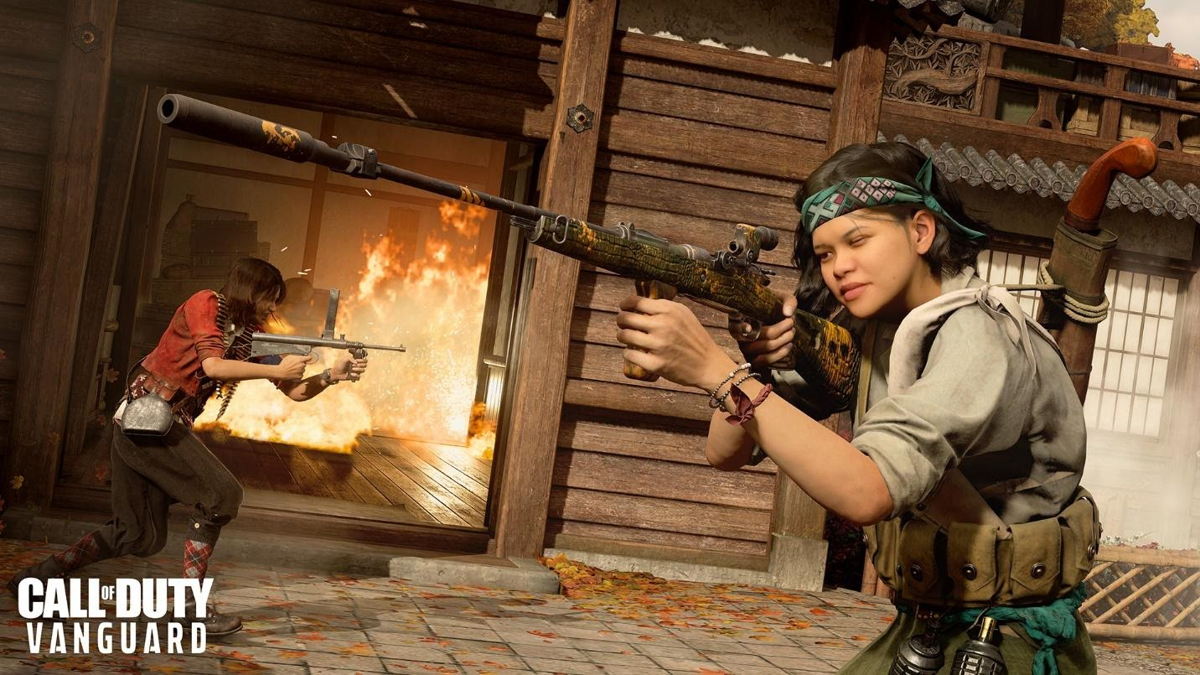 A devastating invasion. A lost father. A vow of vengeance.
This is the story of Isabella Rosario Dulnuan Reyes, the last operator of Task Force 006 Trident to arrive before the end of Season One.
Isabella was trained in martial arts as a child by her father. After her death, she continued to hone her skills with those who led her to the local resistance. After the war, he teamed up with Trident along with Francis and Lewis to uncover the secrets of Caldera, acting as a melee specialist with extreme skill with a new weapon for the arsenal of Vanguard.
Unlock Isabella by purchasing her Operator Lot Wild Rose, which also includes two legendary weapons projects.
Those who have all three Trident members (Francis, Lewis, and Isabella) unlocked and maxed out can unlock a special gold outfit for all three operators, as well as a platinum outfit if they have at least three other max task forces at level 20.
New SMG: Welgun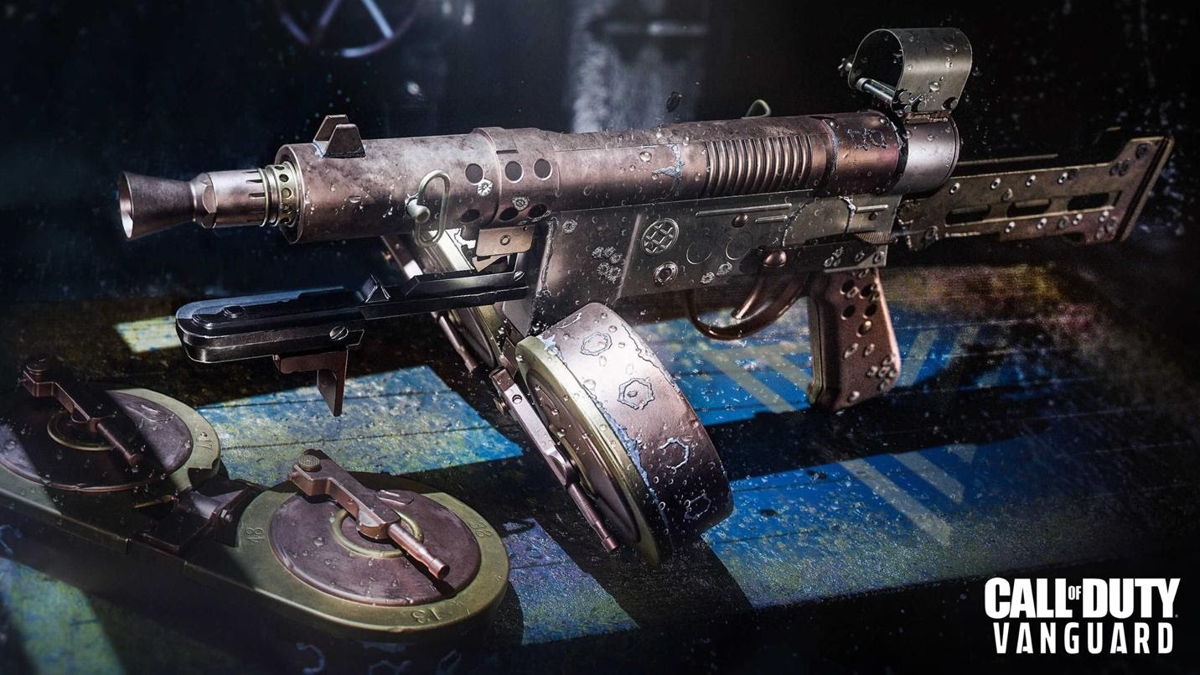 "Fully automatic heavy submachine gun with lethality and range for short to medium range engagements."
Isabella of Trident's favorite weapon, the Welgun is the prototypical SMG whose raw stats place it between the Owen Gun and the weapon the British Army chose: the Sten.
In multiplayer, you can reliably take down targets in four shots (or three, with one shot in a mixed vital area) within a category standard effective range. Available .380 and .25 ACP magazine accessories can make it a powerful three- or two-shot machine or a faster, more accurate firing weapon, respectively.
Whether used with your standard ammunition in extra-extended magazines, which double the number of rounds per magazine, or with a 48-round drum of .380 ammunition, tight space specialists can make it work in your standard equipment. Warzone pacific or the multiplayer of Vanguardespecially in large squads or higher intensity modes.
The Welgun can be unlocked in one of two ways: either through an in-game challenge or through a weapon project, the former of which will be available with a shop bundle, Reserved steel, which will be released within the release window of this update.
Vanguard Zombies Updates, Brought to you by Treyarch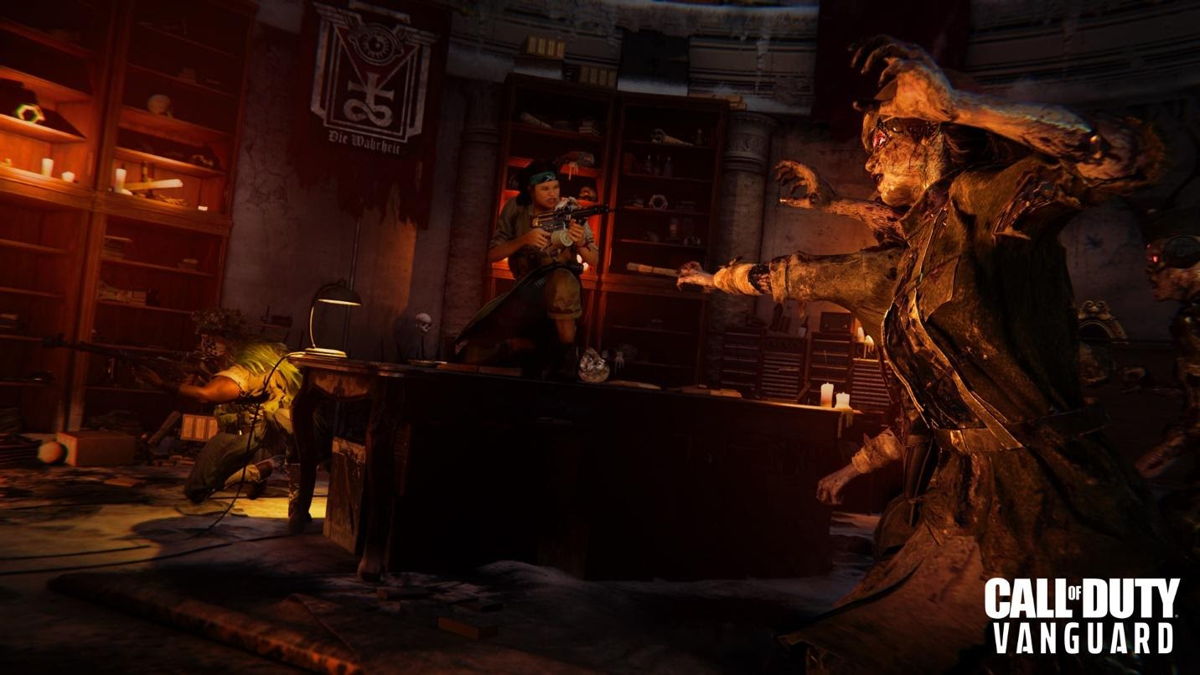 Several major updates to the Zombies experience from Vanguard They will appear in 2022, with Treyarch outlining immediate additions to the mode and future plans on his most recent blog.
These include an endless classic game introduction to "Shi No Numa" in the new Void Objective, unlocked access to Von List's office in Stalingrad, four new levels of artifact upgrades in Tome of Rituals, three unique Pack-camouflages. a-Punch and more. The Combat Shield and supportable Baka Streaks that can be crafted will also be added to the mix, along with weapon unlock challenges for the Katana and the new Welgun SMG, plus plenty of content in the works for Season Two.