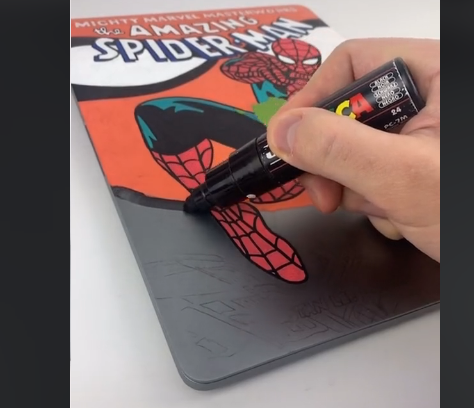 An Artist on TikTok is dedicated to sharing rebranding of Apple Macs and other brands and thereby conquering Internet users.

Apple is one of the top revenue-generating companies in the world, generating $8.5 billion in 2020.
Apple is one of the most important brands in the world, and that is the reason why several Internet users loyal to the brand dedicate themselves to making videos related to the brand; This user is dedicated to rebranding Mac and other brands to charm Internet users.
Apple is one of the most important companies in recent years and, in fact, belongs to the select group of the best valued companies in the world. In the first quarter of fiscal year 2022 alone, the apple company has achieved that computer sales Apple Mac will generate about US$10.8 billion in revenue; contrasting categorically with the 8.7 billion US dollars in the same quarter of the previous year.
For this reason, the brand has become one of the favorites of consumers. Videos reviews of their products, some others that are dedicated to sharing "hacks" or hidden features of it, and even comparisons with other brands are everywhere. This artist, however, has decided to dedicate several of his videos to rebranding or redesigning his products, making unofficial collaborations with his brand.
Artist rebrands Apple Mac and wins Internet users
The tiktoker @leomahalo is an artist which is in charge of making redesigns of technology and automobile brands, although the brand that it uses the most is Apple. Hence, this young man got the number of 7.8 million followers on the Chinese social network and more than 163 million "likes" on his account.
The artist managed to viralize these designs because, on the one hand, he makes "crossovers" with different franchises of popular culture, and shares new ideas that even make users dream of having and that, however, Apple has not done the attempt to put up for sale. On other occasions we have seen how artists who use rebranding as a hallmark, dedicate themselves to selling their designs and fulfilling the dreams of fans and those most loyal to the brand.
Here are some of this artist's Apple Mac redesigns:
Undoubtedly, these designs are the dream of every fan of the brand and popular culture, because who would not dream of a Spider-Man and Batman cover for their computer? For now, the brand has not chosen to use these designs, but Internet users do not lose hope that one day this will become a reality.
Now read:
This is everything you need to know about Apple's new Macbook
Russia-Ukraine conflict affects Apple developers; MacPaw launches contingency plan
Is Apple going backwards with its computers? Internet users give the answer
He denounces Sanborns for selling him a damaged Apple Watch; "they do not give guarantees"