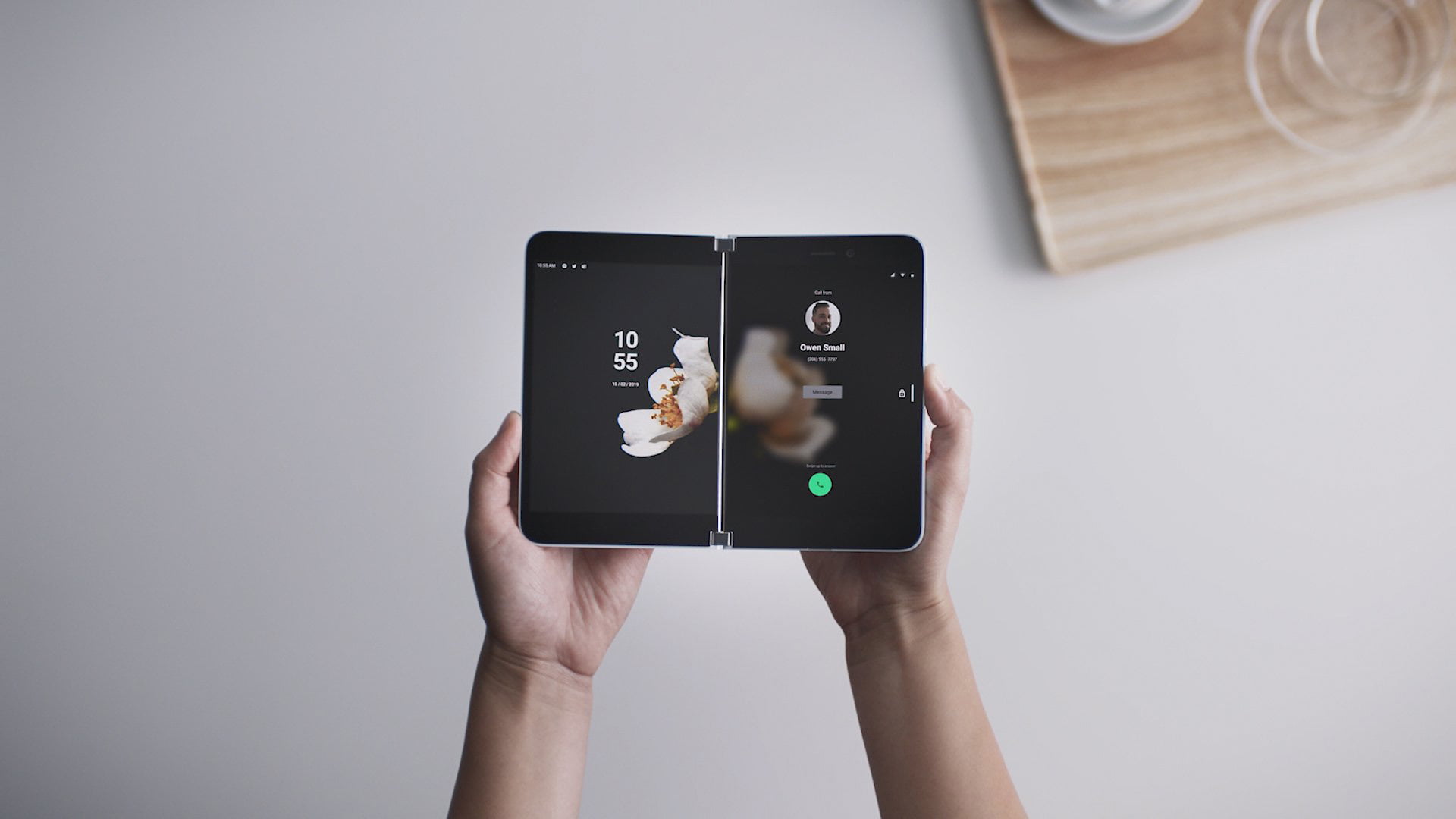 The return to smartphones with the Surface Duo has not been a bed of roses. Yes, Microsoft has offered monthly updates, but few improvements in terms of corrections or substantial improvements. The last update that tried to improve stability was in June, and since then the company has only released monthly security patches. Now it looks like they're finally here news with Android 11.
Android 11 is already a reality on Surface Duo
In the end, after waiting longer than desired by the owners of this smartphone, Android 11 has arrived on Surface Duo. Microsoft has taken some time to update the Surface Duo, remember that it was in September 2020 when they presented Android 11 at Google. Now the rollout of Android 12 has already arrived and Microsoft is barely working on the previous version.
As is often the case, this update brings Surface Duo more on par, software-wise, with Surface Duo 2, which launched with Android 11. The Android 11 update brings various UI changes, like a wider notification shade, Updated Launcher widgets, new volume and brightness controls, improved app folders, and a revamped Settings design. The update also adds new features, such as auto-scanning of user-selected apps, a new Photos app (based on OneDrive), and more support for the Surface Pen, which can now be used in Outlook or to mark up photos.
Users can also start OneNote using the top button on the Surface Pen, just like the Surface Duo 2 after its recent December update. Additionally, other stability, gesture, and touch improvements come with a new operating system and firmware for the Surface Duo, which is expected to improve overall performance and user experience.
Pablo Oraá, the only owner of the Surface Duo that we know of, has indicated that it is doing much better. We hope that Microsoft continues to improve the performance of a device that should have been released without any problems.
What's new in the update to Android 11
Updated Android OS to Android 11.
Covered the scenarios described in the January 2022 Android Security Bulletin.
Enabled launching OneNote when pressing the top button on the Surface Slim Pen 2.
Enabled in Surface Duo features under Settings to choose the preference for answering phone calls when folded.
On in Surface Duo features in Settings to choose specific apps that automatically appear across both screens when you open them.
Optimized Quick Settings and notification width for portrait and landscape orientations.
Adjust media volume directly from Quick Settings in any device mode.
Use thumb mode in Microsoft SwiftKey now with all device modes and app states.
Updated app drawer and folder layout with improved drag and drop support.
Revamped Microsoft feed design with updated cards and new Microsoft Start widgets for News and Weather.
OneDrive Photos: New improved dual-screen experience for viewing and editing photos in the OneDrive app.
Xbox Game Pass: Discover and play games from the cloud with an on-screen controller. Some devices, accessories and software are sold separately. Additional fees and/or subscriptions are required for some apps and features.
Send your feedback to Microsoft by opening Settings, then tapping About, then tapping Send feedback to Microsoft.
How to update to Android 11?
Connect to a Wi-Fi network.
Select Settings on the home screen of your Surface Duo.
Choose System.
Now, System Update.
Then Check for update.
Select Restart Now.
Android 12L is the next target
Of course, while Android 11 is a welcome update for those who bet on the Surface Duo, all eyes are now on Android 12L. This would be better optimized for the Duo's dual-screen experience. While this operating system brings enhanced features such as a dual screen notification shade, its true value is in the official APIs so app developers can adapt to foldable devices like the Surface Duo 1 and Surface Duo 2.
Sources familiar with Microsoft's plans point out that the company is working with internal beta versions of Android 12L, but there is no official release target yet. It's also unclear if that version will make its way to the Surface Duo 1, though Microsoft has promised three years of OS updates for both Surface Duos.