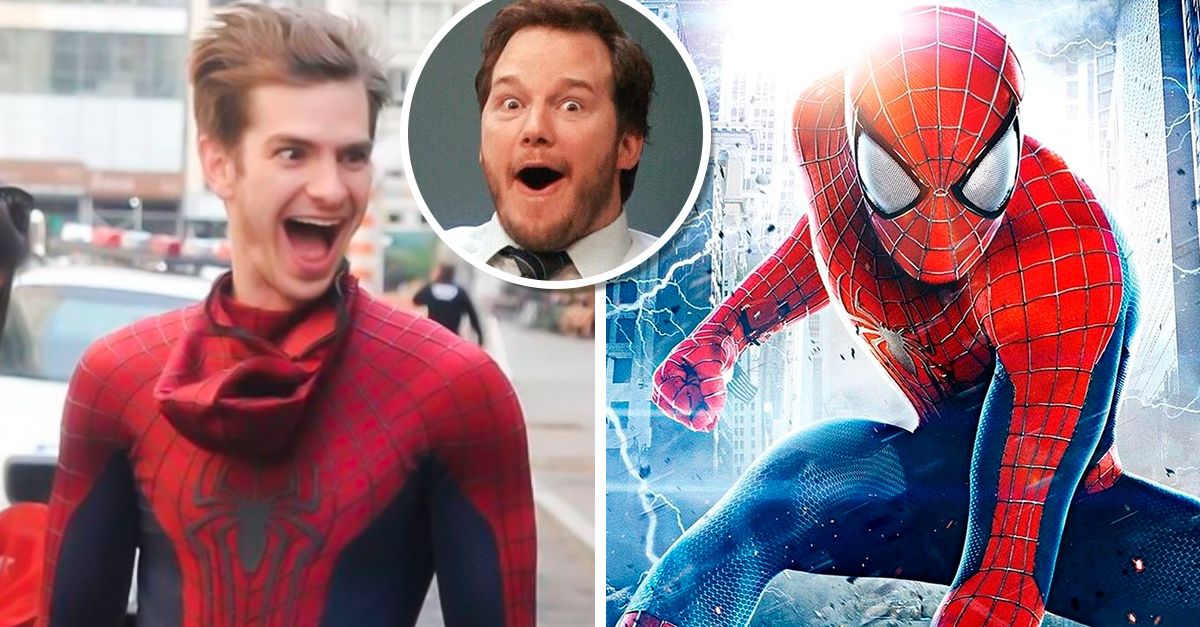 Spider-Man: No Way Home It was by far the most successful movie of 2021. The latest installment in the Marvel Cinematic Universe (MCU) is packed with action and adventure from our favorite superhero. In addition, the appearance of two very special guests left the fans with open mouth. If you still haven't seen the movie and want to avoid spoilers, it is time to stop reading this article.
Andrew Garfield had a very good year, as he was nominated for a Golden Globe for the film Tick ​​Tick… ​​Boom! and it is rumored that he could receive his second Oscar nomination. In addition, he appeared in another of the most critically acclaimed films of 2021, Tammy Faye's eyes, and, of course, he participated in the highest grossing film of the year and dusted off the iconic red suit.
I didn't expect to play Spider-Man again
Even though the appearance of Andrew Garfield and Tobey Maguire was always more or less an open secret, Andrew flatly denied the rumors in many, many interviews, which is very understandable, since he could not spoil the surprise, but now that the tape He's been in theaters for several weeks now and there's nothing to hide anymore, he finally sat down with the magazine Variety to discuss his participation in the tape.
In this interview, Andrew mentioned how shocked he was when the film's producers and Marvel executives called him in with an incredible idea.
I didn't expect to have a conversation again about the possibility of playing Peter Parker. I was really excited to be just a fan again, but the Marvel executives called me and came up with an idea. I knew immediately that I could not refuse, it sounded incredibly funny, spiritual, strange and very interesting on a thematic level. Basically speaking as a Spider-Man fan, the mere idea of ​​seeing three Spider-Men in the same movie was enough.
The arachnid brotherhood
If you have already seen the film, you will know that the relationship between the three superheroes is a key point for the development of the youngest Peter Parker, played by Tom Holland. The characters of Andrew and Tobey have many more years of experience living a double life and trying to be a good hero, so they become one of the most important supports for the protagonist.
They said, 'You played this character in your own way, what would you like to explore if you had the chance? If you were thrown into this other universe and faced with this younger you and this older you, how would you respond? ' We talk a lot about tutoring. We talk a lot about sorority and what it means to be a big brother, a little brother, and a middle brother. Tom Holland's character is isolated, both emotionally and physically, but what happens when you realize that you've never been alone and that you have siblings who are going through the same situation?
But this is not all, as the appearance of Tobey and Andrew's characters allowed their characters to learn from the other superheroes as well, and obviously Andrew had the opportunity to re-explore the Peter Parker that he played.
Tobey and I recorded for two weeks, but I think we managed to have a real impact. My Spider-Man managed to save his little brother's romantic relationship and also had the opportunity to heal the most traumatic moment of his life by saving his little brother's girlfriend. He made sure he didn't have the same fate and that's a very beautiful thing, on a cosmic level. For me Peter, it meant getting a second chance to save Gwen [Gwen Stacy, el interés romántico del personaje de Andrew en 'El Sorprendente Hombre-Araña'].
What was it like living with the other Spider-Men?
Working with Tobey and Tom was a lot of fun, and the three actors were able to understand each other very well, even going so far as to compare their costumes. Andrew assures that his suit was the most envied due to the zippers that you have in your hands. Of course they also had more serious conversations, about how each one has handled the character and what the experience of playing Peter Parker was like.
I think the first time the three of us saw each other in the suit it was just hilarious because it's like, they're three normal guys who are actors and they're just hanging out. But then, you become a fan and you say 'Oh my gosh, they're all in the suits together and they're doing the pointing thing. [el meme]'.
"I am very grateful"
More than anything, Andrew is grateful for having returned to play a character so dear to him and was very happy to have been able to put an end to certain issues that were left pending with his Peter.
I am very grateful that I had the opportunity to tie up some loose ends left in Peter's story. I love the character and am so thankful to have worked with such an amazing team. It fills me with joy and gives me the closure I needed. There were so many unanswered questions in my character's story and I was able to go back and get her to heal a bit. Also, it was about supporting Tom's Peter and honoring his character in his trilogy, not about stealing attention from him.
Will he be Spider-Man again?
One of the most interesting questions fans have been raised from the tape is the possibility that the trilogy of The amazing SpidermanWell, seeing Andrew in his supersuit again has brought out the nostalgic streak of the fans. Also, don't forget that they did owe a tape to Andrew, since the third installment was canceled. The actor had the following to say about it:
Well yeah, I'm definitely open to the possibility of coming back if there's a project that feels right. Peter and Spider-Man are characters that have to do with service, with the common good. He is a working class boy from Queens who has not had it easy and knows what it is like to lose someone and is deeply empathetic. I would try to borrow Peter Parker's ethical framework in the sense that if there was an opportunity to step back and tell more of that story, I would have to feel very confident about myself.