Key facts:
Ethereum is not centralized, but many of the platforms that provide access to it are.

Users must inform ourselves and reflect on this type of event.
Last Thursday, March 3, the holders of cryptocurrencies in Venezuela woke up with worrying news: the Metamask wallet blocked access to the Ethereum network throughout the territory of that country. Fortunately, the problem was quickly fixed, but it has sparked a necessary and very useful debate in the community about the decentralization of those services that we consider as "untouchable" by States and companies.
The complaints and conjectures did not take long to arrive on social networks. As CriptoNoticias reported, it was said at the beginning that this could be a consequence of economic blockades that various countries apply to Russia in the context of its war with Ukraine. Although it has called for a peaceful resolution of the conflict, the Venezuelan government has openly shown its support for Russian President Vladimir Putin. It made sense that he should be included in the select group of those "punished."
Finally, these versions were confirmed by Metamask and Infura, the two companies responsible for providing the service that was no longer available. In a publication On Twitter, Infura – a client that provides the connection of the wallet to the Ethereum network – expressed that everything was due to a "configuration error" when applying the sanctions imposed by the United States. They got out of hand "unintentionally wanting", as Chavo del 8 would say.
Metamask, meanwhile, hid behind this Infura error. At Tweet in which the wallet acknowledged the problem that occurred, it explained that its goal is to make "the blockchain as accessible as possible to everyone" and that the problem was a "misconfiguration" of its provider.
In addition, they accompanied the publication with a tutorial to change the connection through Infura, the one established by default in the wallet, and thus be able to make normal use of its functions. But the damage was done.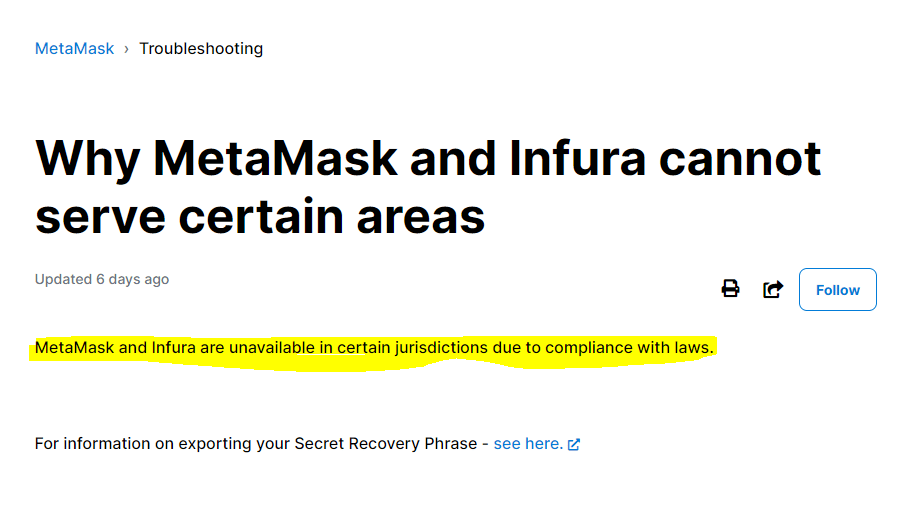 The centralization was exposed in a few hours
The drop in service and the impossibility —thankfully, transitory— of accessing your money for Venezuelan users is not the most serious of all this. What became clear is that even the wallets that are usually considered and even sold as decentralized are actually not..
Nothing new under the sun for the most knowledgeable on the subject, but a reality check for the newest. A kind of misleading advertising that should not be such. Providers of these services should be more explicit and alert users with clear and concise warnings about the pros and cons of their limitations.
It might advertise something like "this product is owned by and dependent on this company for development and operation, as well as the laws and regulations of each territory, which may vary." Hiding these clarifications in a Terms and Conditions section that very few read to the end makes no sense. You have to be more direct. and really educate for a safer entry into a new and unknown environment.
Returning to the Metamask-Infura case, to understand the full picture add a third name to the equation: Consensys. This American company based in New York provides technological solutions for development in Ethereum, and is the owner of Metamask and Infura.
Consensys had no choice but to comply with the order of the government headed by Joe Biden to block services to certain countries such as Russia, Iran – where users reported blockages in the NFT Opensea marketplace— or Venezuela. Metamask explains it in his website and Opensea had also expressed it, which has always been blocked for users from Venezuela: the platforms are subject to "strict laws" and depend on the decisions of the countries where they settle.
Therefore, if a wallet depends largely on the proper functioning of a client and, even more, on the decisions of a government about who can use it and who cannot, clearly it can be said that it is not decentralized.
This is a reality that thousands of people learned yesterday, and that is not fair. Many were using a product that did not really offer them what they believed and were looking for, which was nothing less than access to a totally decentralized monetary system, detached from the conveniences of any government in power.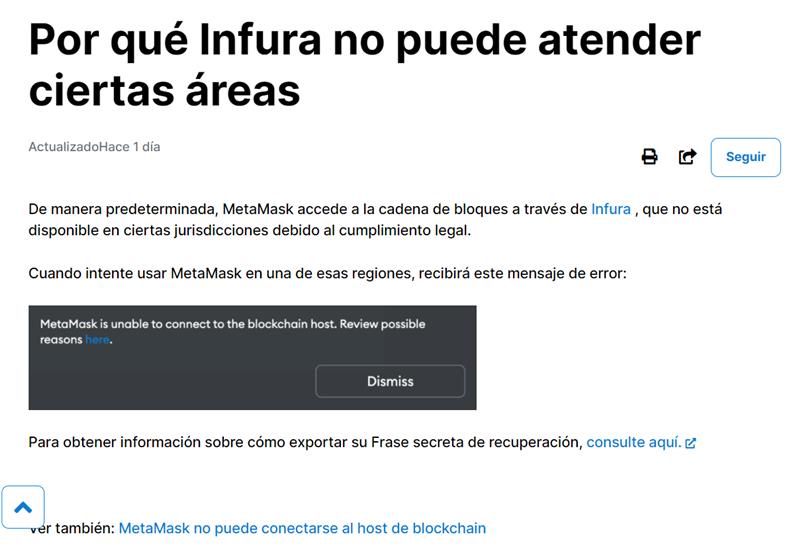 In addition, other people also began to raise questions about the safety of their funds. Yes OK Metamask enabled the option to recover them via recovery secret phrasethe feeling remains that you never know when you will lose access to your money, as happened to many Colombian Binance users due to court orders from the Netherlands and the United States.
In this case, the block came from Infura. Therefore, Metamask recommended change the client default to those who wish to do so.
Now, what if the same thing happened with Metamask in the future and it couldn't be accessed through any of the available RPCs? How far is it, in this context, from a scenario like that? No one can guarantee anything, but the community deserves a clearer message in these dark days.
Real decentralization: is it possible or a utopia?
If we take as definition of "decentralized" that network in which no single actor or set of actors can exercise unilateral control Regarding its operation and development, we can say that Ethereum is a decentralized network. As such, it has nodes and miners that ensure the security and incorruptibility of the network.
Together with Bitcoin, they thus represent a model of a monetary and financial system that, if not, is at least close to the concept of "fair". It is universal, accessible to all, equitable, uncensorable and non-confiscatable.
However, one thing is a network itself and others are the tools with which users access to her. Among these, we can list wallets, exchanges, DeFi protocols, NFT markets, among others.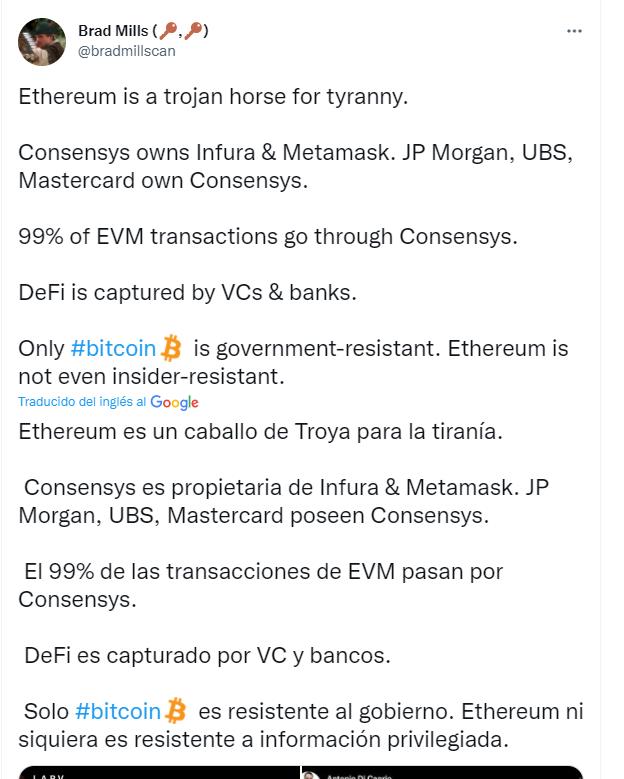 As has become clear on this occasion, these platforms are often controlled by an entity, usually companies, that arbitrarily modify the rules of the game or censor their participants.
There are plenty of examples, ranging from the Binance case in Colombia already mentioned to Ukraine's attempt to censor addresses of Russian users on cryptocurrency exchanges. Even Play-to-Earn video games have made decisions that not only upset, but also harmed many actors in their community. They have even had to back down due to user pressure.
And this leads me to think that it is an opportunity that the bitcoiner community should take to reflect. For example, in 2019 was registered With 40% of Bitcoin nodes hosted in the cloud using Amazon Web Services (and 60% of Ethereum), isn't this practice an imminent danger? If Amazon decides not to host these types of nodes anymore, these blockchains would lose almost half of their "backups" that keep them running safely.
Or if the US government forced Exodus Wallet, to cite one example, to restrict its services to users from one country? From the section of Legal compliance They clarify that they reserve the right to abide by the measures of the government authorities. Do users take these types of possibilities into account? I think most don't..
The offer of services is very wide and they are all sold as secure options to access decentralized networks. Thus, many of us fall into a counterproductive, dangerous laziness that goes against the principle of "doing your own research".
Therefore, this should serve as a clear warning signal. You have to know how to differentiate the qualities of Ethereum or Bitcoin from the characteristics —and limitations, above all— of the services we use to access them. With this great weapon that is knowledge, the steps we take will be much safer and we will know how to act in the face of unexpected "surprises".
---
Disclaimer: The views and opinions expressed in this article belong to its author and do not necessarily reflect those of CriptoNoticias.