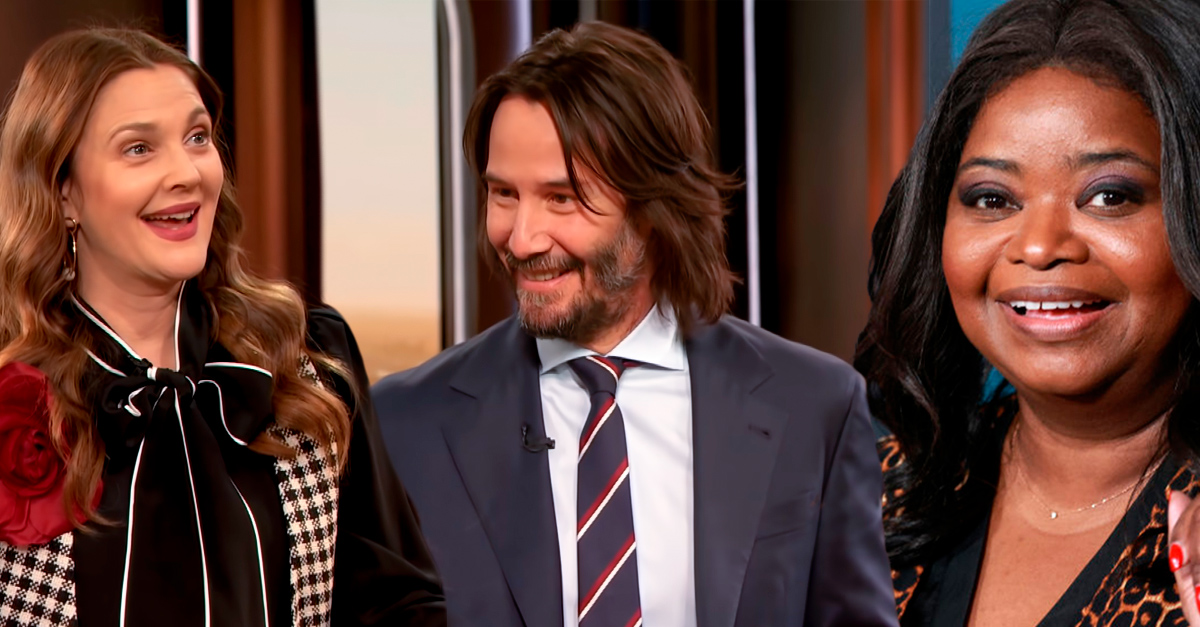 Keanu Reeves is one of those actors that the more we know about them, the more they fascinate us, because all the people who talk about him have nothing but praise and good memories, which makes us think that the actor is a human being of very good heart.
Recently, actresses Drew Barrymore and Olivia Spencer discussed some of their experiences with the actor, which reaffirm Keanu's title as "the boyfriend of the internet."
Keanu's Gift to Drew Barrymore
On the occasion of the premiere of his new film, Matrix resurrections, Keanu was invited to the Drew Barrymore talk show, The Drew Barrymore Show. These two actors have been friends since 1986, when they appeared in the film together. Adventures in Toyland, so during the interview, Drew recalled an emotional moment with the protagonist of John wick, who gave her a very special birthday present when she turned 16.
I was in a club when I turned 16 and you walked in. This is the memory I have with you, if you have something to add or change, tell me. You came in and you grabbed my hand, you took me outside and you put me on your motorcycle and we drove at the speed of my life.
"He was such a free human being"
The actress continued talking about the moment, which became a very dear memory for her, and stated that what stuck with her the most was the feeling of freedom she had at that moment, which is very difficult to achieve as an adult.
You took me on the trip of a lifetime. And I was so free, I was such a free human being. And it was that moment when I remember loving life and being so happy. I appreciate it so much because the older we get, the harder it is to get to that feeling.
First of all, he is kind
The other actress who recently shared about a positive experience with the actor from Constantine It's Octavia Spencer. His account fits well with what is known about Keanu: that, despite being the face of one of the most successful film franchises of all time, he is a very simple and kind human being.
You see, years ago, the actress ran into some technical difficulties when she was about to pick up a script she needed for an audition.
About 25 years ago, 'The Matrix' had just been released. I was on my way to pick up a script for an audition. I was not wearing underwear, I was wearing casual pants and my favorite college football jersey. It was worn, it was transparent. My car hadn't been washed and I always parked under trees so I had bird poop all over the back. And right there it broke down!
Keanu to the rescue!
Octavia's car stopped working in the worst possible place. However, that's not all, since at first, people only saw her or whistled at her, but no one came to help her. Then Keanu came to the rescue.
In this posh area of ​​Beverly Hills there was a cafe and all these people were sitting and cars were honking. Nobody helped me. Suddenly a guy with sunglasses and a motorcycle helmet comes along… and I knew immediately it was Keanu Reeves. And of course I went crazy.
Back then, with the fame of Matrix by heavens, Keanu was one of the most recognized and coveted actors at the time. But he acted in a super kind way and helped Octavia even though he did not know her.
He said to me 'Do you need help?' And I: 'Sure'. So I thought he was going to get in the car, so I went back to push. But he said 'No, I will push you to get you off the street, you get in'. So he took me out of there and then of course when people saw that it was Keanu Reeves who was helping me, everyone came to do the same.