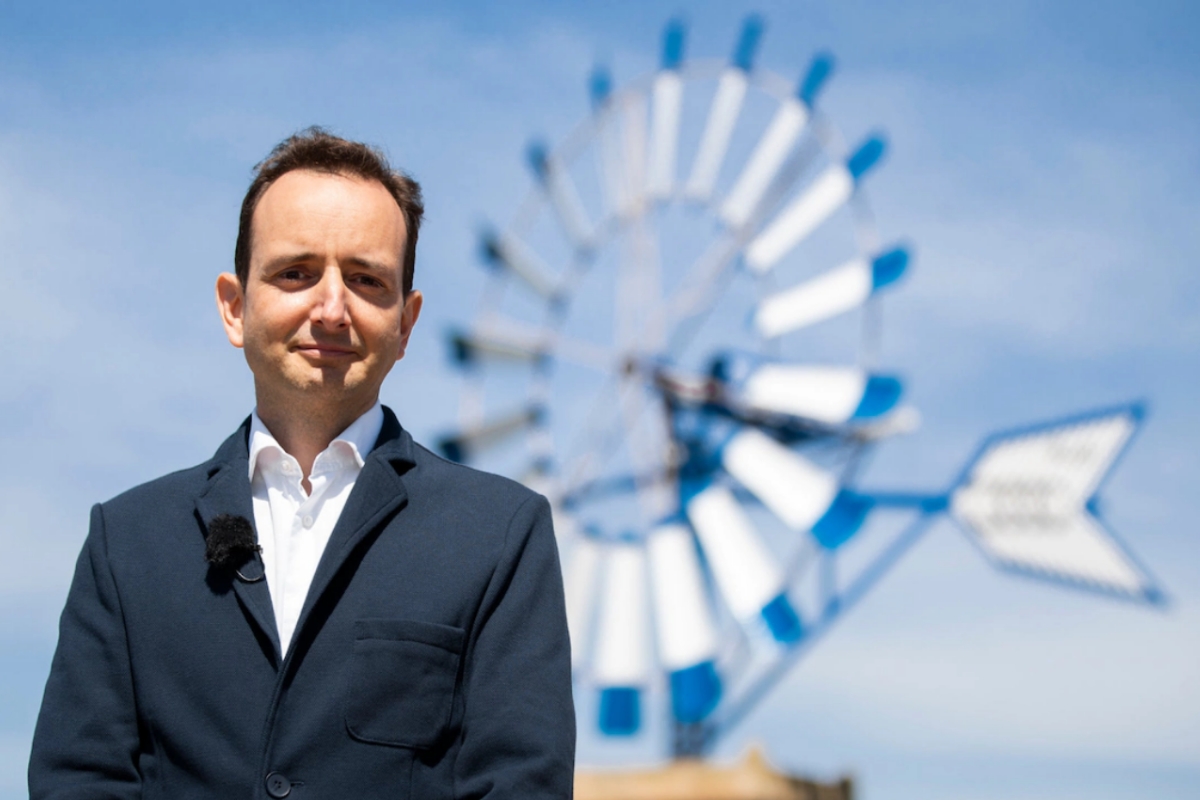 Electric motors can be reused once their useful life in cars ends. This is what Audi has done in Mallorca, where an employee of the firm with the four rings has materialized a green energy project.
What do the traditional windmills on the popular holiday island of Mallorca have to do with the electric Audi e-tron models? Apparently nothing. Or maybe quite a bit, if you ask Francisco Trigueros, responsible for the innovative Micro grid project.
When he was on holiday in Mallorca, he thought of the abandoned windmills: «Why can't they be reactivated as a source of green energy for electric cars to replace what has usually been the generation of fossil energy in Mallorca?».
This green energy is enough to charge an Audi e-tron with a 95 kWh battery 220 times.
Three years after this first idea, Trigueros and his comrades-in-arms inaugurated the first Microgrid windmill, called "Son España", in the town of Son Ferrol at the beginning of April 2022. This old mill was built in 1925 and was the first to be equipped with metal rotor blades.
The largest of the Balearic Islands is known for its thousands of windmills whose origins date back to the 14th century. Initially, they served as grain mills, then as groundwater pumps in the early 20th century, but are largely out of use today. Fossil sources are what currently generate energy, which increases the carbon footprint of the island.
And this is exactly where Spanish comes into play. "We are using both the windmills and the electric motors from the Audi e-tron test vehicles to generate power"Trigueros said, explaining the sustainability idea he presented to Audi's Innovation Management department.
Windmills instead of coal power plants
Like Trigueros, a multitude of Audi employees each year present their ideas to the Interdepartmental Innovation Committee. With your targeted support, these ideas can become prototypes or even fixtures in new Audi projects.
Here, as well as in the Audi company as a whole, sustainability and ESG performance (Environmental, Social and Governance Criteria) are becoming more and more of a focus.
But how can you capitalize on Mallorcan wind power generation with used Audi e-tron electric motors? "Answering that was a challenge"Trigueros acknowledges. The solution was for the Spanish hotel chain Meliá to become a cooperation partner of the brand and rent four Audi e-tron models to interested vacationers, to drive around Mallorca.
Electric cars free of local emissions are the ideal means of transport in Mallorca to protect nature and the environment, according to Trigueros. At the same time, he is convinced that a relaxed vacation is the perfect time to experience electromobility. "If only 5% of all hotel guests buy an Audi e-tron, the project will be worth it", calculates the project manager. In addition, the annual consumption of the fleet can be covered with green energy from this alternative energy source.
This is how the Audi wind turbine works
This calculation also convinced the Audi Innovation Management department. Trigueros has been working on Project Microgrid, or Project M, as it's called internally, since 2019. We're talking about windmills up to 15 meters high whose turbines measure up to eight meters in diameter.
A recycled electric motor from an Audi e-tron test vehicle was installed in a 220-kilogram box, three meters long, 1.6 meters wide and one meter high at the rear of the wind turbine. Subsequently, the motor was connected to the rotating wind turbine through a gear transmission.
"This can be compared to the operation of a vehicle," explains Trigueros. "Just like when you drive up the Majorcan hills and recover energy going downhill, the engine here is in permanent recovery mode." Depending on the size of the wind turbines, Trigueros promises 15 kW of power or 22 MWh of energy per year. Or put another way, this green energy is enough to charge an Audi e-tron with a 95 kWh battery 220 times. But it is possible to achieve even more. With a more efficient wind turbine, the motor could have a continuous output of 40 kW.
Commitment to sustainability in energy production
With its idea of ​​green energy, Trigueros is making a great contribution to the environmental objectives of the brand with the four rings. By 2025, Audi intends to make its production at all locations carbon neutral, and Audi as a company intends to be carbon neutral by 2050 later than.
Audi Hungary has been carbon neutral since 2020, becoming the Audi Group's second carbon neutral location after Brussels. In Győr, the company now gets all its electricity from renewable energy sources. The mark of the four rings relies heavily on solar energy to that end, thanks to the largest photovoltaic roof system in Europe.
Review with us the latest news from the motor world every week on our Twitch channel.
Renewable energies are a way to reduce carbon dioxide (CO₂) emissions and recycling is another. With the Audi charging center, the premium manufacturer is demonstrating how used battery cells can be reused for a sustainable secondary application.
In accordance with the second life philosophy, components should only be recycled if they can no longer be used. If they work, but may no longer sufficiently meet the requirements for their original purpose, it is more environmentally friendly and saves resources to find an alternative useeg as an energy storage device, instead of recycling them prematurely. Only when the batteries no longer have a second-use application like this, are they broken down into their individual raw materials using modern recycling concepts before finally being used in new batteries.
But in car production, some CO₂ emissions cannot be avoided. Audi compensates them with climate protection projects.
Local partners for a local project
Sustainability was also crucial in the modification of the wind turbine. It was converted on the island by a local outside supplier in a workshop rented specifically for the purpose. "It is important for us to integrate partners in the project who work on site and do not have to fly to the island just for that," says Trigueros.
Trigueros explains that "Son España" has been integrated into the energy network of Mallorca, "but we have also thought about what else can be done with energy."
For example, renewable energy could be used for hydrogen electrolysis, for stationary charging stations or power banks to charge electric cars. Fluctuations in the electricity grid could also be compensated with green energy. But the use of this environmentally friendly energy also depends on how things go with the sustainability project itself. "Currently, it is not planned to expand this, but the principle would definitely be applicable on other islands," admits Trigueros.
"In Mallorca alone, there are 500 potential windmills that could be equipped with the same device," he concludes.
Photos: Audi Medium