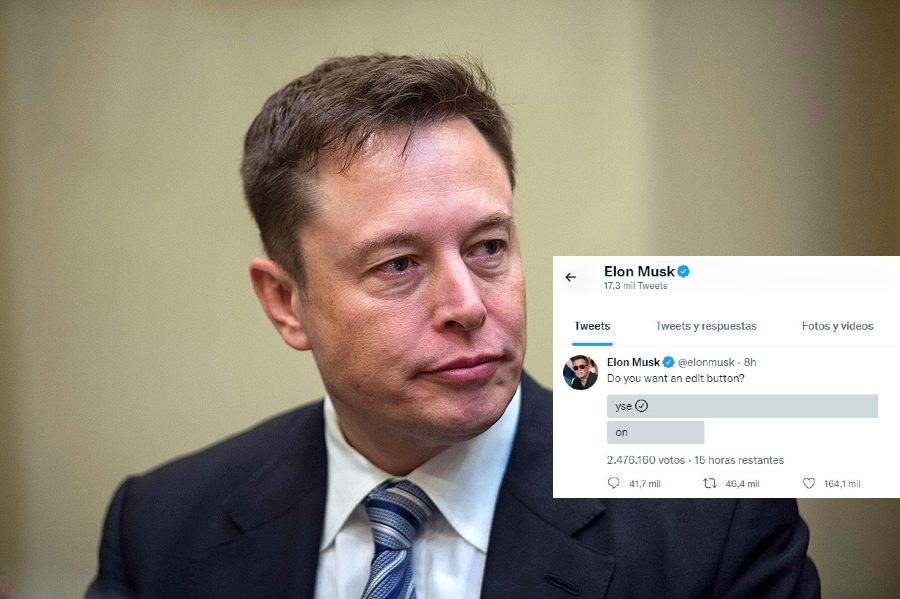 The brand new largest shareholder of Twitter, Elon Musk, did not let even 24 hours pass to begin to have influence in the social network of the little blue bird.
Before the end of the day in which the Tesla CEO was trending for buying a 9.2 percent share in Twitter, he used that network to launch a survey with the idea of ​​winning over users.
Do you want a button to edit tweets? Musk asked on Twitter and the answers, unsurprisingly, are a majority "yes." Until the morning of this Tuesday, April 5, 75% of the tweeters who follow the tycoon voted in favor of being able to edit their publications.
On Monday, it was revealed that Musk owns 9.2 percent of Twitter Inc worth an estimated $2.98 billion.
The news sent the company's shares up as much as 26.5 percent on Wall Street.
The purchase of the Twitter titles was known by a presentation in the regulatory body of the American markets and a few weeks after the CEO of Tesla said that he was "seriously thinking" about developing his own social network because he did not agree with the way of Twitter to confront freedom of expression.
The editing function is a massive request that those responsible for Twitter have supported for years.
In just eight hours, the survey received votes from 2.5 million users, and more than 76 percent supported the alternative of being able to edit the publications.
Musk's tweet garnered more than 170 RTs and tens of thousands of comments.
Elon Musk and Twitter, a stormy relationship
A week earlier, even when the stock acquisition was unknown, Musk had asked in another poll whether Twitter's algorithm should be open sourced.
More than 81 percent of users answered "yes."
Musk is a very active user on Twitter. He has 80.4 million followers that he has collected in more than a decade on the social network.
In these years, he has used Twitter as a marketing strategy for his image and for his companies, it has even brought him problems with the regulatory bodies of Wall Street.
Less than four months ago, the tycoon published a meme in which he compared the CEO of Twitter, Parag Agrawalwith Joseph Stalin and featured Jack Dorsey as a close associate who was executed.
The Community Manager wants to edit on Twitter
The community managers of brands and companies of all sizes are those most interested in being able to edit posts on Twitter.
Many times the urgency of the posts leads them to make mistakes that could be easily corrected if there was the possibility of editing the tweets.
Read more:
Bomb: Elon Musk buys a stake in Twitter
Elon Musk discusses leaving Twitter, will it be a much more boring network?
Netflix bets on Elon Musk to reach more subscribers