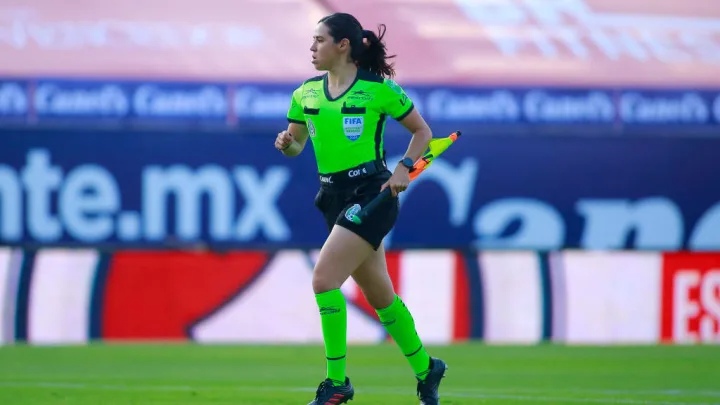 In the European Cup there was a woman in the referee teams, but she did not lead any match.
The three women who will officiate as referees are from France, Japan and Rwanda.
A Mexican will be the line judge: Karen Díaz Medina.
The World Cup in Qatar is destined to have firsts. It is the first time that the most watched sporting event on the planet has been played in the Middle East. For the first time it will be played in the months of November and December (it was always in June and July). And now, also for the first time, the men's FIFA Cup will have matches refereed by women.
This Thursday, May 19, FIFA, the governing body of world football appointed three women among the 36 members chosen to officiate at the event.
In addition, another three more will be assistants or line judges.
One of the designated Stephanie Frappart, a French woman who has broken several barriers in European football. In fact, she directed the men's final of the Coupe de France a few weeks ago.
Frappart, who made the list alongside female referees from Rwanda and Japan, has a stellar reputation in European football: she was the first woman to referee men in the Champions League.
Frappart was also present in the European Cup referee teams, but in that case his role was limited to that of fourth official, a role outside the game.
In addition to Frappart, they are Salima Mukansanga from Rwanda and Yoshimi Yamashita from Japan.
They, and the other male referees who will be in Qatar, will attend pre-event preparation seminars.
In the official statement, former referee Pierluigi Collina, president of the FIFA Referees Committee, said that "a long process that began years ago with the deployment of female referees in youth and senior men's tournaments" of the organization is thus concluded. of Qatar 2022.
Arbitrators in Qatar: Karen Díaz Medina, the Mexican who will be the line judge
A Mexican will also participate as an assistant referee: Karen Díaz Medina.
The other two attendees will be Neuza Back (Brazil) and Kathryn Nesbitt (United States).
"I hope that, in the future, the selection of female referees for important men's competitions like the one in Qatar will be seen as something normal and no longer something extraordinary. They deserve to be in FIFA World Cup because they perform at a very high level, and that is the important factor," added Collina.
Now read:
5 World Cup advertising campaigns that will go down in history
Hayya, Hayya" Does the Qatar World Cup song copy "Waka, Waka"?
Italy out of the Qatar World Cup: Puma cries and Adidas celebrates