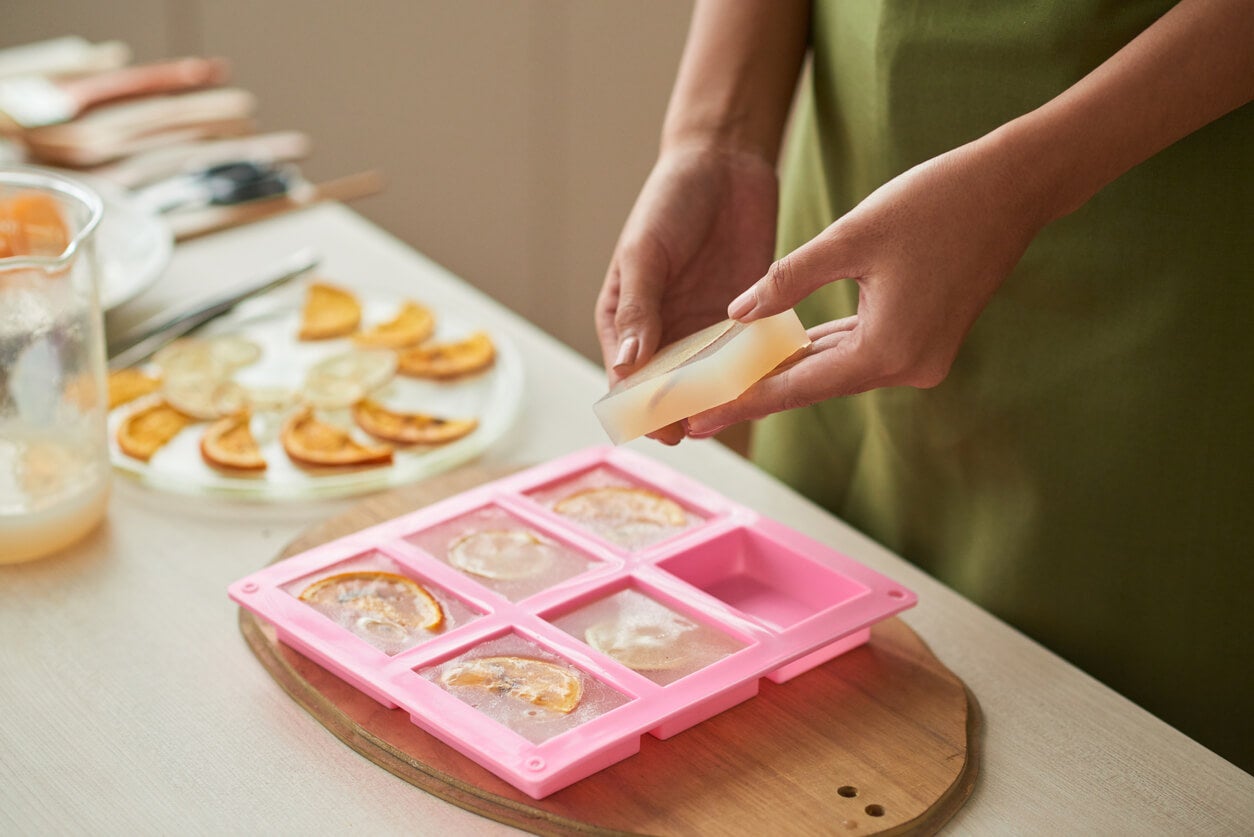 Glycerin soaps are a good natural and healthy option to take care of the skin. It is important to take into account some considerations for its correct manufacture.
The manufacture of handmade glycerin soaps is an activity that has become increasingly common. Assuming no industrial grade components are usedbut rather of natural origin.
However, it is common that there are some doubts about whether the procedures used in its preparation are natural, if they are suitable for all skin types, if they can be applied to the face and hair, among others. That is why we have prepared a list of the most frequently asked questions and their answers.
The answers to your questions about making glycerin handmade soaps
If you have already made your own glicerine soap at home or if you are just venturing into the subject, we want to answer the most frequently asked questions. Maybe you already know that It starts from a solid transparent base that melts in a bain-marieit is dyed, essential oils are added and it is placed in the chosen molds.
Although it is a simple process, there are a series of considerations that we must take into account during its preparation. And then also, when using them.
1. What color is the best base to make glycerin soaps?
Transparent and solid base is the best. At most you can choose one that has an amber hue.
The bases of strong colors already have the addition of colorants and, as much as they are fashionable, it is best to opt for the most translucent one. Try to educate yourself on the components of the base bar to ensure that you are acquiring a reliable one.
---
---
2. Can fragrances be added?
Yes you can, but always those that are suitable for the skin. They are more expensive. However, you will be assured that they will not harm you. Fragrances that have other purposes, such as perfuming environments and burners, are not suitable for skin contact.
On the other hand, essential oils pure should not be applied directly on the dermis because they could irritate it. To use them you have to dissolve them in corn or almond oil. 1 cubic centimeter (cc) of essential oil in 100 cc of base oil.
3. Can microwave be used to melt the base?
Yes, but a few seconds at a time so that it does not overheat. It is recommended no more than 15 seconds for each time.
The melting temperature must be between 55 °C and 58 °C. After these degrees, the soap overheats, burns and will lose its characteristic transparency. That said, our suggestion is that you melt it in a bain-marie.
4. Can they be used as a shampoo?
Yes, it is as if you were using a solid or dry shampoo. The first washes will decontaminate the hair of all the chemicals that conventional shampoos contain, such as sulfates and parabens. Then you will begin to notice the positive difference in the appearance and health of your strands.
5. Do they serve as facial cleansing products?
yes they work, as long as you use a good quality solid bar. Perhaps you have noticed that when you wash your face with commercial soaps, your skin is dry and tight. This is because they contain heavy fats, inks, and synthetic fragrances.
In theory, by using essential oils, natural inks, and a good base bar, you can smooth this soap over your face with no problem. But it will always be better if you do a test on a small part of your skin first.
---
---
6. Do handmade soaps contain caustic soda?
All have, to a greater or lesser extent, a percentage of caustic soda. It is necessary for its manufacture.
When the oils are mixed with this element, the saponification. In this step, the fatty acids need to mix with the caustic soda to become soap. However, if the base bar is well made, there should be no trace of the component in the final product.
7. How much does moisture affect soap?
It's important to control humidity levels if you make your own soap. For example, wrap the rest of the unused base bar in plastic so you don't get dehydrated.
It's also a good idea to cover the container that holds the soap while you melt it. Finally, wrap with a film the finished product.
Remember that glycerin attracts moisture and, if the soap is left uncovered, moisture droplets could form that will not make the finished product look good.
8. What other types of handmade soaps exist?
In addition to glycerin-based soaps, there are other kinds of soaps on the market that have given very good results. Among them we can mention oatmeal, which transmits all the nutrients of this food to your skin. On the other hand, we have aloe vera, whose infinite properties will leave your skin in excellent condition.
A healthy alternative with the manufacture of glycerin handmade soaps
We hope we have addressed any concerns you may have about the production and use of craft-type glycerin soaps. We think it's a good idea to make them at home using good quality materials and natural ingredients. It's a way to help keep your skin healthy and free of harmful chemicals.
You might be interested…