The prices of potatoes and other tubers pushed up the price index for July in Mexico.
The interannual variation of 8.15% is the highest annual inflation since December 2000, when it had been 8.96%.
The good news: the product that presented a drop was domestic LP gas (-8.07%)
The National Consumer Price Index (INPC) resumed its upward trend to register an interannual variation of 8.15% last month.
Official information says that the increases that most fueled inflation in Mexico were the sales values ​​of potatoes and other tubers, as well as onions, oranges, wheat flour and white bread.
According to data provided this Tuesday, August 9, by the National Institute of Statistics and Geography (inegi), the cost of living is thus registering the highest level since December 2000, when it had been located at 8.96%.
The increase in inflation for July in Mexico of 8.15% comes after it marked 7.99% in June and, a month earlier, in May, 7.65%.
With this information, it can be said that for 17 months in a row, inflation is above the target range set by the Bank of Mexico.
The July data published this Tuesday by the INPC is slightly above market expectations, which calculated an 8.13% annual increase, according to Citibanamex.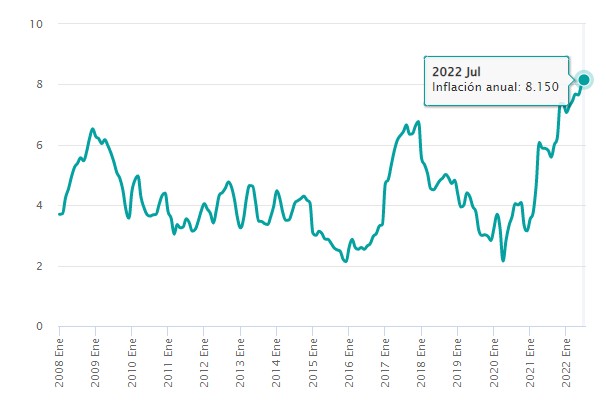 July inflation in Mexico
Excluding products and services with high or seasonal volatility, the so-called core price index also rose to stand at 7.65% annually, the largest change since December 2000, when it had climbed 7.85%.
Discriminating within the underlying index data, the report indicates that the prices of services rose 4.90% in July and merchandise, 10.07%.
[noticia en actualización]