In big Asian cities they are very easy at times, in European ones they are unicorns. Why do Asian minicars have such a hard time in our market? There are several answers that can be summed up in: neither is it interesting to sell them to the manufacturers, nor is it interesting for us to buy them.
In Japan, after World War II, rules were set to encourage domestic production of cars that the Japanese needed and could afford. Over time, these standards evolved and are still in force today, from which came the kei car.
Today, another of the most powerful countries in this sense is China, with a large range of ultra-economic cars, including electric cars. The most paradigmatic case is that of the Wuling HongGuang Mini EV, from 4,160 euros to change, the cheapest in the world. And why aren't those cars sold in Europe like hot cakes?
Inside the Honda S660. They don't even bother to design them with the left hand drive, that's why kei cars are anecdotal outside the UK (and when they have arrived)
1) They have a very low markup
The business model of these – let's call them – "minicars" is in make a lot and sell a lot, so you can adjust the price to the limit. In fact, the HongGuang Mini EV has come to give 12 euros of benefits per unit. With the kei car Japanese happens the same, they are adjusted to the limit. The same car is even highlighted between competing manufacturers – who agree to a truce in that regard.
This means that the issue of transportation, homologation and validation in other countries, for which they have not been designed, considerably increases development costs. We will see this type of car mainly in Southeast Asian countries, and from there they are really difficult to see.
None of the three generations of the smart fortwo have been profitable, nor did they sell what they expected, nor were they cheap enough. It was approved as a kei car in Japan
2) The European mentality
Since the consequences of the post-war period in Europe, which devastated it between 1939 and 1945, began to ease, the Europeans were abandoning the smaller utility vehicles, finding ourselves comfortable in cars that usually exceed 3.6-3.7 meters in length (segment A). Everything below was practically gone.
However, even segment A is really bad right now for its low profitability, so few manufacturers bet on it. The smaller they are, the more difficult it is to make them comply with active safety regulations and have a decent Euro NCAP score. That is why the smart fortwo have been a black hole of money for Daimler (now Mercedes-Benz Cars), due to development costs.
The second-generation Toyota AYgo was one of the most successful models in the European A-segment, before going to hell from the Euro 6 regulations
3) They do not fit in segment A
Cars tend to fall into different segments based on price and size. Within the same category, cars have very similar dimensions. It is not a cliché that Chinese or Japanese customers are, on average, smaller than European ones. That is why there are some measures that are not usually loweredfor elementary comfort for the medium-high European, and for passive safety.
The kei cars are all limited to 64 CV, in Europe they are very fair
On the other hand, their commercial fit is complicated because they would compete with cars that have more interior space, more boot capacity, more power, superior finish qualities – not even the kei car they are made to last long-, and even segment A has been becoming more and more "posh" at the equipment level. It no longer takes the bare utility.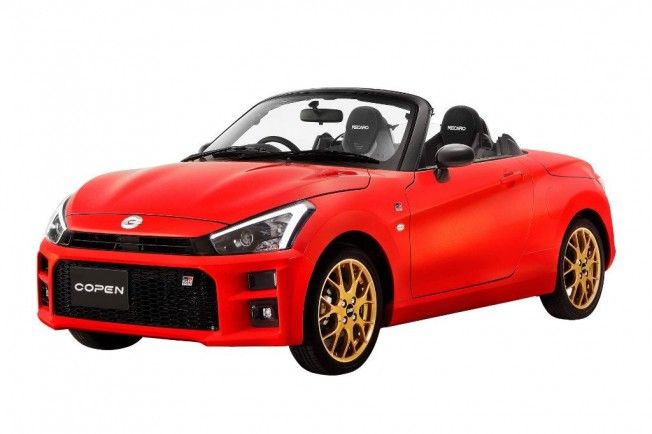 In Japan, this segment is huge and there is something for everyone, including pocket sports cars, such as the Daihatsu Copen GR Sport.
4) Megacities are missing
If we compare urban areas like Tokyo or Berlin, or Shanghai and Madrid, the differences are abysmal. In Europe, millions of people are not usually concentrated in a relatively small area, beyond the capitals and highly industrialized cities. There is population, yes, but even ultra-populated London does not reach 10 million inhabitants.
A huge concentration of population is associated with a shortage of parking and circulatory difficulties. When every meter counts, Asian minicars have an advantage, but that advantage is really hard to appreciate in European cities, where there are not that many people.
Take a look at the Mitsubishi eK Custon and eK Space Custom. would you buy one? Be careful, they are very spacious inside and do not reach 3.4 meters long
5) They are really hard to sell
In the case of carrying out all the modifications so that they are fully homologated vehicles in Europe (for safety, emissions, manufacturing processes…) the prices are no longer so interesting and they enter the field of segment A, where they can be get normally better cars. From what little we have seen shooting around Spain, the PSA Mitsubishi electric cousins: Citroën C-Zero, Mitsubishi i MiEV and Peugeot i0n (all three imported from Japan).
For example, just compare the price of a Suzuki Jimny in Europe, and compare it to its Japanese equivalent of the type kei car. There is no way to sell the latter in Europe, although they are not so different. Either the European mentality changes a lot, or it is very difficult for them to have a relevant market share. In short, there is more history of failures than successes.